Why People Think Adelina Sotnikova's Figure Skating Gold Medal Was Rigged
Adelina Sotnikova and many Russians are very happy about the 17-year-old's figure skating gold medal. The rest of the figure-skating world isn't as enthused, and some are claiming that Sotnikova benefitted from Russian judges and a Russian crowd.. Here's why:
This article is from the archive of our partner
.
Update 11:24 a.m. Over the weekend, a whole new set of questions about Sotnikova's win have cropped up. One of the more curious questions involves Sotnikova hugging a judge who was scoring her competition. Here's a quick guide to those.
Adelina Sotnikova and her many Russian fans are very happy about the 17-year-old's new gold medal in figure skating. The rest of the figure-skating world isn't as enthused, and some are even claiming that Sotnikova benefitted from Russian judges and a hometown crowd, and that without that outside help, she could never have beaten South Korea's Kim Yuna and Italy's Carolina Kostner.
"If Adelina was not from Russia, she would never get those marks," Dave Lease, America's figure skating expert boyfriend, told The Wire on Thursday night. Lease is one of the brilliant minds behind The Skating Lesson, a blog focused on the intricacies and nuances of figure skating disciplines and competitions.
Naomi Nari Nam, the 1999 silver medalist at the U.S. national championships, watched the competition and came away with feelings similar to Lease's. She says that she felt like Kim, not Sotnikova, was her pick to win gold.  "I definitely think it was home court advantage [for Sotnikova]," she told The Wire. "It was very inflated."
Nam and Lease aren't the only ones upset with Sotnikova's win. In fact, now would be a good time to check on the whole nation of South Korea and whether or not it has plunged into lawlessness after Kim's loss. Skating coaches, choreographers, and even current competitors, like Ashley Wagner, have all voiced their negative opinion on Thursday's scoring.
So what exactly upsets them about Sotnikova's win?
The Mistake
In the old days, before the current scoring system was in place, a fall would knock pretty much any skater out of medal contention. Judges would have a hard time justifying putting someone who bungled a jump ahead of someone who skated cleanly. (Take the 1998 competition in Nagano, when Michelle Kwan narrowly lost to Tara Lipinski, as an example.) On Thursday, however, Sotnikova was the only skater in the top three who had an ugly error — she stepped out of this jumping combination:
Judges penalized Sotnikova 0.90 in her Grade of Execution points for that sloppy, crooked sequence. Kim and Kostner's programs did not have any elements which came close to stepping out of the jump's landing. For example, here is Kim's slightly less difficult (but exponentially cleaner) double axel, double toe, double loop: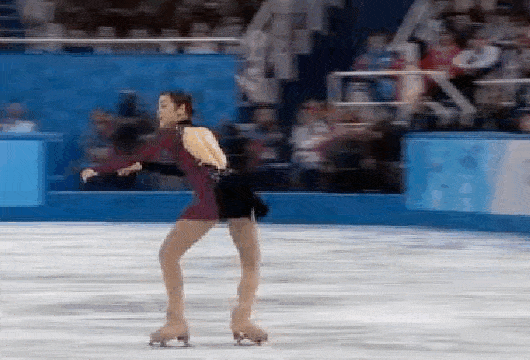 Sotnikova actually completed one more triple jump than Kim. (Kostner had seven triple jumps, the same as Sotnikova, but finished far behind her.) But Lease, who isn't really a Kim fan, believes that there are "other aspects of Yu-na's skating that should carry more weight. They certainly would have at last year's world championships."
Sotnikova's Choreography
Purists and long-time fans of the sport understand choreography and artistry are not Sotnikova's strong points. Longtime analyst and skating legend Dick Button weighed in:
Sotnikova was energetic, strong, commendable, but not a complete skater. I fear I will never be allowed back in Russia again.

— Dick Button (@PushDicksButton) February 20, 2014
And again:
Sotnikova: Great effect, ugly catch-foot, wild enthusiasm, truly competitive, fun to watch and certainly needs refinement.

— Dick Button (@PushDicksButton) February 20, 2014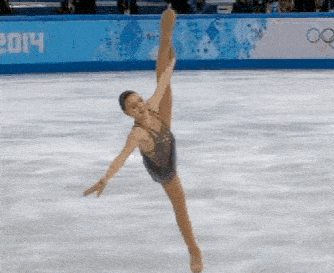 Lease was not a fan of the choreography either, and made sure to point out that Sotnikova's routine included a sequence where Adelina pantomimes rope-pulling or tug-o-war, and a spiral sequence where she waves to the crowd — a move you might see a trainer perform on a sea mammal. Most of the skating world, Button included, will also agree that Kostner has some of the best choreography of the top skaters.
While her jumps may not be as strong as Sotnikova's or Kim's, the shapes and lines Kostner creates on the ice are spell-binding. But the judges actually gave Sotnikova higher marks in her choreography than they did Kostner. Here is Sotnikova's score sheet: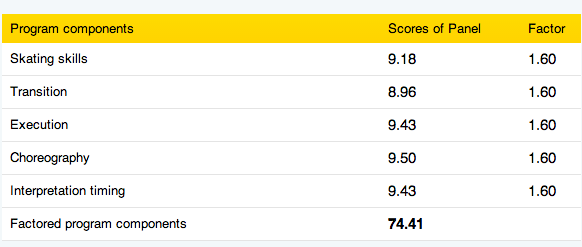 And Kostner's component scores here: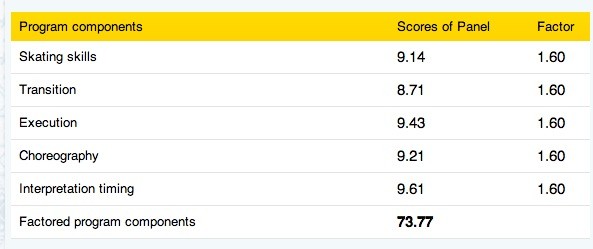 Sotnikova outscored Kostner and many others, including 2010 silver medalist Mao Asada, on choreography, and tied her with execution. "Carolina Kostner was interpreting the rhythm of 'Bolero' and there was someone pulling an imaginary rope and waving during her spiral sequence," Lease said, explaining to me that Sotnikova's component score offended his sensibilities more than anything else that happened on Thursday night.
The Judges' Panel Included the Russian Skating Federation President's Wife
Scoring comes from the judges and a judges panel. They're in charge of the Grade of Execution scores and those component scores. GOE scores (which are graded on a -3 to +3 range) are weighted values that reward skaters who do elements beautifully and punish them when they do those elements poorly. Often times, these GOE points determine winners and losers.
The nine judges are picked from a pool of 13. And yesterday, judges from South Korea (Kim's home country), U.S., Great Britain, and Sweden were swapped out for the free skate because they had already worked the short program.
One of the Olympic judges who took their place was Alla Shekhovtseva, the wife of Valentin Piseev, the longtime president and general director of the Russian Skating Federation. Yes, a judge on the panel that determines whether or not a Russian was going to win a gold medal at a competition held in Russia is married to a man in charge of the Russian Skating Federation.
Also on the panel is a Ukrainian man named Yuri Balkov. Balkov was suspended from judging for a year after trying to fix the Nagano ice dancing competition and reportedly has ties to Moscow. "The two other new long program judges were from Estonia and France, which was the country that conspired with Russia to try to fix the pairs and ice dancing competition at the 2002 Olympic Games in Salt Lake City," USA Today reports.
If you look at Sotnikova's score sheet, there are a couple of judges who really liked her jumps and elements more than the others. Her first jump, a triple lutz-triple toe loop combination, actually got a -1 GOE from one judge — meaning that it was performed slightly below average. One judge gave it a zero, and a two more gave it a +1, meaning those judges saw the jump as pretty basic or maybe a tad above average.
But there was one outlier who gave Sotnikova a +3, meaning that it was up there with the best the jump or element could be done. In fact, according to that judge, almost all of Sotnikova's elements — her spins, her jumps, and footwork — were some of the best he or she has ever seen. Here's Sotnikova's score sheet and all the scores that judge submitted (look at all those 3s):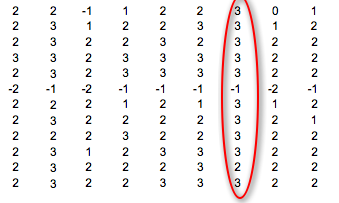 You'll also notice the judge who gave her the 3s was also one of the kinder ones when it came to penalizing Sotnikova's sloppy step out. (It was only knocked down to a -1.) The judge in the second column was also pretty kind and generous with his or her 2s and 3s, as is the one in the fifth column. But none come close to the judge whose numbers are circled.
When determining those GOEs, the highest and lowest scores are thrown out, a measure enacted to stop people from gaming the system. But you can see how throwing an extra three out almost every single time ensures that Sotnikova won't be hurt in the overall scores, and ensures that Sotnikova has a 3 in 10 of her 12 elements. All those 3s could also protect other 3s that judges may have given out.
Here is Kim's scoresheet, where one judge flooded her scores with 1s and no 3s, increasing the likelihood that a +1 (the lowest amounts of positive GOE points possible) will factor into Kim's scores. The judge in the fourth column also was happy giving out plenty of 1s.

Those judges were also in charge of Sotnikova's component (artistry) score, which outscored Kostner. Again, there were a couple of judges who really, really liked Sotnikova's program:

While we know judges' identities, how a specific judge scored is kept secret. Lease explained that the International Skating Union believes that anonymity takes pressure away from judges. "What it really does is hide who the crooks are," he said.
When asked about whether or not he could tell which scores Balkov and Shekhovtseva put down, Lease had an answer. "I believe they're the ones most impressed by the imaginary rope pulling."
Nam echoed Lease's sentiment about the system. She explained that the scoring can be so egregious that anonymity is just a formality. "It's not really not anonymous. You know the judges. You can tell by their last names which ones are Russian. You see the scores," she said.
Sotnikova's Free Skate Improved by 20 Points and Was Almost a Record
Not only do Sotnikova's scores look like an anomaly compared to her peers, they put Sotnikova's performance up there with some of the very best scores in history.
The highest-scoring free skate in the eight years since the judging system changed to this GOE system has been Kim Yu-na's gold medal-winning long program at the Vancouver Olympics. There, Kim scored a 150.06 in a flawless routine:
Sotnikova scored as close as anyone's come to that free skate with 149.95 on Thursday. The highest score she had previously scored with that same routine in international competition was at the European Championships in January. There she scored a 131.63 — around 18.32 points less than she scored on Thursday. It should be said that Sotnikova has had trouble putting together clean free skates, and that Thursday's skate might have been the cleanest skate of her life.
Still, people don't believe that Sotnikova is around 18 points better than she was three weeks ago. "It (Sotnikova's free skate score) was very inflated," Nam said.
Lease joked that the arena was the same arena where the Russian National Championships were held and that the judges from that competition just camped out in the arena. "There's no way to justify Sotnikova's marks," he said.
With a score that high, judges are essentially saying that Sotnikova's free skate (even with the error) is better than all her previous performances that came before it. And it also sends a message that without the error, Sotnikova's 2014 Olympic free skate was the best in history.
The Olympics Have Been Very Kind to Russian Skaters
"I don't know if you saw the team event, but being Russian seems to count for a lot," Lease told me.
Russians medaled at every figure skating event they entered. The only one they didn't medal in was in the men's figure skating event, which Evgeni Plushenko pulled out of at the last minute. But there have been question marks about how they're being graded. The first example comes from the pairs competition, when Tatiana Volosozhar and Maxim Trankov were given positive Grade of Execution (GOE) points for a thrown jump, even though Volosozhar's hand touched the ice:
As we've mentioned, positive GOE points are only supposed to be given when judges feel like a jump was well (the higher the GOE score, the more exceptional the element was). Touching your hand on the ice is a mistake This pairs team wasn't the only one to benefit from some kind scoring. 
Lease told us that ladies figure skater Julia Lipnitskaya has been scored generously too. "Her marks have risen faster than inflation during the 1920s," Lease told us prior to the free skate. 
Outside of Russia and prior to the Olympics, Sotnikova's personal best combined score has barely broken 200 points — a 202.36 she scored at this year's European championships. Yet, she scored 224.59 in Sochi, signaling that judges believe she was 22 points better than she was last month. 
---
The unavoidable question then becomes: why watch skating at all if there's all this corruption and alleged manipulation? What is this sport worth if the stakes and standards seem to shift with each competition?
"We watch figure skating for the drama, for the artistry, and for the scandal. You have to kind of embrace it. We do have a discipline called ice-dancing," Lease said. "This is why other sports consider figure skating laughable. Every single skater knows that there's potential for [Sotnikova's allegedly inflated scores] to happen," Lease added.
Skating's flippant and unpredictable nature worked out for Sotnikova this time, as she came away with gold despite Kostner and Kim skating more beautifully —subjectively speaking of course.
This article is from the archive of our partner The Wire.