Teen All-Star Cheerleaders Are Not Impressed by the Dallas Cowboys Cheerleaders
When cheer uniform company Rebel Athletics announced that the Dallas Cowboys Cheerleaders would be making a special appearance at the NCA All-Star Nationals competition Friday night, some weren't happy.
This article is from the archive of our partner
.
At the time of this writing, thousands of teen and tween cheerleaders are traveling to Dallas, Texas for the NCA All-Star Nationals competition. It's one of the biggest national cheer competitions before the World Championships in April — a chance for teams to show off new uniforms and new routines before the big dance. Teams take the competition seriously. So when cheer uniform company Rebel Athletics announced that the Dallas Cowboys Cheerleaders would be making a special sponsored appearance at the convention center Friday night, some in the all-star community weren't happy. That is not what all-star cheer stands for.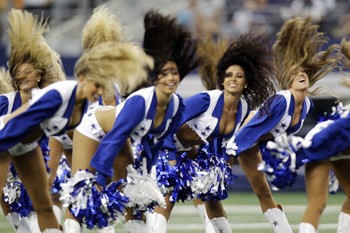 One parent wrote on Fierce Board, the popular all-star cheer forum,
I would not let my daughter attend something like this ... What the Dallas Cowboys cheerleaders do in their performances is so far removed from all-star cheer or high school/college cheer that if I suggested we attend this she would look at me like I had three heads. They are much better role models for aspiring professional dancers than for cheerleaders.
A cheerleader responded, "I just wish non-cheer people would realize that pro cheer and all star/college/high school cheer are very different entities. ... not hating on anyone, not saying one is better/harder than the other, they're just different."
The DCC, despite their fame, are what all-star cheerleaders call "sideline" cheerleaders. That is, they cheer for a football team instead of competing against other cheer squads. High school squads are also sideline cheerleaders (although they're usually more covered up). Cheerlebrity, a company that puts on all-star competitions, put it plainly back in 2011:
@dontyoloveme Competition Cheer is a sport. Sideline cheer isn't a sport; Ie: Dallas cowboy cheerleaders. Sorry, Cheerleading isn't a sport

— Cheerlebrity (@Cheerlebrity) August 28, 2011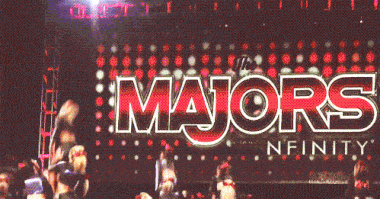 All-star cheer differs from sideline cheer in that all-star cheer routines involve near-constant stunting and tumbling. During two-and-a-half minute competition routines, teams throw girls in the air dozens of times, land full twists, and finish the whole thing off with a fast-paced, semi-robotic dance sequence. It's cheerleading on 'roids (or Adderall).
Sideline cheer is focused more on mini dance routines that are performed at various points throughout a football game. And, of course, sideline cheerleaders actually lead cheers. With pom poms. (All-star cheerleaders would never use pom poms.)
Here's one of the DCC routines, to Trailer Choir's "Shakin' That Tailgate":
It's impressive — especially that kick line at the end. But the focus is clearly more on shaking than stunting.
For comparison, here are the all-star Cheer Athletics Panthers, who took first place in the Level 5 Senior Large competition at the NCAs last year. This is a highly-advanced all-girl team (only Level 5's can compete at Worlds.)
If you look closely, you can see teen cheerlebrity Carly Manning flying through the air. (She's since joined the Cheer Athletics Wildcats team). The Panthers' routine is clearly different in style from the DCC's — all-star cheerleaders usually don't aspire to become one of America's Sweethearts because the skill set just isn't the same.
But as some in the all-star community note, there is a similar focus on looks. One cheer parent noted on Fierce Board that criticizing the DCC for looking sexy is kind of hypocritical: 
I'm perfectly fine with [the DCC] ... appearance is part of what they do. ... All-star cheerleading does it [too] — how often do you see an overweight, unattractive girl as point? Yeah, they'll take their money and put them on a team ... But the center of attention in the routine is usually attractive. And the people y'all choose to make cheerlebrities are most certainly not hard on the eyes. Im not sure why people are so bothered by this in NFL cheerleading. 
"Point" is the cheerleader front and center during all-star routines. Another cheer mom posted this comparison shot: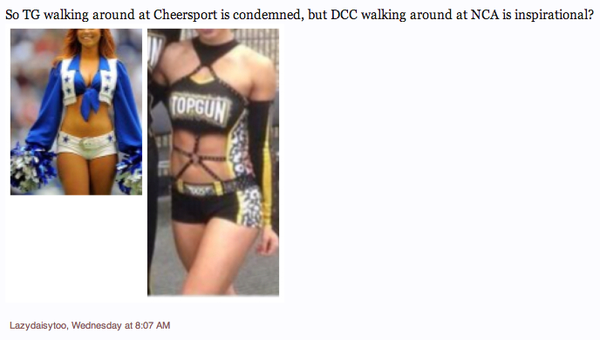 She's referring to Miami all-star gym Top Gun, which came under fire after debuting "s&m-ish" new uniforms at a competition earlier this year. These uniforms don't look so different from the DCC's, coverage-wise. All Level 5 teams have uniforms that show off teen cheerleaders' midriffs.
So while all-star cheerleaders are adamant that all-star and sideline performances are materially different, they haven't yet decided where they stand on that whole itty-bitty uniform thing.
Lucky for the DCC, most all-star cheerleaders are too busy thinking about the competition to even worry about the DCC appearance. Teams are sneaking in last-minute practices and participating in "show-off" performances tonight before the official competition begins Saturday morning. The DCC seem excited all the same.
This article is from the archive of our partner The Wire.