Sochi Olympic Updates, Day 14
The word of the day is "vengeance" as Canada and the U.S.A. face off in the men's hockey semifinals.
This article is from the archive of our partner
.
The word of the day is "vengeance." In men's hockey, Canada and the U.S.A. face off in the semifinals. Thursday's Canadian victory over the U.S. in women's hockey (glorious or devastating, depending on which The Wire writer you ask) will almost certainly hang over the proceedings.
A couple of relays are also on the docket for today. In short track speed skating, there is the men's 5,000m race, and in the biathlon, the women's 4 x 6km relay. In the biathlon, Russia will attempt to clinch gold for the third time in a row.
Friday also marks the end of men's curling, with a bronze medal match between China and Sweden, and a gold medal match between Great Britain and Canada. Canada will be going for its third straight gold in the event. Great Britain has not won gold in the event since 1924 (due, in part, to the 70-odd years in which curling was not an Olympic event). Afterwards, the curling stones go back into the vault until 2018, when everyone will once again be reminded, "Haha, oh yeah! Curling!"
--
2:45 p.m.: A lot of movement on the medal board today, especially from Canada who jumped back into the race with two gold medals today, four total, and assured themselves at least no worse than silver in hockey. But the U.S. nabbed two of their own to keep their one-a-day streak alive and hold onto the overall lead. Team USA is now tied with Canada and Russia for second-most golds with 9, however, Norway still has the most at 10.
2:30 p.m.: RESULTS:
So while that was going on, you probably missed a few other things. Like American Mikaela Shiffrin
becoming the youngest person ever
, man or woman, to win gold in an Alpine skiing event. The 18-year-old took first in the Slalom. Austrians Marlies Schild and Kathrin Zettel took Silver and Bronze.
There were also some short track speed skating finals today. Russia set an Olympic record in the 5,000m relay, with the U.S. and China in silver and bronze. Korea and China divided the medals in the women's 1,000m, with Seung-Hi Park winning gold and Suk Hee Shim taking bronze for Korea, and the silver going to Kexin Fan of China.
In the men's 500m, Viktor Han, the South Korean legend who changed his name and his country to skate for Russia, won his third gold and fourth medal of these Games. (He won 4 others in 2006.) China's Dajing Wu took silver and Charle Cournoyer of Canada won bronze. And that's all the events for today.
2:17 p.m.:
In a monumental triumph/crushing defeat, depending on which side of the 49th parallel you're on, Canada
defeated the United States 1-0
to advance to the gold medal game in hockey. And there was much rejoicing/sobbing.
11:15 a.m.:
In a nice moment for the embattled Ukrainian Olympic team, the Women's 4x6km relay group
won gold in the biathlon today
, beating out Russia (of all nations) with a spectacular shooting performance. It's their first gold in Sochi. Norway took the bronze.
10:45 a.m.: RESULT: Canada wraps up its sweep of curling for the second straight Olympics, as the men add a gold medal to match the women's team. That's their second gold today, and moves them one behind Norway for the lead.
8:37 a.m.: Early this morning, USA Hockey announced that American Paul Martin won't play with the U.S. hockey team against Canada during today's semifinal event.
U.S. D for tonite's semi vs. CAN: Fowler-Shattenkirk; Orpik-Carlson; Suter-McDonagh; Faulk. Quick in goal; Miller backup. #DawnsEarlyLight

— USA Hockey (@usahockey) February 21, 2014
This means that Justin Faulk, the team's youngest player at 21, will make his
Olympics debut
during the high-pressure game. According to NBC, some are saying that Martin is out of the lineup because he is struggling with illness.
7:13 a.m.: RESULTS:
Sweden
has defeated
China to earn the bronze medal in men's curling, with a score of six to China's four, in a close game that was finally concluded in an extra end.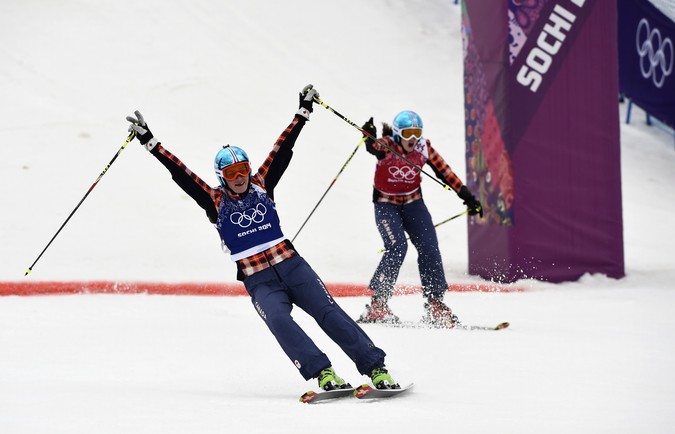 6:25 a.m.: RESULTS:
Today is starting off great for Canada, again, with two medals in the women's ski cross event. Canadians Marielle Thompson and Kelsey Serwa t
ook the gold and silver
, respectively, and were followed by Sweden's Anna Holmlund, who got the bronze. Canada
took home
the top medal in this event in 2010, as well. If this bout of Canadian luck  — which brings the country's gold medal count to eight, and overall medal count to 22 — holds up it could be bad news for the U.S. men's hockey team.
--
Here's the medal count heading into Friday's events. Norway's once again leading the pack, with the U.S. having moved up a few spots too.
--
Friday's Schedule of Events (All listed times are Eastern):
Freestyle Skiing Women's Ski Cross Qualifying: 2:45 a.m.
Freestyle Skiing Women's Ski Cross Final: 4:30 a.m.
Men's Curling, China vs. Sweden (bronze medal match): 3:30 a.m.
Men's Hockey Semifinals, Finland vs. Sweden: 7 a.m.
Alpine Skiing Women's Slalom, Run 1: 7:45 a.m.
Alpine Skiing Women's Slalom, Run 2: 11:15 a.m.
Men's Curling, Great Britain vs. Canada (gold medal match): 8:30 a.m.
Speed Skating Men's and Women's Team Pursuit Prelims: 8:30 a.m.
Biathlon Women's 4 x 6km Relay: 9:30 a.m.
Speed Skating Men's 500m: 11:30 a.m.
Speed Skating Women's 1000m: 11:30 a.m.
Speed Skating: Men's 5000m Relay: 1:15 p.m.
Men's Hockey Semifinals, USA vs. Canada: 12 p.m.
This article is from the archive of our partner The Wire.