The International Skating Union Is Making It Really Hard to Question Adelina Sotnikova's Gold Medal
This article is from the archive of our partner
.
Since Adelina Sotnikova's controversial gold medal figure skating win in the Sochi Olympics, the International Skating Union has said it was "confident in the high quality and integrity of the ISU judging system." The group's actions, like removing its contact information page on its website and deleting posts on its Facebook page, say it doesn't want to hear otherwise.
Sotnikova's victory over South Korea's Kim Yuna and Italy's Carolina Kostner left many in the skating world scratching their heads. There are fishy details like the overabundance of generous scores for Sotnikova and her Russian compatriot, Julia Lipnitskaya, and  stinginess when it came to the other top four women, or the fact that one judge severely underscored Kim on her artistry and possibly the same judge consistently over-scored (compared to the other judges) Sotnikova's program. And that one of the judges is married to the head of the Russian skating federation, and another, a Ukrainian with reported ties to Moscow, was busted for trying to fix a figure skating competition in the 1998 Nagano Olympics.
That said, there are a lot of questions people have about the result, conflicts of interest, and the judging system. There's a 2 million-strong online petition floating around asking the International Skating Union to investigate and thoroughly explain the results. And there are countless tweets, tumblrs, Facebook pages, Reddit threads, figure skating forum threads, and whatnot with people wanting answers from the ISU.
The problem is, it's really hard for them to get in touch with the International Skating Union — and the ISU made it that way. One of its first moves was eliminating its e-mail contact form from its website. Here's a snapshot of their website from February 14, a little under a week before the women's competition: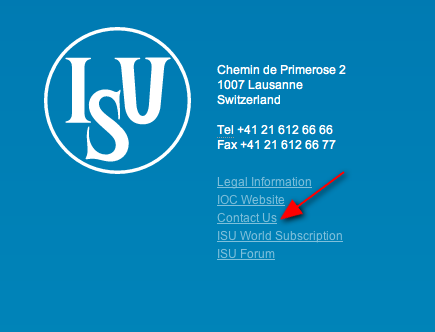 It had a contact page which would direct you to a form which allowed you to send an e-mail to the ISU. That's completely disappeared now: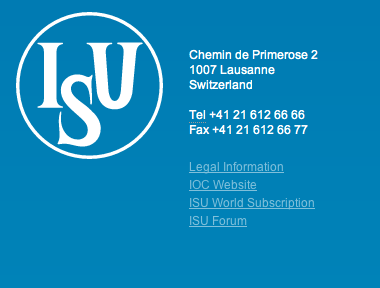 Granted, that's a small tweak, but there's been no explanation as to why it's removed the link. It's also taken down that page.
The ISU has also been doing some housekeeping on its Facebook page. After Sotnikova's win, the page was flooded with comments about how the judging was skewed or unfair. And some of those comments reportedly crossed the line, prompting the ISU to post this message: "Anyone is welcome to comment on this page but please do so in a respectful manner. Any discriminating and foul language or reference to foul language will be deleted."
What users are now saying is that the ISU is blocking users and deleting posts that are just sharp criticisms:
There are over 2,492 comments in that thread.
The ISU's actions (is someone getting paid to delete those comments?) seem a little odd for an organization that is fully confident in its abilities and current judging system. The organization hasn't spoken since voicing its support for the judges and the judging system.
The other half of that equation is that there are a lot of people upset with the result. We sort of knew about the magnitude of displeasure when we heard about that online petition, but the ISU's actions could possibly reflect that it was being deluged with comments and e-mails about the current system — something it shouldn't be ignoring.
I tried contacting the ISU by phone, and have sent an email asking about the website tweaks, the Facebook deletions, whether or not it had to do with Sotnikova's gold medal. I will update if I hear back.
This article is from the archive of our partner The Wire.