Inside the Cheerlebrity Economy
"There's some good cheerleaders out there, and there's money to be made."
This article is from the archive of our partner
.
Maddie Gardner was America's first "cheerlebrity." Back in the dark ages of the mid-2000s, Gardner developed a following in the all-star cheerleading world for her expert stunting ability and animated performances. By the end of her career in 2012, she had thousands of fans on Facebook and lucrative endorsement deals with cosmetics lines and clothing companies. Today, about a dozen cheerleaders have followed in Gardner's footsteps, gaining hundreds of thousands of Instagram followers and their own endorsement deals. Sarah Gardner, Maddie's mother, tells The Wire, "There's some good cheerleaders out there, and there's money to be made."
All-star cheerleading looks very different from the rah-rah sideline cheerleading you know. It's a mix of gymnastic stunts and high-intensity dance routines, and hundreds of elite squads compete each year at the World Championships in Disney World. Fans follow the queens of the scene, cheerlebrities, obsessively. After Gardner, there's Carly Manning, Cami Branson, Peyton Mabry, Gabi Butler,  and Jamie Andries. Young girls light up at the sound of these names and rush to take photos with the teenagers at competitions. Tumblr users debate the cheerlebs' relative merits: they want Jamie's abs, Peyton's looks, and Gabi's flexibility. They're talented, blonde, and underage — and their parents aren't quite sure what they should do about their growing fame.
Naturally, some companies want to reach those thousands of online fans. Cheerlebrities have deals with cosmetic lines, shoe companies, or clothing companies. "I don't know that you can make a fortune at it, but I think some of the girls are doing pretty good," Sarah Gardner says. "I don't know, when they're posting these promotional things and stuff, they're getting paid."
Maddie Gardner is best known for performing a stunt that no one else can do — the ball-up 360 tick-tock. Fans say when she performed the stunt for the first time at the 2010 World Championships, it was the "greatest moment in cheer history." (Watch it in the GIF at the right — she's the flyer in the middle.) She's now a sophomore at the University of North Carolina - Chapel Hill.
She was able to benefit from endorsement deals towards the end of her all-star cheer career, partnering with a cosmetics line and a clothing company. In 2012, she became the first all-star cheerleader to sign with a sports agent in Los Angeles. Before that, Gardner would do appearances for "no compensation ... I'd just let her do it," her mother explains. Now through the agent, "we've done some things with Chasse, the cheer clothing company," she says. "You'll see some postings on her Twitter and Instagram, she'll give a little shoutout to them a couple times a month. ... So she's like a spokesmodel for them."
Sarah Gardner is modest when it comes to her daughter's fame — she insists it was just being in the right place at the right time. She explains,
[Maddie] had a short little bob haircut, so she put a headband in instead of wearing a ponytail like other girls. ... People started saying, "Oh, there's that little girl with the headband!" I think that's mainly the reason that people started to notice her ... And then, she's just really animated when she performs. She's always liked to have attention and perform. ...
Then, in 2009, Gardner won a contest with Nfinity shoes and Inside Cheerleading magazine. She got a shopping spree in New York and appeared on the cover of the magazine. "That was about the time that social media — Facebook — began to take off," Sarah explains. "I think that's what made her popular. It was all timing." Fans still ask for copies of that magazine.
Some parents struggle to control the growing attention. Fifteen-year-old Carly Manning has nearly 400,000 followers on her public Instagram account. Fans obsessively follow her every move — in cheer and in her personal life. When she and her boyfriend Matt broke up last year, fans cried the same way they would over a CW television breakup. Carly Manning's mother, Cindy, told The Wire that her daughter doesn't want the media attention. Carly "keeps her social media clean" so as not to invite attention, Cindy says. Carly echoed her mother in a recent Teen Vogue profile, insisting that she doesn't court followers: "I would just post pictures with my friends on the team doing baskets and stunting and tumbling, and people would like them! I honestly don't know how I got so many followers."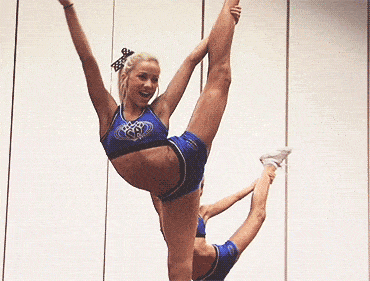 While plenty of all-star cheerleaders are inspired by cheerlebrities, some get frustrated that a few individuals get the most attention in what's supposed to be a team sport. Thousands of girls attend competitive gyms like Cheer Extreme, Cheer Athletics, and California All Stars, but only a few end up on the popular page of Instagram.
Lisa D. Welsh, a former newspaper journalist who runs the influential CheerMaD (Moms and Dads) blog, tells The Wire that she wouldn't want the cheerlebrity life for her daughters. Furthermore, her daughters aren't interested in it. They just love the sport. Welsh recalls her older daughter Becky's first experience with all-star cheer at age 7: "The smile on her face — I knew she had found something that she loved. ... There was something about this that was different." Soon thereafter, Welsh's younger daughter, Rachel, got involved. Becky, 21, is now a coach. Over the years, the family has put a lot of time and money into cheer.
"I think this surprises a lot of parents," she says. "There's a cost to the uniforms they're going to wear. And you're traveling to, first it was Hershey Park, Pennsylvania, and now we're going to Dallas, Disney World [for competitions]. ... For first time parents, I was sitting there looking at a $5,000 commitment for the year." Welsh estimates that the cost can go up to $10,000 per year, when you include gym fees, choreography fees, uniforms, music, and travel. Not to mention the fact that parents have to pay to watch the competitions.
The financial burden and the time commitment drive some parents to push their daughters, Welsh says. "If you're paying all this money, and your kid's in the back [of the routines] all the time, and you don't feel they're getting a shot ... that's [the complaint of] some parents I've heard." A cheer mom who wished to remain anonymous confessed, "there are certainly parents who try to create cheerlebs." Welsh says she's heard from parents who have switched gyms to give their daughters a better chance at being flyers. Flyers are the girls being thrown in the air during the stunts. All cheerlebrities are flyers. The bases and back spots, who throw the flyers in the air, don't become as popular simply because you can't see their faces as well during the routines.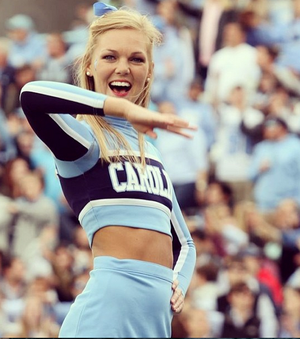 Sarah Gardner doesn't think you can manufacture a star, however. When asked what advice she'd give to other cheer parents, she says,
I see a lot of people that seem to be trying to make it happen [for their daughters], and I know that sounds terrible. But we never really tried to make it happen, it just happened for [Maddie]. ... You can't really make it happen, I don't think, no matter how hard you push or try. Once it does, I just think ... all I did was be supportive. I watched her handle it by being humble, friendly, and kind to people who reached out to her.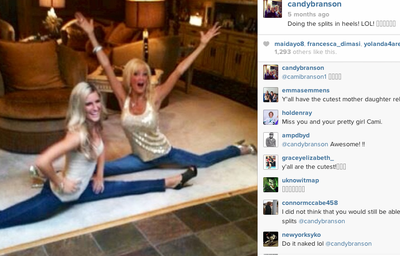 Then there are parents who fully embrace their daughters' fame. Candy Branson, a former Dallas Cowboys cheerleader, has her own Instagram account where she posts photos of her cheerleb daughter Cami. Cami has 341,000 followers, and mom cleans up with 12,000 of her own.
Maddie Gardner is now out of the all-star world entirely, preferring to cheer on the Tar Heels at football and basketball games. "I think that she wouldn't trade the experience, but that she's genuinely glad it's over," Sarah Gardner says. As for Mom? "If I had a child now, I don't know if I could go through it again. It's gotten so competitive, and people are kind of nuts now," she laughs.
This article is from the archive of our partner The Wire.