How the Ladies Figure Skating Gold Medal Became a Three-Woman Race, in GIFs
The dust has settled on the ladies figure skating short program, and we now have a three-way race for Olympic gold. The thing is: only one of three favorites coming in is in the hunt for a gold. Here's a primer on who's in, who's out, and if the U.S. can take home a medal.
This article is from the archive of our partner
.
Update 1:56 p.m.:  There are results at the bottom of this post.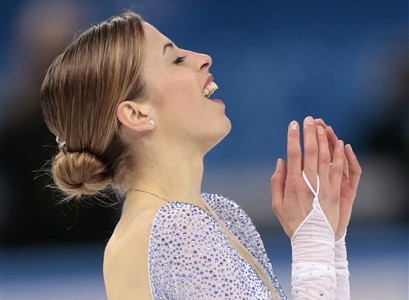 The dust has settled on the ladies figure skating short program, and we now have a three-way race for Olympic gold. The thing is: only one of the three favorites before the Games is now in the hunt for a gold. Here's a primer on who's in, who's out, and if the U.S. can take home a medal.
Before We Get Started ... a Note About Scoring:
Each element and specifically each jump — double Axel, triple toe loop, etc. — in a program has a base value pegged to how difficult it is, and judges award or subtract points depending on how well it's done. That's called a "Grade of Execution," or a GOE, and it ranges from +3 to -3 points.
How Did Kim Yu-na Look?
Short answer: it's like she never left. But you probably want more than that... 
No one really knew what to expect with Kim. She hasn't really been competing this season and though she absolutely demolished the field at South Korea's national championships, scores at national championships are inflated. With all eyes on Kim, the champion dazzled with her signature triple Lutz-triple toe combination:
She followed that up with a gorgeous triple flip — a jump that can bring her trouble:
Those jumps helped Kim grab the second-highest technical score, 39.03, of the night.
Were there any big surprises?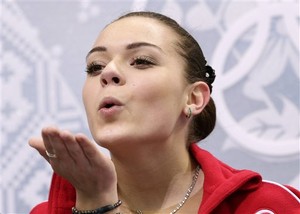 The woman who beat Kim's technical score was a Russian not named Julia Lipnitskaya. Her name is Adelina Sotnikova, and she grabbed a 39.09 in her technical score, .06 higher than Kim's. The weird part is that she scored higher than Kim despite having a program with a lower start value. Here's her triple toe-triple toe:
I'm not the biggest fan of the first jump in that sequence, but the judges loved it (one running theme these Olympics is that Russians have been scored very kindly). They also believe she completed her triple flip better than Kim did:
Sotnikova also gained points on her spins to help pump up her technical marks, and she rode that to second place.
The other surprise of the night was Italy's Carolina Kostner. Kostner has never delivered in big events and was a wild card coming into this. But candles were lit, stars aligned, and Kostner turned in a heavenly program.
While Kostner didn't score as high as Kim and Sotnikova did in their jumps, she held her own with 37.49 points. She made up for that gap with strong choreography and a dreamy short program that paid off in her component score (36.63) — the highest of the night. A small selection of her beautiful movements via peetas on Tumblr:
Kostner and Sotnikova weren't considered favorites going in. What happened?
The top three gold medal favorites going in were Kim, Japan's Mao Asada and Russia's Julia Lipnitskaya. And the latter two had short programs they'd like to forget. While Lipnitskaya might be able to salvage a medal, it's hard to say the same for Asada, who had the most heart-breaking moment of the night.
Asada, who has gone through a tough four years since Vancouver, did not land her triple Axel. And on top of the fall, judges downgraded her jump:
Downgrades happen when judges determine that the skater did not complete enough revolutions (i.e. they're still rotating when their skate hits the ice). And downgrades hurt because not only are you getting dinged for your bad jump, but you're also starting with a lower value. The way that judging works now, it might be better in some situations to complete the rotations and fall than it is to clumsily land a downgraded jump.
Right off the bat, Asada's downgraded triple axel already puts her in a 3-point hole behind Kim and Sotnikova. And that wasn't the only downgrade in Asada's program:
Asada could have probably found a place in the top 10 with one downgrade. But two was just too much. Asada also bungled her combination jumping pass, and found herself in 16th place (55.51) — almost 20 points behind the leaders and (unless the 10 skaters ahead of her get lost on the way to the rink) probably out of medal contention. Asada has said she would retire after this competition.
How did Julia Lipnitskaya ruin her gold medal chances?
Leading up to the short program, Lipnitskaya had become the darling of the Olympics with a stunning performance during the team event. And for two-thirds of her program, it seemed like her run would continue. That's when she ran up against a triple flip that went all sorts of wrong:
Lipnitskaya didn't just receive deductions from her fall, but also for under-rotating her triple flip. So, she only got the points (or credit) for a double flip and then on top of that, was dinged .90 points for executing it poorly. That brings her grand total for that jump to a measly 1.08. Landing a clean triple flip would, at the very least, snag 5.3 points. That's a lot of points to lose, and it hurt Lipnitskaya's score even more when you factor in skaters who were landing clean triple flips and getting positive scores.
How did Lipnitskaya score more points than Ashley Wagner?
To the naked eye Lipnitskaya skater absolutely biffed her short program and Wagner didn't fall. Going by the eye test, it would make sense then that Wagner should be ahead of Lipnitskaya. But that didn't happen. Here is a gratuitous Wagner-in-shock-at-her-score face: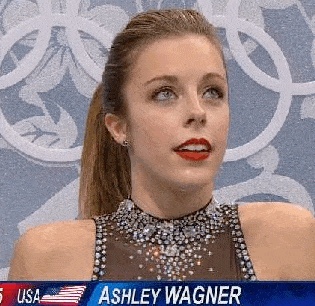 Wagner found herself .02 behind Lipnitskaya. To figure out why, you have to look at her first jumping combination. Specifically, the second jump of her jumping combination: 
That second jump in the combination, a triple toe loop, was sloppy and under-rotated, and the judges dinged and downgraded Wagner's combination in response. A regular triple flip-triple toe loop is worth 9.40 points and, depending how well you do it (Kostner got 10.90 points for her), could fetch double digit points. Wagner might have been better off doing a single jump considering the hit she took on that combo.
Wagner's component score (which measures the artistry and choreography of a skater) was actually higher than Lipnitskaya's. But that bungled combination really hurt Wagner.
Can an American win Gold?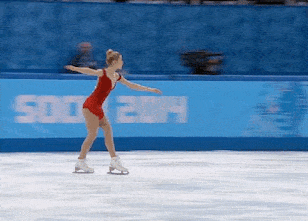 Hmm ... never say never. But if you were placing a big bet on an American winning gold, I would advise against it. A medal might be a different story.
Gracie Gold is currently sitting in fourth place and trailing the leaders by around six points. If any of the top three skaters have a major mistake and Gold skates cleanly, she could sneak in for a medal. Unfortunately for Gold and her fans, she has had trouble cobbling together a clean free skate. The chances for Wagner (around 9 points behind the leaders) and Polina Edmunds (around 13 points behind) are much slimmer.
Update 1:56 p.m. RESULT— SPOILER 
Adelina Sotnikova has won the gold medal after a free skate, despite a bobble during one of her combination jumps. She was followed by South Korea's Yuna Kim, and Italy's Carolina Kostner. American Gracie Gold finished fourth:
This article is from the archive of our partner The Wire.