'The Good Wife' Cameos: How Will New York City Mayor Bill de Blasio Rank?
New York City's Mayor Bill de Blasio is going to make a cameo on an upcoming episode of The Good Wife, according to the New York Post.
This article is from the archive of our partner
.
New York City's Mayor Bill de Blasio is going to make a cameo on an upcoming episode of The Good Wife, according to the New York Post. CBS and de Blasio wouldn't elaborate on the nature of his role, other than he'll be playing himself while Alicia Florrick (Julianna Margulies) "seeks inspiration for a keynote address." That's not a lot to go on (maybe he'll teach her his family's Smackdown dance?) but we trust The Good Wife when it comes to bringing in famous people to play themselves or other people. As we await his star turn on March 16, here's our ranking of the cameos that have come before him, and how he might rank.
(Note: To count as a cameo, the famous person has to play him or herself, otherwise it's a guest star role.)
1. Donna Brazille
Ep. 3.5 "Marthas and Caitlins," Ep. 3.16 "After the Fall," and Ep. 5.10 "The Decision Tree"
Brazile's role involves her deciding on who'll speak at the 2012 Democratic National Convention. Peter Florrick (Chris Noth) is in the running. In season five, she comes back to discuss who's considering making the leap to national politics, and goes to a party. "Now he's not presidential material – yet – but clearly putting him in a position to keep his ambitions going – that's the job of a strategist," Brazile told U.S. News.
Her role is somewhere between a cameo and a guest star — her appearances require actual acting and line delivery, all of which she does pretty well. De Blasio's cameo will probably be less memorable than Brazile's three. Here she is in season three:
2. Michael Bloomberg
Ep. 4.22 "What's in the Box?"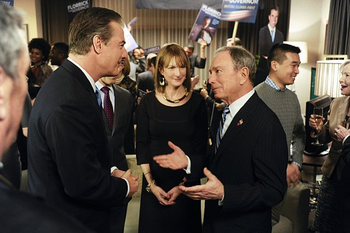 There's a short tradition of New York Mayors appearing on The Good Wife. Bloomberg (very, very) randomly appeared to congratulate Florrick when he won the Illinois governor's race. Why Bloomberg would go to Chicago to congratulate a Democrat is beyond us. (Perhaps it has something to do with the the New York landmarks that occasionally find their way into the background of this Chicago-set but New York-filmed show?) Hopefully de Blasio's cameo will make more sense.
3. Peter Bogdanovich
Ep. 5.11 "Goliath and David"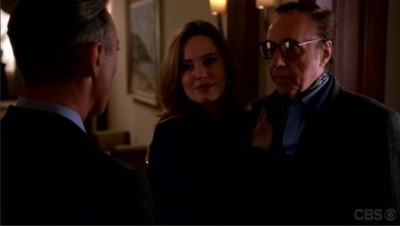 Bogdanovich's cameo involved several jokes. Illinois Governor Peter Florrick's love of beautiful women (and prostitutes) is well known. So when the beautiful head of his ethics department Marilyn Garbanza gets pregnant and says she's naming the baby after his father — Peter — Florrick's chief of staff, Eli Gold (Alan Cumming) has to figure out the identity of the actual father, at least before his head explodes from stress.
Not only is Bogdanovich funny because he's the Peter in question, but Bogdanovich has a reputation for being a womanizer, and here he is with this young girlfriend. As he told The New York Times:
I made the newspapers a lot, for my relationships with various women, so it wasn't a particularly surprising idea. I thought it was funny and charming. And Melissa George is a knockout, so I made a point of kissing her a couple of times in the scene. They didn't use much of it. I said, "Let's do a few more takes."
He would be higher up, but this actually sounds really creepy and taints the scene. If de Blasio doesn't come off as a gropey perv then he'll be fine.
4. Derrick Rose
Rose famously bailed on his Good Wife cameo in November 2010, even when a car showed up at his house to take him to a flight the show paid for. He later admitted that he was tired — he went to bed at 2:30 am and had an early flight to New York, where the show is filmed. "The timing was messed up," he told the Chicago Sun Times. "They had me waking up at 6 o'clock for an 8 o'clock flight. That's kind of messed up. I told them that the timing would have to be different." If de Blasio gets out of bed in the morning, then he'll be way ahead of Rose.
This article is from the archive of our partner The Wire.