The Daily Mail Must Bring This Ketchup-Loving Girl and Ketchup-Hating Boy Together
Please make our dreams come true, Daily Mail, by bringing ketchup-lover Melissa Ibbitson and ketchup-hater Lee Sentino together. We think they can make it work.
This article is from the archive of our partner
.
The Daily Mail, known for its thorough and relentless coverage of people with weird food phobias and obsessions, has once again delivered with its story on 19-year-old Melissa Ibbitson, who "can't live without ketchup." Like, seriously can't survive without eating gallons of it every year. Thankfully, she's not alone in her odd relationship with the red devil.
Because we are such avid followers of the Mail's gastronomic beat, we immediately recalled the publication's story on Lee Sentino, 24, who has a "lifelong phobia of all sauces and condiments." He is especially frightened by ketchup. Please make our dreams come true, Daily Mail, and bring these two youngsters together. We think they can make it work. 
Ibbitson opened up to the Mail about her obsession, admitting that she eats ketchup at least three times a day. Ibbitson made some rational points, like "I pick up sachets anywhere I can - the union, the pub, fast food chains - it's the best way to keep my costs to a minimum," which is something we assumed every college student everywhere does. She added that she won't eat french fries without ketchup, which makes perfect sense to us.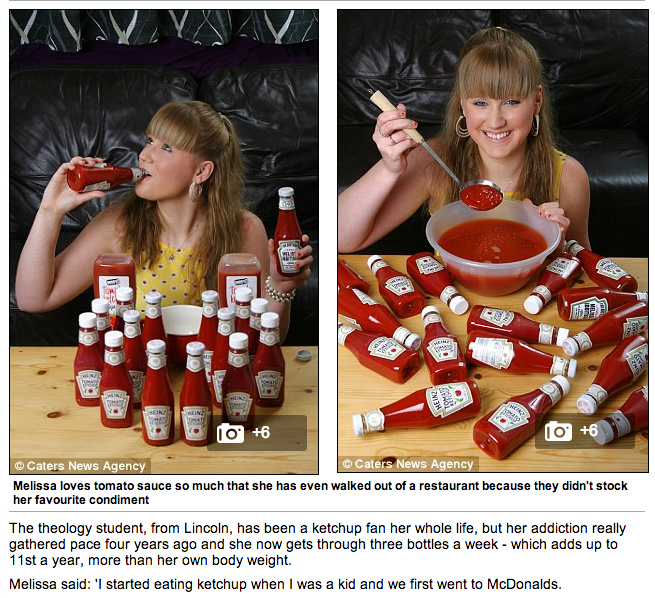 Her habits did appear more obsessive when she described going through three bottles of ketchup a week and adding it to her spaghetti breakfast. She receives ketchup-themed Christmas gifts and had a ketchup-shaped cake on her birthday. She also, apparently, had no problem posing for photos like the ones on the left. 
Sentino, on the other hand, is battling the opposite problem. The Daily Mail reports that "his bizarre fear of ketchup... has stopped him enjoying normal meals for his whole life." His whole damn life. Ketchup Girl, this poor man needs you. Unlike Ibbitson, who picked up the habit at McDonald's, Sentino says he doesn't quite recall when the phobia began, but adds that "I used to joke that my mum chased me around the house with a bottle of Heinz ketchup."
Sentino is not only averse to ketchup, but also to all wet foods. "When presented with something I didn't want to eat it I would gag," says Sentino, who reports that all sauces make him feel this way and it makes mealtime difficult.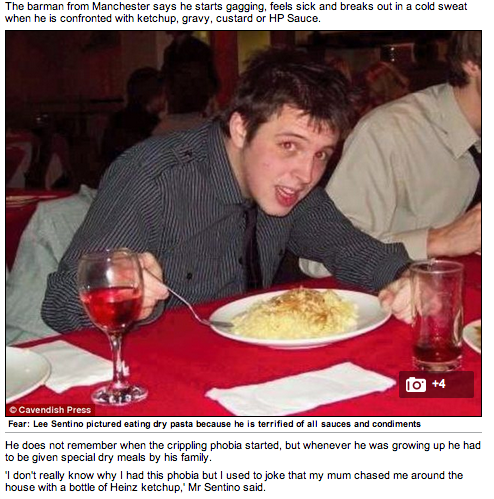 Once, he says, "I went to an Italian restaurant and just asked for a bowl of pasta. When I close my eyes, I still see the woman's look of confusion and disgust." He has never sought counseling for the food ailment, saying "I presumed it would be fine to live like this forever." Ketchup girl, don't let Sentino live like this forever, haunted by images of confused, disgusted waitresses.
You might think that our proposal is a little harsh, considering the extent to which Sentino's fear of ketchup has affected his life and how Ibbitson's love of ketchup has enhanced hers. But Maury Povich, solver of problems, taught us long ago that the only way to get over a food phobia is to face it, head on, no matter how scary it may be. Surely you recall pickle girl, who shook and screamed as Maury forced her to look at "thousands upon thousands" of pickles.
But what's in it for Ibbitson, you may ask. Though Ibbitson seems at ease with her obsession, we'd like to make sure that she doesn't go the way of Barry Levinson, a man so obsessed with mustard he brushes his teeth with it. Levinson was featured on TLC's My Crazy Obsession for his mustard mania, where he revealed that he fell in love with mustard when he heard a voice coming from the mustard in an all-night grocery. "It has taken over my life," he said.
He is the owner of the largest mustard collection in the world, which he has been working on for 26 years. His wife said of the obsession, "there's times when I think it's a little bit too much."
We're not here to judge Levinson's mustardy life, but we think that Ibbitson should be aware of what her future could hold. Does she want to spend the next 26 years collecting ketchup and listening to ketchup bottles? Maybe. But if she doesn't, we recommend hooking up with Sentino. Compromise is the key to any healthy relationship, which is why, Daily Mail, we implore you, bring these two lost souls together. Write a story about their love, slap on a four-sentence long headline on that article and pepper it with ridiculously staged professional photos for us. If not for our sake, then at least for theirs.
This article is from the archive of our partner The Wire.