Biathlon: Men's 20km Individual Recap
Yet another biathlon medal fail for America, but we did have a top 10 finish! Thanks, Lowell Bailey!
This article is from the archive of our partner
.
So America once again failed to medal in a biathlon event, as it has failed to medal in every single biathlon event in every Olympics ever, but we did manage to score the best individual finish! And it wasn't Tim Burke, thought to be our best hope in these games, who did it, either.
Lowell Bailey missed just one target to finish in a very respectable eighth place. Bailey told Team USA that he'd been pretty down after the pursuit, where he placed 38th and missed three targets.
"You spend your whole life working for something then see it fall apart in a matter of 35 minutes," Bailey said. "It can really beat you down if you don't step back and gain some perspective. The first person I saw after my (pursuit) race was my mom. I think that was the first step to getting back mentally and understanding where I was, what this is all about, and what I'm here to do."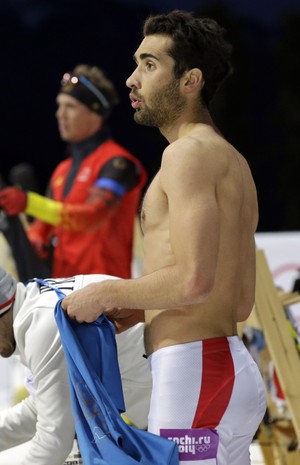 Also missing one target was the winner, France's Martin Fourcade. Fourcade, you'll remember, also won the gold in the pursuit. And, like the last race, his victory was decisive. He skied so fast that the silver medalist, Germany's Erik Lesser, couldn't catch up to him even though he shot clean. And Fourcade never even seems tired -- no collapsing after the finish line for him! It's pretty awesome. Winning third was Russia's Evgeniy Garanichev, missing one target.
And where were the Norwegians, who usually dominate the sport? Emil Hegle Svendsen, who was seen as a medal favorite going into the games but hasn't done well so far, was Norway's best with seventh place. He won the gold in this event in 2010. Ole Einar Bjøerndalen, who needs just one more medal to be the most successful Winter Olympian in history, ended up placing 34th. He missed four targets, and though he skied fast enough to beat competitors who missed only one, it wasn't nearly good enough.
"It was a heavy day," Bjøerndalen told the AP. "I was shooting too bad."
Speaking of shooting too bad, the rest of the Americans: Tim Burke was 44th and Russell Currier was 50th, both missing four targets, while Leif Nordgren finished 83rd, missing six targets (five of which were in the third round. There are five targets per round).
Complete standings can be found at Sochi's official site and more stats and analyses can be found at Real Biathlon.
More Sochi Day 6 action in The Wire's live blog.
This article is from the archive of our partner The Wire.