The Beginner's Guide to Watching Olympic Figure Skating Like a Super Fan
If, like most of us, you only watch figure skating during the Olympics, you're not catching the full story arc — it's more like you're jumping into a complex HBO drama at the series finale.
This article is from the archive of our partner
.
If, like most of us, you only watch figure skating during the Olympics, you're not catching the full story arc — it's more like you're jumping into a complex HBO drama at the series finale. The competition has essentially been going on for the better part of the year, as skaters have built their reputations, gained momentum with brilliant performances, lost it by collapsing under pressure, or stoked anticipation — even among the judges — by being MIA for much of the season. Because skating is a subjective sport with long performances, personality and character matter. So for the full experience, you have to watch skating like a super fan. The Wire spoke to five fans to help maximize your Olympic skating experience.
The Skating Lesson's Dave Lease explains that the difference between the top glamour sports — skating and its summer cousin, gymnastics — is that skaters perform for four minutes at a time, much longer than gymnasts' 90 seconds. "You get more of a sense of the personality," Lease says, "a chance to connect with a skater." The best skaters have the power to make you "
forget you're watching a competition, because it becomes more like an art piece."
Here are our five experts/fans (the line blurs in a niche sport): Lease, who's site is essential during the Olympics; Cassia Pelton, a 15-year-old skater who writes the
Sparkles and Salchows
tumblr;  Susannah Katz, who
blogs
and
tweets
as Illusion Spin; J.j. Dizon, who posts lovely GIFs on her
Realdetective
tumblr; and the author of the tumblr
EggplantGIFs
, who prefers to remain anonymous.
The rivalry: Kim Yu-na vs. Mao Asada
Kim and Asada, both born in September 1990, have been rivals for almost a decade. In a sport with so many injuries, that kind of longevity for top competitors is rare, Lease explains. They finished 1-2 at the 2010 Vancouver Olympics. Now, they're at the end of their careers. But while Asada has been working hard ever since winning silver in 2010, Kim has done less in the last four years since she won gold. Even so, Katz, and many other fans, expect Kim "
will likely
waltz
in and win the gold."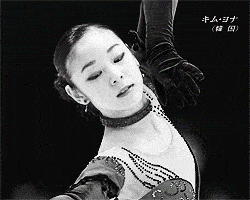 Skater: Kim Yu-na of South Korea
What she's known for:
"If you're really looking for a wow moment, you have to look at her triple lutz-triple toe" combination (shown in the top right GIF), Lease says. "She covers an incredible amount of ice," and she does it with great speed. 
Watch Kim's arms, because they're "hypnotizing," Lease says. She has to have great arms, though, because she doesn't have great extension in her legs. 
That means that "
a lot of her choreography is from the waist up, so she really has to use her arms and her face." 
And Kim has one other very important aspect you can see in the GIF above right:  "She has 
something intangible, which is star quality," Lease says. 
Weaknesses and controversies: Many fans think Kim's scores are inflated, based less on her skating in the moment and more on what she's done in the past. 
It's been going on for a while. "S
he was certainly overscored at the last 
Olympics
. Now she deserved to win — she
absolutely
deserved to win," Lease says. But "the marks she was getting at the last Olympics were a bit ridiculous." Take her spiral, for example. It's supposed to look like Nancy Kerrigan's [still at right], with a beautiful stretched leg. Kim doesn't do that — "it's almost like she has a dead free leg."
Even so, in 2010, "she was getting +1s and +2s on her spiral sequences." Lease said, referring to Kim's execution scores. "Part of the scoring on your spiral is about your position about how aesthetically pleasing it is. She was getting marks that were outrageous compared to what we were seeing from other skaters."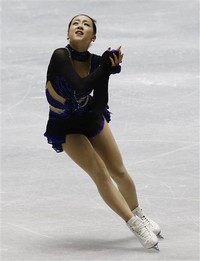 Skater: Mao Asada, Japan
What she's known for: Asada has been known to fans since videos of her as a tiny junior doing huge jumps began circulating decade ago. Though she beat top seniors before the 2006 Olympics, she was too young to compete. In Sochi, she'll be the only woman to throw a triple axel.
Fans have watched Asada struggle, and show resiliency, in the recent past. Her mother died in December 2011, and Mao returned to competition just a 
few weeks
 later.
Fans have seen all elements of her personality over her career, Lease says. "She's really grown over the years in terms of her artistry," Katz says. And Pelton is amazed by Asada's presence. "I love watching videos of all of the Japanese skaters because they skate differently... They have a 
different way of taking the ice... S
he gets out there and looks determined."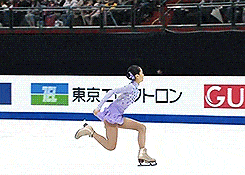 Weaknesses and controversies: Asada's triple Axel is critical for her to be competitive against Kim, but she struggles to get it around. Skating has a tech specialist who reviews all the jumps, sort of like the NFL's instant replay. Every jump must be completely rotated — if it's more than a quarter turn underrotated, the skater doesn't get credit, even if it looks great to the naked eye. Lease says, "All eyes are going to be on that Axel."
---
The dancer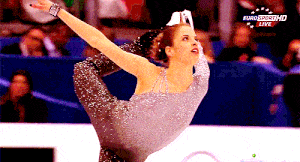 Skater: Carolina Kostner, Italy
What she's known for: Lease says Kostner combines the artistic and the athletic elements, and so her skating "tugs at your competitive side as well as your emotional and more aesthetic sensibility." Lease spoke for a long time about Kostner's incredible musicality: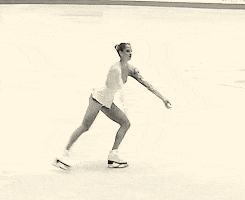 "If you look at her program, her free skate is to Bolero. It's very seductive — I wouldn't say sultry — but seductive in parts... There's moment when she stops in center ice starts interpreting the music, moving her hips. She blows a kiss, then starts skating on outside edge...  interpreting the music through her whole body... [Even though it's] a really complex rhythm, they seem like the perfect steps to do at that point in the music. She really makes you forget you're watching a competitive program."
Weaknesses: Kostner can be inconsistent. "I have no idea what to expect from Carolina; she could be clean and find herself with a bronze, she could be shaky and be 5th-7th, or she could bomb like she has at the last 2 Olympics and be out of the top 10," Katz says. She doesn't expect an "implosion," but Kostner "doesn't do the highest level of technical content, so she absolutely has to be near-perfect if she wants a medal."
---
The Very Flexible Teenager
Skater: Julia Lipnitskaya, Russia
What she's known for: Lipnitskaya is just 15, but she's risen quickly through the ranks. This has made her controversial. "In skating, there's this concept of it being someone's time, which that means that you've paid your dues and have been around awhile," Lease says. It's kind of an archaic concept, he says, from era of Peggy Fleming. Lipnitskaya has had a great season, showing consistency, Lease says, and building momentum.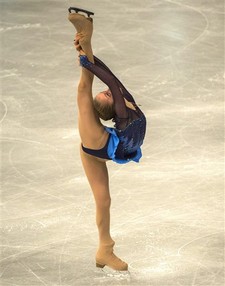 Some people call her Bendyskaya. Because of her flexibility, Katz says "she resembles a rhythmic gymnast out there." Take, for example, her Biellmann position, when a skater arches backward and grabs her leg over her head. Most skaters have to bend that back leg, Katz says. But not Lipnitskaya. You can see how she's able to straighten that back leg in the image to the left.
Like so much else about Lipnitskaya, her flexibility is controversial. Here is a "figure skating fanfession," via Tumblr:
Another controversy is Lipnitskaya's music. She skates to Schindler's List, and plays the little girl in the red dress. It starts off appropriately somber, Lease says. "But at the end it's almost like she's a bit victorious... she's doing these big spirals... In the movie, the little girl in the red dress dies. I feel confused by that performance."
---
The Ice Dance Rivalry: Meryl & Charlie vs. Tessa & Scott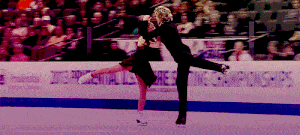 Like Kim and Asada, these ice dancing teams have been rivals since before the 2010 Olympics. They're fighting for gold in Sochi.
America's Meryl Davis and Charlie White (at right) are more athletic and dramatic, Lease says. They're favorites for gold, though people hotly debate whether they're better than Canadians Tessa Virtue and Scott Moir. The Canadians (below left) are more elegant, more romantic — they don't look like they have a business relationship. Virtue and Moir flow easily between movements, Pelton explains. "With less experienced teams, you can see them kind of preparing for the next element," she says. "But Tessa and Scott just flow, they make it look easy."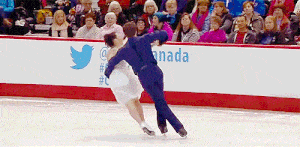 One thing that might set the teams apart are their twizzles, when the couple skates and spins in unison across the ice. It's very difficult, because you have to move fast and stay in sync. Davis and White have very fast twizzles, Lease says, while they've been a thorn in the side of Virtue and Moir.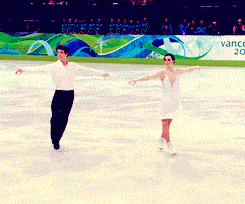 Both are competing in the team competition, which poses an interesting question: Will judges really give different scores between the team and individual competitions? In ice dancing, Lease notes, there are no jumps to score. It's the most subjective skating event.
Adding another wrinkle, both teams have the same coach. "They will say all day long in the press that [coach Marina Zoueva] respects both teams equally," Lease says. "But I don't think anyone in practice really believes that." Lease says Virtue and Moir have a reality show where it's clear the skaters are "very concerned" with what Davis and White are doing.
---
The American Ladies
Skater: Ashley Wagner
What she's known for: Wagner is "not the best jumper, not the best spinner, not the best artist," Lease explains. "She doesn't have that one thing," a "secret weapon." Dizon agrees, "She's not really the best at anything, but she's one of the most well rounded skaters because she's good at everything. A lot of people who are the best at something also have a really strong weakness."
Her fourth-place finish at nationals, where she was expected to win, "will certainly impact how the judges see her," Lease says. And being placed on the team, instead of earning it outright, has to affect her confidence. Wagner will have to perform under extra pressure in the team competition, given teammate Jeremy Abbott's fall on Thursday.
Wagner was in the top five at the last two World Championships, Katz says, but the competition is tougher this year. Last year, Lipnitskaya was out, and her fellow Russian, Adelina Sotnikova, was adjusting to her body after a growth spurt.
Skater: Gracie Gold
What she's known for: Gold started training with legendary coach Frank Carroll in September. "You can see the improvements he's made," Katz says, like ditching Gold's "god-awful short program."
But it's not clear how she'll respond to pressure. At nationals, Gold's winning performance came after Wagner's disastrous one — basically, "she knew she was going to win," Lease says. She's a good skater and spinner, so a medal is possible, especially if someone else falls. "There's been no Olympics where a significant number didn't fall," he says. The pressure just gets to skaters. Katz points out that Gracie hasn't skated a completely clean program in two and a half seasons.
---
The Men
Skater: Patrick Chan, Canada
What he's known for: Chan is "king of skating skills," moving incredibly fast with complex footwork, EggplantGIFs says. Lease adds that Chan has "incredible edges," which is how much your body leans over the ice — "the the edge is, the better." It gives a skater power and speed. 
Weaknesses and controversies: "Judges often reward him for his skating whether or not he's consistent," Lease says. (Some fans call this "Chanflation.") At the last World Championships, he had a good short program but bombed his free skate, and still won. And so, "there's been a target on his back ever since."
Skater: Daisuke Takahashi, Japan
What he's known for: Amazing footwork, like in Eggplant's GIFs at right and below left. "When he's on, one of the most complete skaters around; he is a very good performer and never misses a beat of music." Dizon loves Takahashi's footwork, too — "casual viewers don't really see how much goes into it."
Weaknesses: Takahashi is a sentimental favorite for Lease, though he admits that the skater doesn't quite have the same snap that he used to. He was injured when he performed at nationals and was placed on the Olympic team, much the same way Ashley Wagner was.
---
The Team Event Question
Since this is the first time skating has had a gymnastics-style team event, it's not clear how skaters will respond mentally and physically. "For some of them, they could not do well in the team even and become determined to do better," Lease says. "Or they could compete well in the team event and gain confidence." 
This article is from the archive of our partner The Wire.