Knicks vs. Lakers: Which Basketball Team Has the Cooler Celebrity Fans
The New York Knicks and the Los Angeles Lakers have been two of the worst teams this season. The only bright spot is that despite their awful records, these teams have famous fans. So which city wins out when it comes to star power?
This article is from the archive of our partner
.
The New York Knicks and the Los Angeles Lakers have been two of the worst teams this season and have combined to produce the ugliest basketball that $165 million (the teams' payrolls) can buy. Unless something drastically changes (like the invention of bionic legs or J.R. Smith giving up the title of least valuable shooting guard), these two teams will be in the hunt for lottery picks.
Yet, despite the teams' combined 31-52 record, celebrities still come out to see them play. "No other basketball team except the Los Angeles Lakers celebrates the presence of big-name fans at its games as aggressively and as unabashedly as the New York Knicks do," The New York Times explains, going on to add that seating all these celebrities is a real-life job which someone apparently prides themselves and gets paid for.  
The point is clear: the only title these teams hope of winning is celebrity attendance. And with that, there's no better time than ever to figure out which team has the cooler celebrity fans. Using a completely non-negotiable formula based on loyalty (Nicholson > Bieber), novelty (Suri Cruise > Jason Sudeikis), and star power (DiCaprio > Wahlberg) we've scored the teams's celebrity fans.  We also took points away based on fans that aren't quite A-list.  
So, without further ado:
The Knicks
The Starting Five
Spike Lee
Lee might not command the same amount of hype as a Kardashian (who the Times says are apparently the creme de a creme of basketball fans), but his loyalty and long-held devotion to the Knicks earns him a starting spot. He's almost more famous for being a Knicks fan than he is for his work.
8/10 — you don't find them more loyal than Lee.
Ben Stiller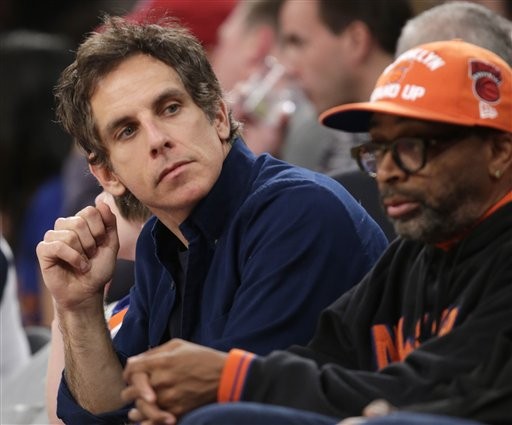 Another loyal Knicks fan. Another guy who isn't a Kardashian. Walter Mitty was unfortunately kind of a bust, but it's better than his other stuff of late. Oh hey, Spike.
7/10 - Loyalty and I am an unapologetic Zoolander fan.
Katie Holmes and Victor Cruz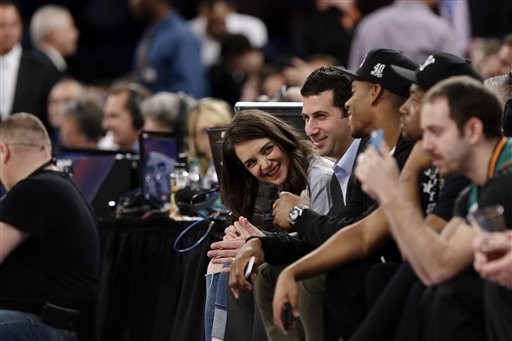 By themselves, these two would not earn a spot on the starting team. But courtside Katie Holmes telling Victor Cruz the aristocrats joke (or whatever, I'm assuming) is something you don't see every day.
9/10 — Kudos to the people in charge of the seating chart.
David Duchovny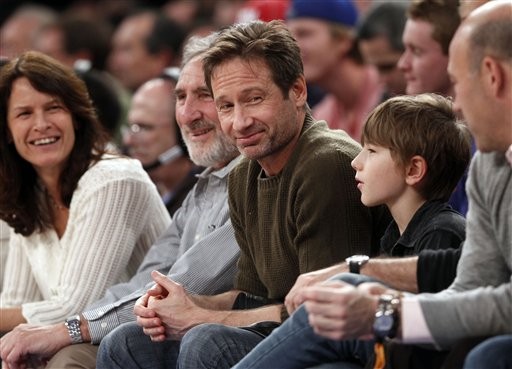 The X-Files. That's all.
10/10
Tom Hanks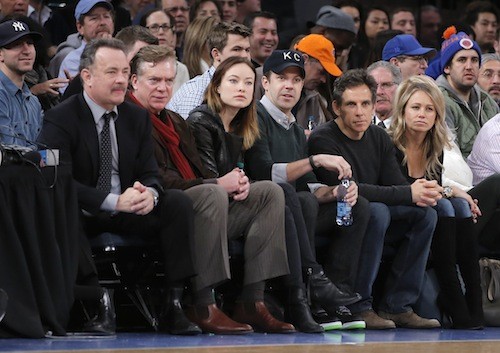 Tom Hanks is great and is a wildcard. You see, you don't just get Tom Hanks smiling on the sidelines when he shows up to the game. Sometimes he'll do stuff like ogle Olivia Wilde's ring, or take in the game with Christopher McDonald and Melody from Hey Dude.
15/10- Hanks has never been this cool since Joe vs. the Volcano.
The Sixth Man: Woody Allen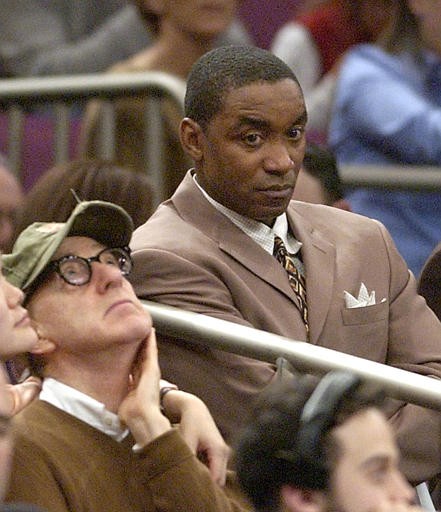 Another long-time fan. Allen is an interesting case because he isn't getting along with management and got disinvited from the VIP suite. "He was asked to stop coming after, the Garden said, he refused on three occasions to do small favors for them," The Times reports. This makes him cooler.
17/10- For being a rebel
The Bench (scores out of five):
Whoopi Goldberg (4)
Jason Sudeikis (3)
Derek Jeter (4)
Drew Barrymore (2)
The Liability:
RedFoo a.k.a. part of the reason "Sexy and I Know It" exists. (-17)
Total score: 62.
---
The Lakers
The Starters
Jack Nicholson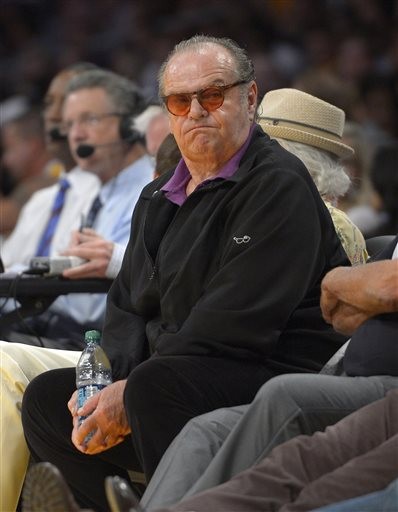 The epitome of celebrity basketball fan.
20/10-Jack has been a Laker fan since before I was even a fetus.
Leonardo DiCaprio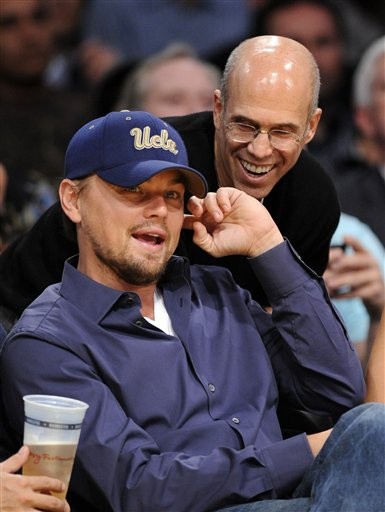 Another loyal fan with a lot of star power. You know how we can tell he has star power? Just look at the fanboy over his shoulder. That's Jeffrey Katzenberg.
20/10- Everyone likes Leo, right?
Mila Kunis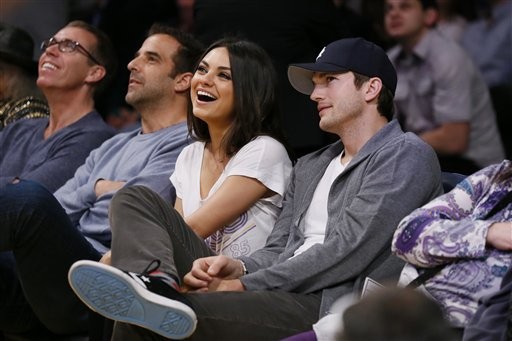 Mila Kunis would be on this list without Kutcher. She'd also have a higher score on her own.
7/10- Needs to choose her seat-mates better.
Some of the Red Hot Chili Peppers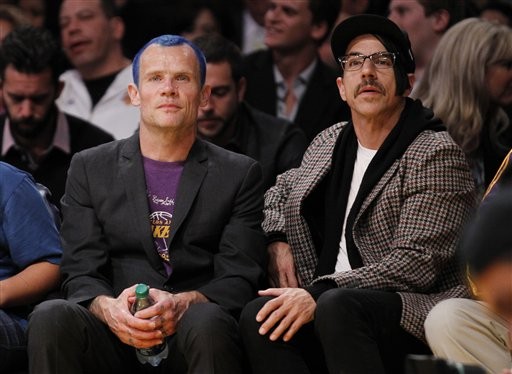 Anthony Kiedis is a loyal fan. I am going to score him and Flea high because I like that they didn't invite Dave Navarro.
9/10- Always say "no" to Navarro.
Will Ferrell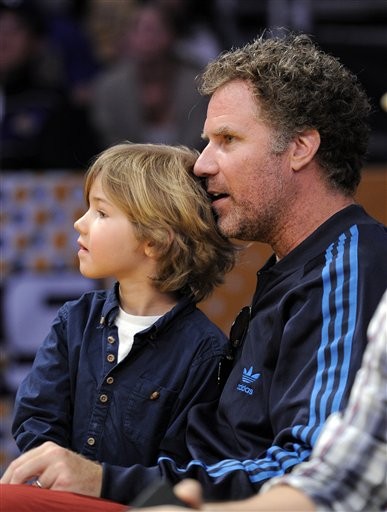 This is Will and his son Mattias. Mattias has awesome hair. I am scoring them high because of Mattias's amazing hair and that Ferrell named his other children Magnus and Axel.
10/10- More Ferrell. And Magnus. And Axel.
The Sixth Man
Kobe Bryant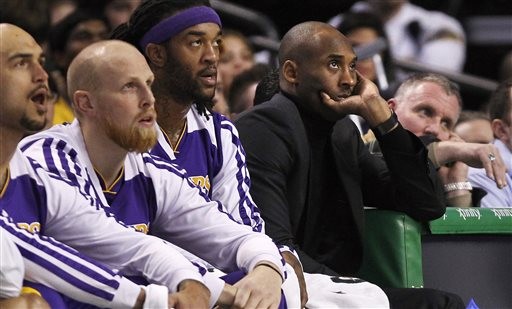 Bryant has been sidelined with injuries this season. That hasn't prevented him from contributing in other ways, like lending his star power to our competition.
15/10
The Bench:
Rebel Wilson (4)
Eddie Murphy (5)
The Liabilities:
Kaley Cuoco - this is based purely on my loyalty to Richard Lawson. -13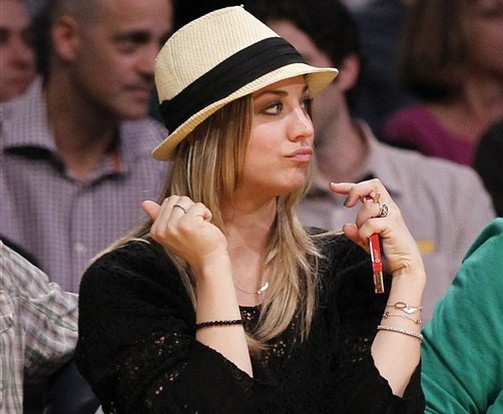 Justin Bieber and Jayden Smith - this is based purely on rational dislike. -14
Total: 63
---
The Result: Los Angeles wins by a score of 63-62 and lackluster performances from Bieber, Smith, and Cuoco.  However, this point is completely moot because there was really no contest to begin with. Bow down to the Brooklyn Nets: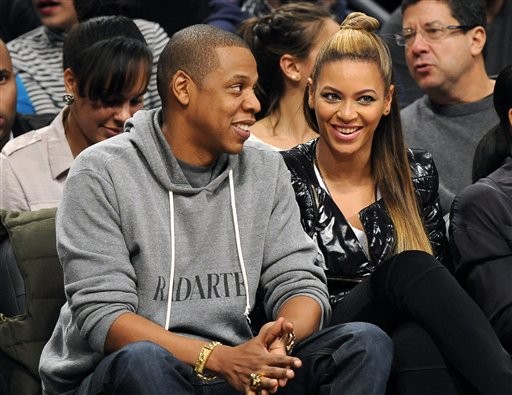 This article is from the archive of our partner The Wire.