Jon Stewart Shames Chris Christie for Soiling New Jersey's Rich History of Corruption
On last night's Daily Show, host Jon Stewart took on the Bridgeghazi scandal that's blowing up New Jersey Governor Chris Christie's presidential prospects in a thick cloud of auto exhaust
This article is from the archive of our partner
.
On last night's Daily Show, host Jon Stewart took on the Bridgeghazi scandal that may be blowing up New Jersey Governor Chris Christie's presidential prospects in a thick cloud of auto exhaust seeping from the crawling parade of cars trapped in bumper-to-bumper traffic on the George Washington Bridge.
Of course he did. How could he not? It's the sort of gallingly petty political scandal that's practically written for Stewart's show.
But there's another connection. Stewart grew up in New Jersey, a little over an hour south of Fort Lee. So, for some perspective, he introduced the show's "Senior New Jersey Correspondent": himself.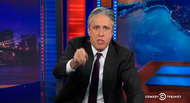 "I'm disappointed, I'm ashamed of the state I grew up in—to see New Jersey sink to such a piss poor, third-rate quality of corruption," the host griped in a mock mobster accent. "This is New Jersey, a state renowned for its piss rich, first-rate quality of corruption." In fact, he dragged his audience through the state's rich history of corruption, graft, and general seediness, from the convicted state politician who faked his own death in a scuba-diving accident to The Sopranos. "Have you seen our state flag? There is literally a severed horse's head on the state flag!"
So what's up with the less-than-discreet gmail conversation prompting the bridge back-up? That's not how Jersey crooks talk!
"You're an embarrassment to dialogue," Stewart scolded. So he imagined a more effective exchange: "Ay, did you take care o' that thing?" "Yeah, that thing? I took care o' that thing. Our good friend Lee? Yeah, he's constipated alright. He's gonna be backed up all week."
The host closed by quoting
Christie's one idol
, Bruce Springsteen: "It's a death trap / It's a suicide rap / You gotta get out while you're young / So don't block the bridge / Cuz there's not that many ways out."
This article is from the archive of our partner The Wire.