In Honor of Tonight's Episode: An 'American Horror Story' Drinking Game
We've been waiting way too long for American Horror Story: Coven's return from its winter break and tonight's episode, "The Magical Delights of Stevie Nicks" — now that it's here, what better way to celebrate than an aggressive drinking game?
This article is from the archive of our partner
.
We've been waiting way too long for American Horror Story: Coven's return from its winter break, and especially for tonight's episode, "The Magical Delights of Stevie Nicks."
It's been close to a month since we last checked in on Madame Delphine LaLaurie (Kathy Bates)'s decapitated body swatting flies and Queenie (Gabourey Sidibe) shooting herself in the mouth to save Marie Laveau (Angela Bassett), and Laveau eating the scenery and forging a truce with Fiona Goode (Jessica Lange) and the Salem-descended witches.
Whew. That said, there's no better time than to freshen up on all that's happened this season than with an aggressive drinking game. (Feel free, as ever, to participate with your preferred non-alcoholic beverage. Just try to drink it out of a chalice of some sort anyway.)
Drink every time ...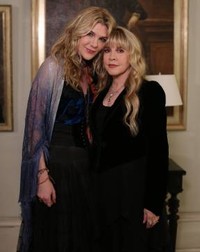 ... a Fleetwood Mac Song plays. This season could double as Ryan Murphy's love song to Stevie Nicks and Fleetwood Mac's music. Beginning with Misty (Lily Rabe), a huge Stevie fan, and ending with small delights like "Sara" taking center stage during one of the scenes, this season could have been called American Horror Story: Stevie Nicks. 
Rule: If more than two bars of a Fleetwood Mac song plays, drink. Double that if, as reported, the song is "Rhiannon." 
---
... we're treated to a flashback. The best part of having seemingly immortal characters like Delphine and Marie, not to mention a character who is afraid of getting old, is that we can flash back to seemingly any period in history. 
Rule: Drink whenever we're treated to scene not in the present day. Drink twice if we get a flashback featuring Delphine's daughter Borquita. Two big gulps if we get a ferocious Marie flashback from the civil rights era. 
---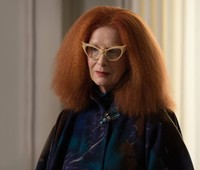 ... Myrtle throws shade. Frances Conroy has been channeling Grace Coddington and Diana Vreeland with her Myrtle Snow. Snow doles out some of the show's most scathing insults (we almost felt bad for Pembroke and Quentin last episode) and delivers them in a feathery, barely audible tone, as if Snow's adversaries aren't even worth a full-throated dressing down. This, of course, makes Myrtle Snow one of the best characters on the show.
Rule: Drink every time Myrtle insults the interior design choices in the house. Drink two swigs if she passive aggressively slams Fiona. 
---
... someone wears a hat.  Witches wear hats. Amazing hats.
Rule: If there's a hat, you drink.
---
... every time Fiona gets soft-focus lighting. 
Rule: If Fiona looks flawless, drink.
---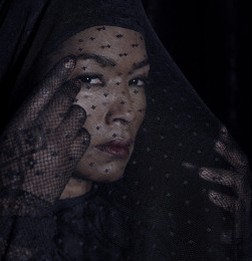 ... Marie serves 3/4 Profile. Every drag queen knows there are two tricks to make something more dramatic. The first method is to put a fan in front of you (see: Beyonce). The second is to serve 3/4 profile, the thought being that talking to someone (the camera in this instance) head-on doesn't lend itself to drama as much as a three-quarter profile, which enhances side-eye, evil gazes, and props like fans. Marie understands this.
Rule: Drink if Marie makes you think of a majestic, evil drag queen.
---
... Marie says "Cracker." It sounds so much better when it comes from her. 
Rule: Drink if Marie says cracker. 
---
... Patti LuPone Appears with Bad Hair. This season, Patti LuPone (does anyone actually know her character's full name) only does two things: she kills people and she slut-shames the witchy girls next door. When she does the former, she sports some unkempt "murder hair." So it's kinda like The Ring: first you see LuPone's bad hair day, then you die.
Rule: Drink if Patti LuPone looks like she needs a hairbrush.
---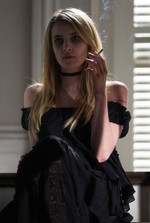 ... a dead person doesn't die. There are a lot of people who died this season. There are also a lot of people who didn't stay dead. Some people died in the last episode. Which means ...
Rule: Drink if the people who died in the last episode either come back to life or didn't die at all.
---
Parting Shots The goal of this game to be drunk by minute 15. If you are not, then here are a few more things you should raise a glass to:
A Madison Montgomery Eye Roll 

A close-up of Misty's Boots
Misty's Shawls
Zoe biting her lip
Kyle grunting
A hint that Nan might be the next Supreme
Any time the word Supreme is mentioned— double if it's about Diana Ross and not the show's mythology
Anjelica Huston's ex-husband from Smash showing up as a venerable witch-hunter [If Anjelica Huston shows up herself, drink three full drinks. If Anjelica Huston shows up in character as Eileen Rand, just go directly to an AA meeting and cut out the middle man.] 
Cordelia gets excited
Cordelia gets excited in front of a plant
Delphine's body swats a fly
Delphine's head screams
Delphine's head does anything
Fiona recommends a new rug
Fiona pops a pill
Marie says "witch hunter"
Marie fans herself
Marie plays Solitaire
This article is from the archive of our partner The Wire.