Eva Chen: What I Read
The editor-in-chief of Lucky wakes up with Twitter, gets book recommendations via Instagram, and spends weekends with The New Yorker and American Ninja Warrior.
This article is from the archive of our partner
.
How do people deal with the torrent of information pouring down on us all? What sources can't they live without? We regularly reach out to prominent figures in media, entertainment, politics, the arts, and the literary world to hear their answers. This is drawn from a phone conversation with Eva Chen, editor-in-chief of Lucky.
I'm one of those people who sleeps with their phone next to their bed. So usually the alarm clock will go off, I'll listen to the crazy melody that's playing, and then I'll turn it off. The first thing I look at is Twitter, which I'm sure is what you hear over and over. So I'll look at Twitter, and I follow a lot of different sources. Weirdly, I'm obsessed with the weather, which I'm sure is the least intellectual thing. I follow four different weather feeds, like NY1 Weather, NBC Storm Team. My feed is very New York-centric, so New York Post, New York magazine. Also Fast Company, Business Insider, PandoDaily, TechCrunch, WhoWhatWear, Refinery 29, and New York Times Opinion. I seem to follow every different feed that Fast Company has, there are like four of them. And People, Adweek, Ad Age, and Fashionista. And CNN. And The Hollywood Reporter. I would say those are the main news sources. And lately Nikki Finke and Gawker — of course I'm following the latest Nikki Finke battle. Oh, and Style.com, The Wall Street Journal. And of course, Lucky's Twitter. 
So the first thing I'll do is scroll through a couple hours of tweets, I'll click through links — usually about 1 in 10. And then I'll get up. I know a lot of people get ready with TV in the background, but I can't do that, because I end up getting sucked into you know, Robin Roberts' halloween costume, or One Direction, or something. So throughout the 45 minutes that it takes me to get ready in the morning, I tend to check Twitter again, and Instagram is usually my second check. You know, to see what my friends had for dinner last night, or where people were when I was probably asleep in bed. I follow a lot of e-commerce sites on Instagram, just for that first-thing-in-the-morning, daily dose of beauty.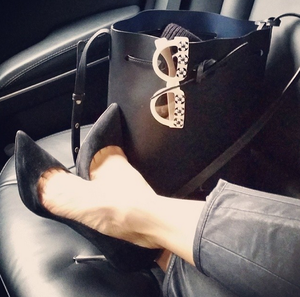 In the morning, I take a cab to work, and it usually takes about 15 minutes. I live in the Union Square area. So I really look at that as output time — I will always try to tweet and do an Instagram. That 15 minutes is more about me producing content than consuming it. So I'll always do an accessories [post] first thing in the morning. I actually tend to produce social media content on a fairly structured basis, and that's whenever I have a moment to breathe. So that'll be in a cab to work, on my way back from work, and usually once a day around lunch time.
And then I check email first thing in the morning as well, work email. I'm not even counting that as content consumption.
I actually don't read many daily print items. I get every single magazine you could imagine at work, on a monthly or weekly basis. You could gauge my passion for the product by how quickly I consume it once I get it. The magazines that I feel that way about: New York magazine, I love. I'm a native New Yorker; it's been my local magazine my whole life. The New Yorker tends to be a Sunday read for me. You know, I could take a nap, or read The New Yorker, or do a little of both. That's not to say it makes me sleepy, it's just a very peaceful venture for me. It's very relaxing, me-time. I get The New York Times weekend edition. I used to get it daily, and I had a big crisis, like, "Who am I that I'm changing my subscription?" I felt like I was betraying the print industry by doing that. But what ended up happening is that every day I'd pick up the paper, and it just ended up in stacks around my apartment, to the point where my husband was like, "I feel like I'm living in a compost heap." So I read it on the weekends. I also get the Wall Street Journal on the weekends, because I love the WSJ magazine. I love what Kristina O'Neill is doing over there. Politically, it's not necessarily my newspaper.
I get a lot of overseas magazines. So at home, I get U.K.Vogue, which is a magazine I read as soon as I get it. I have a very strong affinity for English mags, English publications. While I was in London for Fashion Week, I discovered Stylist magazine. They give it out for free. It's a fashion magazine, but it's tabloid-y and fun with lots of little tidbits. So I really love English magazines. It's the tone, I think. Because their circulation is closer to a quarter of a million, compared the 1.1 million Lucky has. It feels a little bit more personal. I like that they have a point of view and aren't afraid to be a little tongue-in-cheek or a little snarky.
GQ is another magazine I tend to read as soon as I get it. I love GQ. This is embarrassing, actually, but when I met Jim Nelson for the first time, I had a total fangirl moment like, "Oh my god, I love your magazine!" I'm sure I seemed like a total rookie. But I really admire what he has done.
Websites: I'm friends with a lot of these bloggers like Leandra [Medine, of The Man Repeller], Bryanboy, and Rumi [Neely, of Fashiontoast]. I think not only does Leandra have such great personal style, but she's also a fabulous writer. You know, when you read her blog posts, each one is basically a thoughtful essay-slash-rumination, and I think that she is wise beyond her years. Oh my god, if she reads that ...
Anyway, I read this newsletter from Business of Fashion every morning, and then they do the "week in review." It's one of the sites that I think is really changing the face of fashion journalism and reporting. And it's one of my favorite sites, ever. I feel like it's truly educational. Women's Wear Daily, of course, is a daily read for me. It's on my desk every morning, and I read it first thing when I get in. But Business of Fashion — it takes a lot for me to feel invested in an email newsletter, and I feel like they've done a good job of that. I think it's a great resource for young men and women looking to break into fashion, or even just people who are curious about fashion.
Into the Gloss is a favorite. I was a beauty editor for 10 years, 7-and-a-half at Teen Vogue. I feel like I reached a point of beauty saturation, like reading Allure was homework. But now, being one year out from covering beauty for a decade, I'm getting back into it. And not to kind of plug my own magazine, but Jean Godfrey-June, the beauty director of Lucky — she writes a column that even before I worked at Lucky, I would read every month as soon as I got it. Her voice and her writing style is perfection. I look forward to reading her copy every month. Like, she could be writing a caption, and I'd read it and do a slow clap at the end. Brilliant.
At night, I have this thing on my phone so that after 10 pm, it goes into like, twilight mode. And that's not a reference to Robert Pattinson. From 10 pm to 6 am, unless you're on this approved list of people, the emails don't come through, I don't get notifications, the texts don't come through ... Just for my personal sanity, I do that. Most people who know me know I'm very much an email person. I get so many emails, and I get a little bit obsessed with cleaning out my inbox. So I try to shut off at night.
I actually read a lot of print, paper books. I live really close to the Strand, and I grew up going there. I like going and picking out books for the weekend. I really think it's such a luxury to go into a bookstore, with the musty smell, and the people watching there is always amazing. I bump into friends, as well. A few months ago, I was looking for Crazy Rich Asians by Kevin Kwan. I was in the bookstore, desperately trying to remember the name of this book, like, "It's called Insanely Wealthy Chinese People." The store clerk was like, "Oh the economics section ..." And I'm like, "No, it's satire!" Then someone says, "It's Crazy Rich Asians," and I turn around, and it's my friend Kimball [Hastings], who works at Ralph Lauren. I always bump into friends there.
I read a lot of very big, insane books. It's the only thing that truly takes my mind off of work. I love a series. I finished a book called The Book Thief, I guess it's a movie now. It's a teen/kids book about the Holocaust. It's very, very moving, and it's told from the point of view of death. 
I love, love, love YA. I'm obsessed with The Hunger Games. Last week we did an office screening. It was Hunger Games Holiday at Lucky, so we left early from work. And if you were not a Hunger Games fan, you were welcome to celebrate Hunger Games Holiday at home.
The last book I read was Where'd You Go, Bernadette, which was witty and amusing. Great book. I also read The Bone Collector, which was supposed to be the next ... it's kind of a literary thriller. It's huge — the size of September Vogue. And then Gone Girl, of course I read.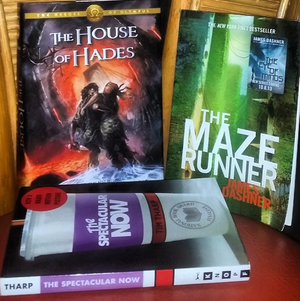 I usually do Instagrams when I finish books. Like the stack of books. Which is great because people will [comment and] recommend new books. So I'll literally go into the Strand with my Instagram open. That's the best way to find a book — through a friend.
And I feel like I've sent maybe 30 copies of Lean In to people I know. I'm sure some people will roll their eyes at that, but that book struck a chord with me, as it has with a lot of women. It's why there are Lean In book clubs everywhere.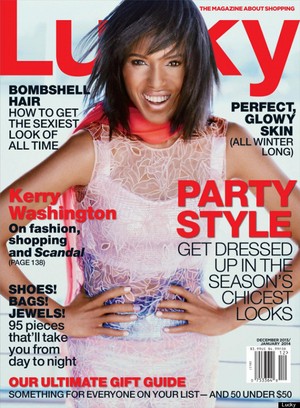 I watch more TV than anyone I know. To the point where like, our entertainment editor at Lucky wonders how I have so much time. I watch a lot of really bad TV, which is another one of the ways I turn off at night. So the pendulum swings wildly between prestige TV like Game of Thrones, Mad Men, and Boardwalk Empire — which I pretend not to like, because my husband likes it, and it's so gory — and then it swings to the middle like Nashville. I love Nashville, I love everything about that show. I think it's just terribly good, which I don't think is an oxymoron. And then Scandal — Kerry Washington is on our cover right now. I'm just super obsessed with her. And Modern Family, which is great. Not Glee so much any more.
And then really, really bad TV shows, like The Bachelor franchise. I'm sorry, I'm not watching it because I'm rooting for them to find love. Terrible to say. I love it psychologically. I love watching the people think they're outsmarting everyone when it's obvious they're not doing anything of the sort. So I love that series. And then there's a show called American Ninja Warrior, which is super random. You need to Google it. There's a course in Japan, which I think only 3 or 4 people have completed in the last 25 years. It's this impossible obstacle course, and no one in America has ever won it. They have to scale a wall, all this stuff. Recently I went camping, and they had someone from American Ninja Warrior on this retreat thing I did. They had some of the course things — it was the most fun, hardest thing I've ever done in my life. Honestly, I love that show because it inspires me while I'm sitting on my couch to possibly consider thinking about one day starting to work out again.
The benchmark for me for good TV is Lost. Any show that vaguely resembles Lost, I get super excited about. And then I am invariably disappointed.
Oh, and this is a device that I have that not a lot of people know about, and I'm really obsessed with it. It's called Google Chromecast. You plug it into the back of your TV, and basically, anything you watch on your cell phone, iPad, or laptop, you can stream onto your TV. It's similar to Apple TV, but you can also watch Youtube. So you can watch a Youtube video of Josh Hutcherson on Saturday Night Live on your TV. Sometimes, when I need a pick me up, I'll do marathons of the best Netflix shows: Dawson's Creek and Gilmore Girls. They don't get enough credit.
And then sometimes I will watch The O.C., as well. Right now Adam Brody and Blair Waldorf are getting married ... basically all my dreams are coming true. I just really, really love pop culture. After a long day, or on the weekends, I like to unwind with pure drivel.
This article is from the archive of our partner The Wire.