Beyoncé Turned Jesus Into a Backup Singer
Beyoncé has finally taken things too far.
This article is from the archive of our partner
.
Beyoncé has finally taken things too far. In a move that has enraged conservative Christians on Instagram, the singer sometimes known as Beysus posted a photo of her in front of a Warhol rendition of the Last Supper. The problem? She's blocking Jesus from view.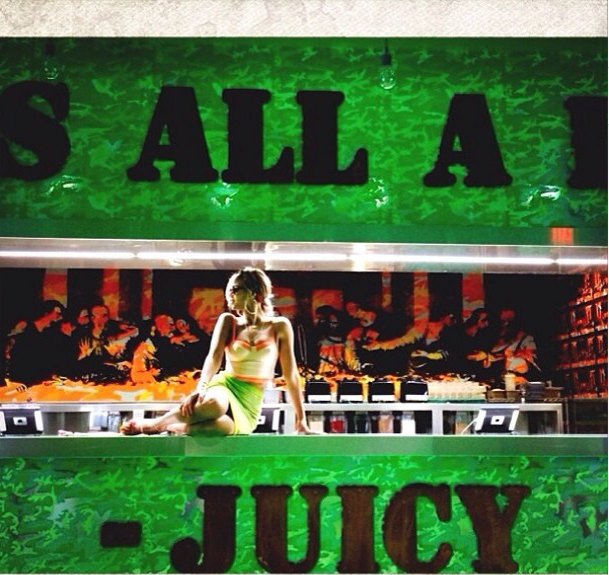 The photo was taken a week ago at a juice bar in Miami, and outrage has been building ever since. One commenter assured Bey that she will never be immortal: "Jesus Christ is my savior, not you. Besides that, I love Beyoncé, but you will never be God."
The American Family Association has even gotten involved. Right Wing Watch noted this statement from AFA President Tim Wildmon, released yesterday:
Is nothing sacred anymore? This is clearly an act of disrespect towards Jesus Christ, whom Beyoncé covers up with her pose. This had to be done intentionally. However, you will not see the media condemn her for offending Christians in the same way they did Phil Robertson for offending homosexuals because there is a double-standard. Christians are the only group in America you can bash with impunity.
It's true, the national media has not yet picked up this "act of disrespect." But Instagram users have flooded the comments with varying opinions about Bey's pose. One thinks it's not that big of a deal, and that haters should "get y'all panties out of your butts and get TF over it!!!!" But another is truly offended. He asks us to wonder if Beyonce would give up her life for us, like Jesus did according to the Bible [sic throughout]: "To everyone, watch the movie of the passion of Christ, I bet you beyounce would not do that for us, for any amount of money."
Beysus herself has yet to respond to the controversy. The photo has been "liked" over 250,000 times.
This article is from the archive of our partner The Wire.