Beyoncé Is a Feminist Blogger Now
This article is from the archive of our partner
.
Can women have it all? More importantly, can Beyoncé have it all? Should Bey even "get to be" a feminist? These are the questions that have ignited the feminist blogosphere over the past couple years, and now Queen B herself is joining its ranks.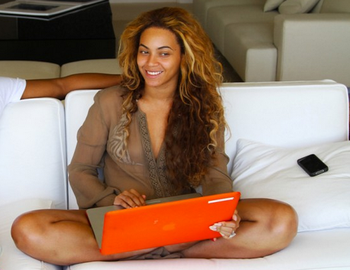 On Monday, Maria Shriver and the Center for American Progress published the annual Shriver Report on women in America. It's a mix of research and essays about "the millions of women who are doing it all and barely scraping by, struggling to provide and parent in a nation that hasn't kept pace with the modern realities of their lives." While everyone from Jada Pinkett-Smith to Hillary Rodham Clinton contributed, Beyoncé's essay was released on the web as a special preview. Because honestly, who's going to get a wide swath of people to read the Shriver Report? Beyoncé Knowles-Carter (her official feminist blogger name), that's who.
In "Gender Equality is a Myth!" Bey writes,
Today, women make up half of the U.S. workforce, but the average working woman earns only 77 percent of what the average working man makes. But unless women and men both say this is unacceptable, things will not change. Men have to demand that their wives, daughters, mothers, and sisters earn more —commensurate with their qualifications and not their gender. Equality will be achieved when men and women are granted equal pay and equal respect.
This basically echoes what she said in her HBO "documentary" last year, and it's a smart issue for her to attack. Equal pay isn't sexy, but it's something most Americans agree on. She keeps the tone light, positively chirping at the end, "We have a lot of work to do, but we can get there if we work together." It's basic, but it's a lot more than other female pop stars are willing to say (Taylor Swift, for example, still thinks feminism is about "guys versus girls").
Will B's blog satisfy women who don't think she deserves her Official Feminism Club Card yet? Prominent feminist writers Jessica Valenti and Zerlina Maxwell have already tweeted out the essay. There's really nothing to quibble about — the pay gap exists, and it's bullshit. But because Beyoncé has come as close to "having it all" as anyone, some don't think she's the best messenger. As Brittney Cooper noted at Salon after Bey's December album release:
Sisters have been going hard in the paint about all the ways that Beyoncé's pop star status, riches and husband with dubious politics (think: Barneys) make her a patron of the patriarchy.
In other words, she's not one of us. Even fellow star Mary J. Blige has questioned B's authenticity. She tells Women's Wear Daily:
What's missing is the personal. Those girls are groomed to be pop artists, to be perfect, to go to modeling school and learn how to walk and talk. Whereas we had to go through the trenches and get beat up and knocked down by life to learn how to articulate ourselves properly.  
This is the most common Beyoncé criticism, that she's an unfeeling robot peddling empowering messages she doesn't really need herself. But even Beyoncé has struggled (ahem, Matthew Knowles). And everyone is in some way a patron of the patriarchy.
Feminist Blogger Beyoncé Knowles-Carter is a good thing. She should continue to publicly grapple with feminist ideas, if only because it forces others to grapple with feminist ideas. Whether or not we want to call B a feminist (which — newsflash — she doesn't care), she's brought women's issues to the pop-culture stage in recent months. If we're talking about the pay gap because of Beyoncé, that's fine. She might not be one of us, but we need her (amplified, pitch-perfect) voice.
This article is from the archive of our partner The Wire.