The Good, The Bad, and the Limp Bizkit: A 2014 Album Preview
There are plenty of not-so-far-off albums worth getting excited about, plus a handful not worth getting excited about, and we've taken the liberty of parsing out the difference.
This article is from the archive of our partner
.
List-making season is mercifully over (please, no more!) and preview season upon us, and gosh, how cold preview season is, perhaps a symptom of the barren cultural wasteland January is popular thought to be. But it isn't! Really, there are plenty of not-so-far-off albums worth getting excited about, plus a handful not worth getting excited about, and we've taken the liberty of parsing out the difference.
This post isn't exhaustive, but you are more than welcome to pretend that it is and shame us for our omissions in the comments section.
January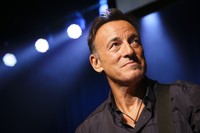 The Album: Bruce Springsteen, High Hopes, Jan. 14
The Details: High Hopes has attracted plenty of attention because it's The Boss, but it's really a glorified outtakes and rarities set, with ample contribution from Rage Against the Machine alum Tom Morello.
Should You Care: If you're much of a fan, you don't need this blurb; you've already heard the damn thing, considering it's been streaming for several days and leaked online via Amazon, and when you have you known Boss fans to be a particular timid bunch? If you're not much of a fan, there's little indication that this one is essential.
The Album:  Mogwai, Rave Tapes, Jan. 21
The Details: Rave Tapes isn't as good an album title as 2011's Hardcore Will Never Die, But You Will. No matter. Consistency is usually assumed for the Scottish post-rock outfit, but this outing is said to be mellower, lacking some of the band's deafening (if steadily controlled) outbursts.
Should You Care: If you're the sort to breathlessly mark Sigur Rós's 20th birthday or dork out over Explosions in the Sky's Prince Avalanche score, then sure, this seems a wise addition to your collection.
The Album: Against Me!, Transgender Dysphoria Blues, Jan. 21
The Details: Transgender Dysphoria Blues is the first album from the Florida punk group since singer Laura Jane Grace publicly came out as transgender in 2012. As its title suggests, the group's sixth LP culls from that experience, telling the story of a transgender prostitute.
Should You Care: If that concept doesn't pique your interest, early critical praise, coupled with song titles "FUCKMYLIFE666" and "Osama bin Laden as the Crucified Christ," might.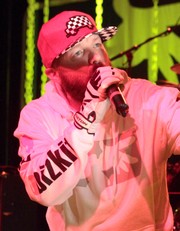 The Album: Limp Bizkit, Stampede of the Disco Elephants, TBA (but apparently "early 2014"?)
The Details: The esteemed nu metal group is back for one reason and only reason only: to think up an album title more dreadful than Chocolate Starfish and the Hot Dog Flavored Water. According to guitarist Wes Borland, it's a "little bit more sort of playful." Oh, and Lil Wayne is featured on the lead single!
Should You Care: They did it all for the (what?), all for the (wha?), so stick it up your (yeah!).
Everything else...
Rather talented Irish folkster James Vincent McMorrow's intriguingly titled Post Tropical may warm you up in icy locales, or it may put you to sleep—different strokes! ... Switchfoot is still a thing, and they've got an album called Fading West out on the 14th ... L.A.'s Warpaint, profiled yesterday in Noisey, drops a self-titled LP just three days later .... The guest list on rapper Riff Raff's Neon Icon (Jan. 28) is an impressive who's-who blurring lines between hip hop's underground and over-ground ... Dum Dum Girls, the project of Dee Dee Penny, has got a third full-length, Too True, set for the end of the month ... Ghosts of Download, Blondie's tenth album in 40 or so years (okay, there was a hefty break in there), may or may not be arriving this month, though no one seems to have a set date.
February
The Album: Beck, Morning Phase, Feb. 14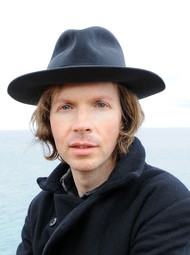 The Details: As we wrote last time around, when we expected Beck to have a fall release for us:
The pop chameleon will be releasing two albums this fall (or some time thereabouts) according to various reports. The first, as Beck revealed back in April, will be an acoustic album in the vein of One Foot in the Grave; this will be "a self-contained work" that came "as a burst of inspiration" following last year's Song Reader experiment. The second will be a "proper follow-up to Modern Guilt," so you can imagine it'll be a Beck album of the meticulous, eclectic sort. No word on a release date, but in the meantime you can listen to his excellent latest single, "I Won't Be Long."
Turns out the latter LP has been postponed and the acoustic batch will be out in time for Valentine's Day, featuring a generous selection of Sea Change characters performing and a supposedly "California music" vibe. Ooh!
Should You Care: Again, from August's post:
Yep. We haven't had a proper studio album from the shape-shifting Scientologist since 2008's Modern Guilt (Song Reader was just that—an unrecorded songbook), so an impending creative burst is good news indeed. Plus, the artist tends to reinvent himself after lengthy breaks between albums: 2002's Sea Change revealed the heartbroken troubadour beneath all the irony, while 2005's Guero marked a return to sampledelic pop eclecticism
The Album: The Fray, Helios, Feb. 25
The Details: The "How To Save a Life" act has proven more prolific than pretty much anyone has realized over the past several years. The group's latest was targeted for Christmas, but pushed back a few months; it includes tracks "Hurricane" and "Break Your Plans," both of which have been debuted in concert.
Should You Care: Early single "Love Don't Die" has got a bouncy rhythmic thrust and some wailing backing harmonies, but the shiny-happy-folk formula is still well at work. If you confidently ignored the last few, you can probably ignore this one, too.
The Album: St. Vincent, St. Vincent, Feb. 25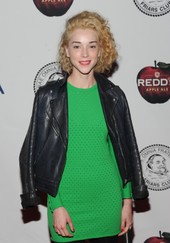 The Details: Recorded in Dallas with assistance from producer John Congleton, guitar queen Annie Clark's self-titled fourth album contains at least two veritable alien-pop treasures: the stuttering, frantic "Birth in Reverse" (opening couplet: "Oh what an ordinary day / Take out the garbage, masturbate") and the harsh, funky "Digital Witness."
Should You Care: Yes, yes, and yes. 2011's Strange Mercy has to be one of the strangest and most inventive pop albums this side of Kate Bush's Hounds of Love. If St. Vincent's self-titled LP contains even half of that record's otherworldly flourishes and slyly virtuosic talent, it'll be worth hearing.
Everything else...
Ariana Grande may or may not be releasing her second album this month, but whenever it surfaces it's been described as "an evolution" rather than "an extension" of the debut, so if you really liked the debut get excited but not too excited! ... Strange as this seems, "Lump"-y '90s goofballs The Presidents of the United States of America have an album that will "literally drop" in February; they're following fellow Clinton era alums Toad the Wet Sprocket and going the crowdsourcing route ...  Phantogram's Voices is out on the 18th, with some help from M.I.A./Santigold producer John Hill ... Disproving anyone who wrote off Broken Bells as a flash-in-the-pan superduo native to 2011, the James Mercer/Danger Mouse project has a sophomore LP set for February 4 ... Xiu Xiu's latest, Angel Guts: Red Classroom, arrives on the same date and is said to revolve around "racialized sex, double suicides, double penetration, criminality, [and] fear of physical harm," so it's business as usual for Jamie Stewart and co.
March
The Album: The Men, Tomorrow's Hits, March 4
The Details: The Men's swift one-album-a-year regimen continues full force. Recorded at a "high-end studio," this one has been teased as the Brooklyn group's "highest fidelity album to date"; it's preceded by the rollicking, good-timey "Pearly Gates."
Should You Care: Yes. The rootsy New Moon was one of our favorites of 2013; the preceding  year's Open Your Heart was nearly as good. This band is both prolific and consistent.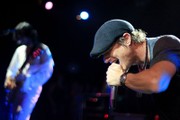 The Album: Fuel, Puppet Strings, March 4
The Details: Do you remember these guys? All together now: "In my haaands! In my haaaands, aga-ain! Leave life bleeding in my haaaands, in my haaaands!" Anyway, they're back. Or maybe they never went away in the first place. Whatever, here's a weirdly lengthy Wikipedia account of the new album, the group's first in over a decade.
Should You Care: You can be nostalgic for grunge and you can be nostalgic for post-grunge, but can you be nostalgic for post-post-grunge? Parse out that riddle and there's your answer.
The Album: The War on Drugs, Lost in the Dream, March 18
The Details: Lost in the Dream seems an apt enough descriptor for the lazy-eyed, ambient-tinged Philadelphia group in general. This one was recorded over the two-ish-year span since 2011's Slave Ambient, and it features the pounding, cautiously uptempo "Red Eyes."
Should You Care: Sure, especially if you're fond of sleepy indie star Kurt Vile, a founding member of the group until his 2008 departure.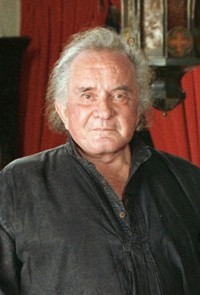 The Album: Johnny Cash, Out Among the Stars, March 25
The Details: Just over ten years ago we had Steve Jobs, Bob Hope, and Johnny Cash. Now we have a long-forgotten and unheard album that the Man in Black recorded with producer and arranger Billy Sherrill in the mid-1980s.
Should You Care: If you call yourself a Cash devotee, of course. If you're just in it for the essentials, you can skip this one.
The Album: Azealia Banks, Broke with Expensive Taste, TBA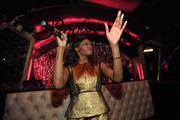 The Details: Delayed since September 2012 (yes, as in 16 months ago), the Harlem rapper's debut LP contains collaborations with everyone from producers Lazy Jay and Pharrell Williams to Disclosure, and, per Banks, is "FIVE years in the making." Also, "it's very mature," she promises, which apparently means the dubstep impulse has been purged.
Should You Care: Oh, um, well, we've waited a while for Banks' first album! Since 2011 or early 2012, when the then-20-year-old rapper's 1991 EP shot sparks into the hip hop blogosphere, garnering the occasional Missy Elliott comparison. So Broke should help determine whether Banks is stuck in the 2012 hype engine or around for the foreseeable future.
Everything else...
Mike Oldfield, otherwise known as The Dude Who Composed the Exorcist Score, has set his first album since 2008 for the 3rd, if you're looking to celebrate a freakishly early Halloween ... Singer Ashanti also hasn't released a record since 2008; that will change on the 4th of the month when she offers up her fifth album, BraveHeart.
April and Everything After
The Album: U2, title and release date TBA but maybe April?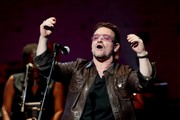 The Details: What few details have surfaced have been numbingly routine: It'll be released on Island Records. It'll contain 12 tracks. It's "a bit of a return to U2 of old," Adam Clayton says, "but with the maturity, if you like, of the U2 of the last 10 years." Maturity, sure. Who doesn't love them some maturity?
Should You Care: From an unapologetic U2 apologetic, who'll defend just about anything up to and including All That You Can't Leave Behind: No. No, you should not. U2 has entered the spend-literally-years-in-the-studio-and-emerge-with-something-that's-been-polished-to-the-point-of-facelessness stage of their career, and it shows little sign of abating.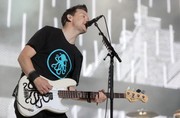 The Album:  Blink-182, title and release date TBA
The Details: After some light touring in 2013 (and a special anniversary), the power trio that shocked your mom in junior high is reentering the studio and hopes to have an album ready by the time they headline the Reading and Leeds Festivals next summer.
Should You Care: If you're part of a certain twenty-something age bracket, you can recite every chorus from 2001's Take Off Your Pants and Jacket (not the clean version, hopefully) but had literally no idea Blink-182 released an album as recently as 2011. No matter; now that we live in a culture entirely subsumed by nostalgia and Blink finds itself scrapping the tween set to entertain the bearded denizens of Brooklyn's Music Hall of Williamsburg, despite lyrics about awkward first dates and uncaring moms and dads, there's curiosity appeal to be had, if not quite the sugary skate-punk sweetness of "All The Small Things" anymore. That's been lost to the '90s, sorry.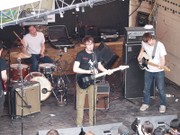 The Album: Cloud Nothings, title and release date TBA
The Details: We have neither a title nor a release date for the follow-up to 2012's phenomenal Attack on Memory, but the material seems to be ready nonetheless: the band is performing the entire record at Brooklyn's Rough Trade store next week. Here's an album trailer.
Should You Care: Yep. Attack on Memory was a scorching delight, and while analog guru Steve Albini hasn't returned for the follow-up, the trailer suggests the album has retained Attack's bone-dry production and forceful performances.
Everything else...
Perhaps the most faraway known release date belongs to British rapper Professor Green, whose Growing Up in Public is set for May 12 ... Adele may or may not have something cooking, depending on whether or not you opt to trust a report from Perez Hilton vaguely sourced to "a British newspaper" ... Kanye West claims he'll have a Yeezus follow-up next summer and he's got a stacked lineup of producers, so why not go along with him on this? ... The Offspring are said to have an album in the works (and maybe No Doubt, too?), and if there's any justice in the world, they'll both come out the same day as the Blink album so you only have to make one skate trip to the FYE at your local mall to snag all three CDs because it is definitely 1997 ... Speaking of '90s nostalgia, Soundgarden may have another reunion effort in them yet,  and same goes for Garbage ... The metal sphere's also got some 2014 contenders, among them Anthrax, Iron Maiden, Judas Priest, Tool, and... Mötley Crüe, maybe? Because Pharrell Williams hasn't staked enough of a claim on 2013, it seems he's working with Frank Ocean on a much-anticipated follow-up to Channel Orange ... Now 26(!), Hillary Duff says her forthcoming record will be upbeat and, erm, "indie" ... Details are stark, but Lana Del Rey is said to have a Born to Die follow-up coming soon, and it's titled Ultra-Violence ... Chris Brown will at some point release X, whose title is drawn from "ex-girlfriend," because "it implies you're progressing and moving on in life, not holding on to the past" ... The Red Hot Chili Peppers, sans John Frusciante, are at work on a new LP that may or may not surface in 2014 but will almost certainly contain reliably uptempo funk-pop anthems about girls, California, and "ding, dang, dong, dong, deng, deng, dong, dong, ding, dang" ... Also uncertain is when Lily Allen will release the album that features the song that spawned a million think pieces.
This article is from the archive of our partner The Wire.