This article is from the archive of our partner
.
On last night's WWE Raw, a black "Good Santa" saved Christmas by heroically crushing a white "Bad Santa" — and refuting Megyn Kelly's assertion that "Santa just is white."
Bad Santa, Damien Sandow, was intent on canceling Christmas in the name of personal responsibility — as one of the fight's commentators noted, "This is good for kids worldwide: they have to work for their gifts!"
But Good Santa, the gargantuan Mark Henry, had other plans:
Things started badly for Good Santa, though:
For a while it looked like Christmas would be canceled:
But Good Santa had a few tricks up his sleeve:
Christmas is saved!
Good Santa later smashed Christmas cupcakes in Bad Santa's face.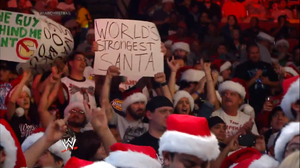 It was also a victory for liberals. Good Santa's promise of charity defeated Bad Santa's belief that kids should have to "work for their gifts." Despite conventional wisdom that WWE fans are conservative — and former CEO Linda McMahon running for Senate as a Republican in 2012 — its storylines often promote liberal ideas, especially about diversity. A 2010 survey found that "fans of WWE wrestling are about 59% more Democratic than the average American." In February, the WWE featured Tea Party-esque characters who railed that he saw so many faces "not like mine." One complained, "Where did all these people come from?" He got huge boos.
It was a close call last night, but ultimately good prevailed over evil, and Megyn Kelly was proven wrong, once and for all, with  yesterday's revelation that Macy's has a black Santa, too. There's a silver lining in this for Fox, though: the War on Christmas was won, and Christmas was saved, all by a black Santa.
This article is from the archive of our partner The Wire.