Not Their Whale War Anymore: How Animal Planet Was Forced to Step Down
Why is Whale Wars's sixth season, premiering on Friday, not a series but a two-hour special? The answer lies in an injunction handed down against Sea Shepherd, the nonprofit, anti-whaling organization at the center of the show, and its founder, Paul Watson.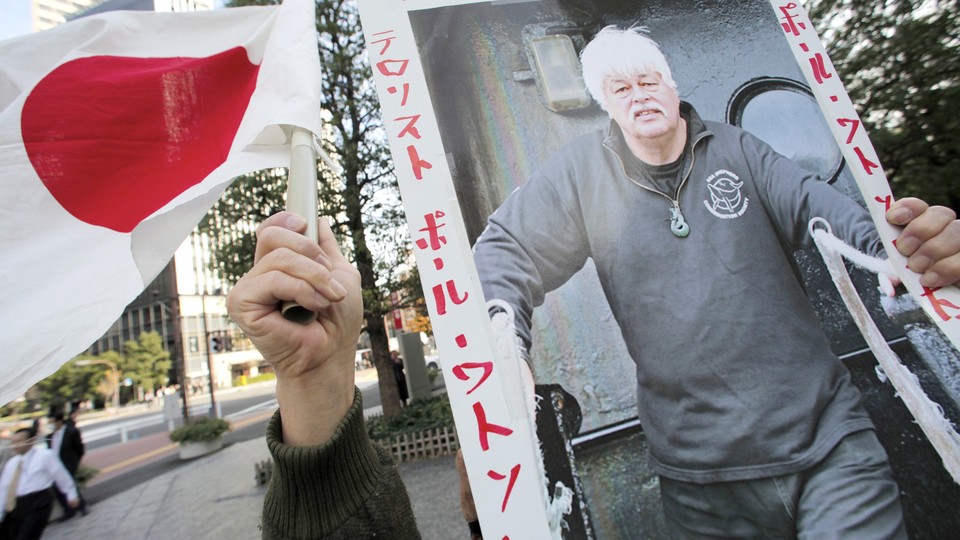 This article is from the archive of our partner
.
Why is Whale Wars's sixth season, premiering on Friday, not a full season but a two-hour special? The answer lies in an injunction handed down against Sea Shepherd, the nonprofit, anti-whaling organization at the center of the show, and its founder, Paul Watson.
Whale Wars hasn't aired a new episode in almost a year and a half, and Friday's special, A Commander Rises, is a major cut-down from a full season order. (The special is accompanied by an online "interactive episode," titled Blood and Water.) It may seem that Animal Planet is backing away from Sea Shepherd, an organization best known for trying to stop Japanese whaling in the Southern Ocean, and whose founder was, twice in the last year, declared an internationally wanted fugitive. But Animal Planet President Marjorie Kaplan says Whale Wars is "brand-definitional" and "very powerful" and "very central to what we want to stand for."
Sea Shepherd has been involved in ongoing legal battles with Japan's Institute of Cetacean Research,  culminating last December when the ICR won an injunction that prohibited Sea Shepherd and Watson from going within 500 yards of whalers on open sea, and also from "physically attacking any vessel engaged by" whalers or from "navigating in a manner that is likely to endanger the safe navigation of any such vessel." Commercial whaling was banned by the International Whaling Commission in 1986, though whaling has continued under a provision that permitted research. 
The injunction, which was later upheld in a colorfully worded decision, also explicitly named "any party acting in concert with them." But Animal Planet was not concerned.
"That particular language is not the reason why we didn't go forward," Kaplan said. "We have been very careful about that from the very beginning." Animal Planet's senior vice president of legal and business affairs, Julie Wolf, said they "[have] not been acting in concert with Sea Shepherd" in the past, only paying Sea Shepherd "for the access: for the space on the vessel, for the food for the production crew, that sort of thing." There was "absolutely no payment for support of their cause," and "we would not direct in any way what the Sea Shepherds would do. … They were not to direct, control, re-crete, re-shoot anything. It was very, very journalistic, very, very true documentarian's terms."
Despite that editorial separation, the network, series, and organization have been conflated in the past, and it's unquestionable that the series has benefitted Sea Shepherd. While attempting to stop whaling in the Faroe Islands, Paul Watson told me, "the most powerful weapon in the world is the camera." 
The show was important to Animal Planet, too, which complicated the network's decision-making last summer and fall. "It's hard when you have a show that you believe in, that you know is important from a brand standpoint, from a ratings standpoint," Kaplan said. "Every year, that show goes on the air, every year it costs more money to do, as does everything in television. And every year, at the end of the season, you look at it and say, 'Are we going to do it again?' … You add in, 'Oh my god, Paul's in jail. Oh my god, Paul's under house arrest. Oh my god, Paul's now a fugitive.' It's a challenge."
As Watson's legal problems mounted, Animal Planet decided, months before the injunction, to change its production plans for this season and not hire production crews to go on board the vessels for the three-month campaign. "It was clear the legal situation was escalating well before that injunction," Kaplan said, calling it "an accumulation of stuff" and "a freakin' mess."
The solution came in the form of 2012's Operation Bluefin, a one-hour Whale Wars special produced by licensing footage shot by Sea Shepherd and having an independent production company edit it. That severed the connection between Sea Shepherd and Animal Planet while the activists were trying to stop whaling. As part of the licensing agreement, Sea Shepherd was under no obligation to film anything, and Animal Planet could use whatever footage was delivered in any way they wanted.
But buying footage from the organization presented its own challenges.
Animal Planet head of production and series executive producer Jason Carey said, "We've spent five years crystallizing processes of how to make this show," but with this season, "half of our production process that we spent five years setting up vanished," because they had no control over how it was filmed. Instead, "drives with all the footage [were] dropped on the doorstep."
Shannon Mann, a Sea Shepherd crew member and former star of Whale Wars ended up with the task of overseeing filming. Despite having "zero experience," Watson asked her in October to do things such as hiring film crews and managing budgets. Because she could have no contact with Animal Planet or the production company that previously produced the series, Mann started by approaching other production companies who told her it was "impossible" to do those things in the short timeframe she had, particularly with her budgetary restrictions.
While she got advice from former freelance crew members who'd worked on the show, Mann ended up using her experience on the other side of the camera, having been interviewed and filmed for four seasons of the Animal Planet series. "They've obviously learned a lot about how to make this work well, so let's just replicate what they did," Mann decided. While she considers herself an executive producer, she'll be credited by Animal Planet as a supervising field producer.
The 21 people Mann hired ranged from film students to a few professionals who'd worked on other reality series, and though they were paid, "you could practically say it was a volunteer [job]." While the camera crews were "very much in support of Sea Shepherd," Mann said she told them they had to maintain a "professional distance."
Lizard Trading Company was responsible for turning thousands of hours of footage into "a very fun action-adventure show," as its founder Liz Bronstein described it. She has been Whale Wars' executive producer since season one, but this season, did not start work until post-production began this fall—well after the show's typical June debut—because neither Animal Planet nor Lizard were involved in filming, and the remainder of the footage wasn't delivered until late summer. Bronstein previously told me that the footage Sea Shepherd shot was "really great," though there were "technical issues," including the need to spend 5,000 hours of post production converting footage that was shot on five different formats. With a limited budget, Mann says she was unable to have uniform equipment.
"I honestly think that Animal Planet and Lizard were quite surprised at what we were able to accomplish on a tenth of the budget they had in previous seasons," Mann said. "I think that was just purely based on determination and dedication and passion."
Turning 2,500 hours of raw Sea Shepherd footage into a single episode was "a brand-new challenge that we hadn't faced before," Bronstein said. "There was a lot of action that happened, there were a lot of non-English speakers on the crew, there were problems with the footage, but we knew there was an amazing story."
With so much material, Bronstein could have gone in a number of directions with the special. "Knowing that we had two hours," she said, they decided to focus on the "four new captains and how each of them dealt with the new role that they were in and the lack of Paul Watson's oversight." (Sea Shepherd's response to the injunction was to have Watson resign and shift operations for the campaign to Sea Shepherd Australia. Asked to comment for this story, Sea Shepherd USA said it is "no longer participating in the Southern Ocean Whale Defense campaign, and this includes any involvement with Whale Wars. That campaign is now being handled entirely by Sea Shepherd Australia.")
Kaplan said she's "sorry we don't have multiple episodes, but I think being able to do such a powerful two hour [special] is really exciting," and doing "more episodes would have "required things to converge differently."
The show's future isn't clear, though the network is currently having "active conversations" with the organization about a potential seventh season. Sea Shepherd retains international rights to the footage they shot last year, and Mann said they are actively seeking production partners to turn it into a longer series. They are also again hiring their own camera crews to film their next campaign this winter.
But Sea Shepherd's Mann said the Animal Planet series remains important to the organization: "There's no doubt that Whale Wars has increased exposure for Sea Shepherd."
This article is from the archive of our partner The Wire.