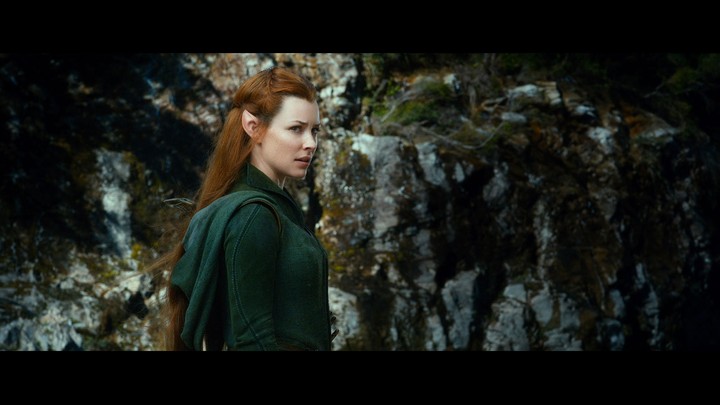 This article is from the archive of our partner
.
The Critics Choice Awards nominations were announced today, and with a surprise nomination for her performance in The Hobbit: The Desolation of Smaug, Evangeline Lilly seems poised to enter the Oscar race.
With notices for upwards of 50 films across 28 categories, all sorts of movie posters will find themselves with more boastful ink thanks to the Broadcast Film Critics Association. But the most exciting news came in Best Actress, where, yes, the usual suspects emerged—your Blanchetts, Judi Denches, and Streeps. But in the category of Best Actress in an Action Film, Evangeline Lilly's surprise nod for the Hobbit sequel means Best Actress just got a lot more competitive.
It's the first year-end nomination for Lilly, and it could not come at a better time. With Academy members about to head off to their holiday vacations, they could be looking to the Critics Choice nods in order to guide them as they navigate the piles of screeners sent to them by hungry studios. Lilly's nomination could be just the reminder voters need to pop in that disc of The Desolation of Smaug and see what this little film from New Zealand has to offer.
Here's another piece of encouraging news for anyone who's been predicting Lilly as a Best Actress nominee: in a field packed with former Oscar winners—Blanchett, Dench, Streep, Sandra Bullock, and Emma Thompson—Lilly would be the non-winner among that group, meaning she could reap all the votes from people who want to crown someone new. Of course, Lilly faces equally fierce competition in her Best Actress in an Action Movie category, including triple nominee Bullock (nominated for The Heat in Best Comedy Actress and somehow nominated in two different categories for the same performance in Gravity), not to mention double-nominee Jennifer Lawrence and the action powerhouse that was Gwyneth Paltrow in Iron Man 3  (both also former Oscar winners—the prestige in this category is through the roof).
Of course, it's important not to get carried away with Ms. Lilly's Best Actress hopes. She wasn't nominated for either the SAG Award or a Golden Globe. But the Critics Choice are an important bellwether event in the movie-awards season. Those aren't our words, they're theirs. "Historically," reads the BFCA press release, "the Critics' Choice Movie Awards are the most accurate predictor of the Academy Award nominations." Sounds like a certain screen elf we know might want to start consulting about Oscar dresses.
This article is from the archive of our partner The Wire.
We want to hear what you think about this article. Submit a letter to the editor or write to letters@theatlantic.com.
Joe Reid
is a former staff writer at
The Atlantic
and the former entertainment editor at
The Wire
.