A Bittersweet Farewell to the Home Plate Collision
Major League Baseball intends to eliminate its most exciting — and most dangerous — play next season, by placing a permanent ban on the home plate collision.
This article is from the archive of our partner
.
Major League Baseball intends to eliminate its most exciting — and most dangerous — play next season, by placing a permanent ban on the home plate collision. At the offseason Winter Meetings this week, the league's Rules Committee voted overwhelmingly in favor of a ban on running into the catcher, threatening fines, ejections, and outs for those who do. That's a positive step for making baseball safer, but it's also a definite loss for a sport that some people say already lacks action. It's with a heavy heart we say goodbye to baseball's most explosive highlight.
The home plate collision was a wonder of baseball, turning sprinting baserunners into spearing linebackers as they mercilessly plowed over a heavily-padded catcher, desperately holding on to the ball for dear life. A play at the plate always brings fans to their feet in anticipation of a thrilling moment. Unfortunately, that moment doesn't always turn out well for the participants. 
The most famous incident, of course, was when Pete Rose bowled over catcher Ray Fosse at the 1970 All-Star Game, breaking Fosse's shoulder as he scored the winning run.
That Rose took the exhibition game so seriously solidified his persona as "Charlie Hustle," his nickname that reflected his penchant for never slowing down.
Naturally,  Rose was the first person reporters turned to for comment and upon being informed of baseball's coming decision, he put on his cranky old man hat in distaste. "What's the game coming to?" Rose told the Associated Press. "Evidently the guys making all these rules never played the game of baseball." 
Like the "warriors" of the NFL, catchers take pride in their toughness and the ability to withstand the occasional hit, but there are sometimes bigger consequences at stake than a few bruises. Although the legend that Rose destroyed Fosse's career over a meaningless run is definitely exaggerated, the catcher was permanently scarred. To this day, Fosse still feels pain "like a knife" 43 years later, he told CBS Sports. He's not the only one.
Former Dodger catcher and current Angels manager Mike Scioscia was well-known during his playing days for protecting his plate — and getting knocked out for his troubles. After losing consciousness in a collision with Jack Clark in 1985, his manager asked him where he was, and Scioscia famously answered "Houston." They were playing St. Louis at Dodger Stadium in Los Angeles. (And Houston played its games inside, at the Astrodome.) But he held on to the ball and wrote another legend into baseball lore.
There are plenty of other examples, some that are exciting, but others less amusing. Early in 2011, the Marlins' Scott Cousins smashed into San Francisco Giants' All-Star Buster Posey in the 12th inning, jarring the ball loose to score the winning run. Posey broke his leg on the play, and would miss the rest of that season. 
That injury devastated the Giants, and more than any other recent hit, that moment led most directly to the new rule change. Cardinals manager Mike Matheny and Giants (and Posey's) manager Bruce Bochy, both former catchers, championed the new move. Other catchers-turned-managers lament that the collision is "part of the game," but recognize that no one wants to see another Posey. Or worse, a retired player with permanent brain damage from one too many blows to the head.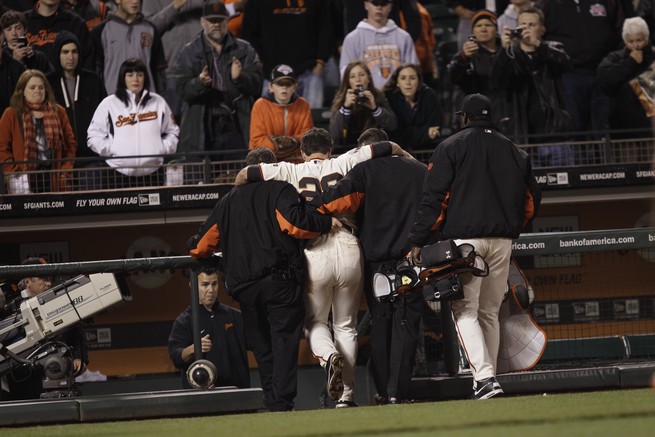 Still, ending this tradition of collisions might be the most dramatic change to the game of baseball since the Designated Hitter and it's hard not to feel a little wistful. Unlike the recent addition of instant replay, this will actually change the way athletes play the game. Though rare, the home plate showdown between runner and catcher is a staple of highlight reels and a scene sure to bring breathless excitement to any crowd. It's pretty much the only time when baseball players actually get to smack into each other on the field, and that brief and unexpected explosion of violence has always made it one of the sport's most compelling moments. Losing it feels like losing a bit of the past, even as you know it's time to move on.
The rule has been approved in conversations by baseball's Rules Committee, but it's exact language still must be written up, approved by owners, and then passed by the Players Association. Executives expect the rule to be finalized before the beginning of next season.
And so, we bid farewell to one of baseball's most exciting plays. But like ESPN's "Jacked Up!" segment that celebrated the NFL's most devastating hits, it's time to put big collisions in the past. That doesn't mean we won't sometimes miss them, though. And that catchers who lived through them won't tell their war stories with some fondness.
This article is from the archive of our partner The Wire.