Anna Deavere Smith: Being Broke Might Improve Your Acting
She couldn't afford to hire other actors, so she found a new way of telling stories.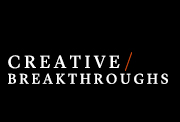 A series of interviews with leaders in media, tech, and the arts
See more
Before she starred in hit TV shows and won fellowships like the MacArthur "genius grant," Anna Deavere Smith fit the stereotype of a starving artist. When she couldn't pay others to act in a play she wrote, she ended up performing all of the parts herself. That's how, almost by accident, she created what some have called a new form of theater: one which forces audience members to look beyond characters' appearances and confront unexpected perspectives.
"I've been performing for all these years without regard to race and gender," she said in an interview for Atlantic Video's Creative Breakthroughs series. As she explains in the video above, this approach challenges traditional assumptions about art. Instead of performing identities, she performs characters -- and makes a distinction between the two. It's "a more humanitarian initiative than I had initially planned," she said.
This interview was filmed at the 2013 Aspen Ideas Festival.