The 2013 Emmys Recap: A Night of Surprises
The 2013 Emmys are here and we're here to fill you in on all the big news — especially if you're skipping the ceremony to prepare for Breaking Bad.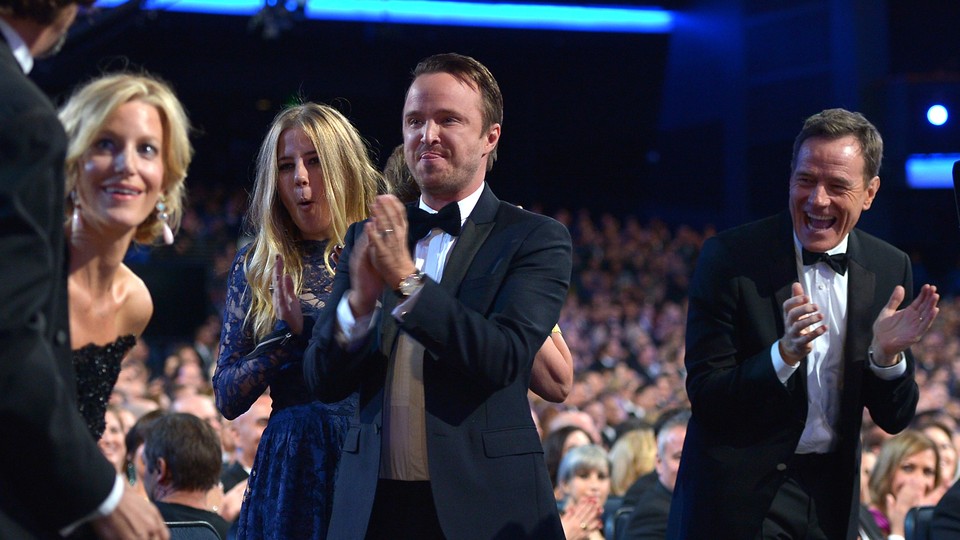 This article is from the archive of our partner
.
Well, the Emmys are over, and boy was it a weird night. Though it wasn't that surprising that Breaking Bad and Modern Family took home the big prizes, many of the wins in the acting categories were shockers. (Notably: Jeff Daniels won the best actor in a drama trophy.) Mix that with a lackluster hosting job from Neil Patrick Harris, a strange break for interpretive dance about nominated shows, and sad tributes to departed stars and this was one event that really couldn't find the right tone. Read our coverage below.
11:09 After its penultimate episode (ever!!!) aired on AMC tonight, Breaking Bad wins the Best Drama Emmy for the first time. Creator Vince Gilligan says he thought it was going to be Netflix's House of Cards. So did we.
11:07 After a hilarious presentation gag that had Will Ferrell bringing his kids out on stage to present with him, saying he was a last minute fill-in as presenter and couldn't find a babysitter, Modern Family wins for Best Comedy. Say it with us, once more: Borrrringggg.
10:59 Not satisfied with winning Best Director and Best Actor, Behind the Candelabra simply must hog the spotlight and win for Best Miniseries/TV Movie. Typical.
10:56 Duhhhhh. Michael Douglas wins the Best Actor - Miniseries/TV Movie Emmy for his nuanced performance as Liberace.
10:48 The random wins keep on coming, as Ellen Burstyn wins for USA's little-watched backdoor pilot miniseries Political Animals.
10:47 Steven Soderbergh wins the obvious Emmy for directing the lovely, gentle Behind the Candelabra. And not for nothing, he looks great!
10:41 As Kaley Cuoco and Academy Chairman Bruce Rosenblum were riffing a camera panned to Kevin Spacey. He was not having it. (GIF via David Itzkoff)
10:35 The Supporting Actor - Movie/Miniseries award, probably the least interesting of the night, goes to James Cromwell for his menacing work on American Horror Story: Asylum.
10:19 The Colbert Report won the variety series prize. The Daily Show had 10 consecutive wins before The Colbert Report took its prize for Variety show away. Meanwhile, The Voice broke The Amazing Race's seven-year streak in the reality competition category.
10:04 The Colbert Report has yet another golden thing to put on its mantle.
9:56 Lead Actress - Drama goes to Claire Danes for Homeland, as predicted. This is actually the only thing that's gone as expected tonight.
9:48 The Emmys have now done a salute to the 1960s for some reason.
9:41 Well, these Emmys are officially nuts. Jeff Daniels just won for Best Leading Actor - Drama for The Newsroom. No one predicted that. Literally no one.
9:39 The Best Supporting Actor - Drama category was a tough one, but Bobby Canavale pulls it out in a huge surprise. No one liked his Boardwalk Empire villain. Except for Emmy voters, I guess.
9:29 NBC gets some more good news: The Voice aka the only thing keeping the lights on wins for Best Reality Competition Program.
9:25 Ohhhh. Here's Neil Patrick Harris's big, anticipated song. It's a joke about it being in the middle of the show. Like the rest of his stuff tonight, it's a bit dull.
9:18 Anna Gunn's win was preceded by a sketch/promo for How I Met Your Mother featuring Harris's cast mates worried about his addiction to hosting. It featured Arsenio Hall and Ryan Seacrest jokes. (We always do appreciate a good Seacrest joke.)
9:16 Wow! Anna Gunn wins the Supporting Actress Drama trophy for Breaking Bad. A long time coming. Does this presage more BB wins to come?
9:04 The Lead Actress in a Miniseries/TV Movie prize goes to Laura Linney for The Big C's abbreviated final season. Linney is not in attendance. Boringggggg.
8:47 Lead Actor in a Comedy prize goes to Jim Parsons, for The Big Bang Theory, everyone's parents' favorite show.
8:39 Veep's Julia Louis-Dreyfus wins for Lead Actress in a Comedy Series. This is a good weekend for her, with this and the release of the critically lauded (and rightfully so) Nicole Holofcener film Enough Said. It seemed like she knew she was going to win because she and her cast mates decided to all participate in her speech.
8:28 Supporting Actor in a Comedy Series goes to Tony Hale for Veep. Well-deserved. He's consistently creepy and wonderful on that terrific show.
8:19 Supporting Actress in a Comedy Series goes to Merritt Wever, marking the first big surprise of the night. Nurse Jackie hasn't been on anyone's radar. She wins also for best, weirdest acceptance speech, walking off after saying "I gotta go." (Update: She later explained the speech by saying, "It's hard to do those.")
8:06 And we're off.
7:59 The Emmys are starting a little late for, well, football.
Guy has come out to tell Emmys audience that show may start slightly late due to Jets game running long.

— Scott Feinberg (@ScottFeinberg) September 22, 2013
7:30 We're about a half an hour away, and while we wait. Here are some dresses! First up, fashion hero Kiernan Shipka.
Zooey Deschanel
Julia Louis-Dreyfus
This article is from the archive of our partner The Wire.