Annie Lennox on How to 'Catch' Creative Ideas
The Eurythmics star discusses insights from her life as a musician, AIDS activist, mother, and more.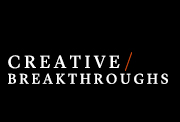 A series of interviews with leaders in media, tech, and the arts
See more
Everyone can find a song to love from Annie Lennox, the singer behind huge hits like "Walking on Broken Glass," "No More 'I Love You's,'" and, of course, "Sweet Dreams Are Made of This." But she didn't set out to become a pop star — Lennox began her music career at 17 playing the flute in the Royal Academy of Music in London.
"What I discovered is that I was going to be a really bad flute player," she explains in the short video above, the first in a new series called Creative Breakthroughs from Atlantic Video.
She built four decades of creative work on the conviction that artists must know what they want to share with their audience, learn from their own experiences, and ignore their critics (at least in the early stages of a project).
"You don't have to be the best, best, best," she said. "If you love doing what you're doing and you have a passion for it, it's good enough!"
80 million record sales later, Lennox has a new passion: Eliminating HIV/AIDS. Lennox now serves as an ambassador for the United Nations Programme on HIV/AIDS and other organizations like Oxfam, Amnesty International, and the British Red Cross. "I do a lot of things," she said with a smile.
This interview was filmed at the 2013 Aspen Ideas Festival.