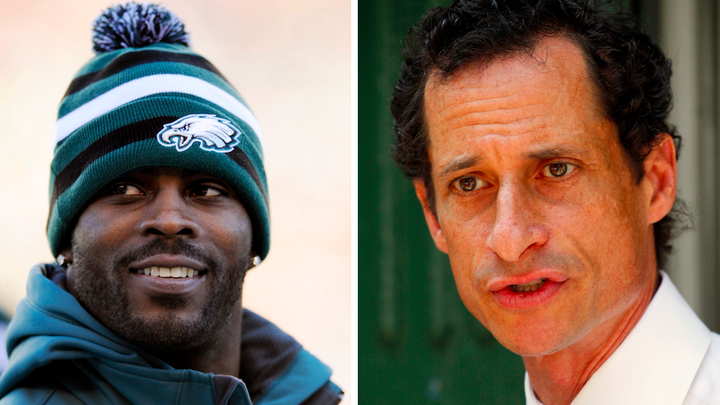 This article is from the archive of our partner
.
In the middle of the discussion about Anthony Weiner's new sexting scandal and his alleged nickname, "Carlos Danger," people kept bringing up a "Ron Mexico," so it raises the question: who the heck is Ron Mexico? 
So, a quick refresher: more Anthony Weiner lewd messages appeared late Monday evening on the D-level gossip site, The Dirty. They are allegedly from after his original sexting scandal, when he was meant to be in seclusion and learning from his sins, but before he announced his candidacy for New York mayor. Weiner apparently calls himself "Carlos Danger" online, which is beyond hilarious, and easily became the afternoon's favorite running joke. But just after the Weiner scandal exploded this afternoon, messages like these started to appear in plenty of Twitter feeds: 
Better pseudonym: Ron Mexico or Carlos Danger? Discuss.

— Alan Sepinwall (@sepinwall) July 23, 2013
Weird that Carlos Danger is the white person's Ron Mexico.

— Bruce Arthur (@bruce_arthur) July 23, 2013
Carlos Danger is the best-worst sexpseudonym since Ron Mexico.

— Katie Notopoulos (@katienotopoulos) July 23, 2013
Ron Mexico would kick Carlos Danger's ass in a battle of nom de sexts.

— Pete Gaines (@petegaines) July 23, 2013
Who the what?! We know who Anthony Weiner and Carlos Danger are. (Hint: they are one in the same!) But who is this Mexico guy everyone keeps talking about, and what does he have to do with Anthony Weiner's sexting scandal? Nothing, and, well...
On April 5, 2005 a Smoking Gun report about then-Atlanta Falcons quarterback Michael Vick gave the Internet one of its most enduring memes. See, Vick allegedly had sex with a young woman and gave her herpes. One of the details in the suit alleged Vick used the pseudonym "Ron Mexico" either with her or when getting tested to avoid the headlines about having a sexually transmitted disease. Vick eventually settled out of court, and this was before the dog fighting scandal when Vick's name was still worth something. He was one of the biggest star in the NFL at the time. 
But this occurred at the exact same time as sports blogging was coming into its own, and was one of the things that inspired Will Leitch to create Deadspin. "Anyway, this was obviously the best story of April, and it was also one of the factors that led us to start this site. It was the perfect example of how sports media was hiding the best stories from us," he wrote in December 2005. The pseudonym took on a life of its own and became one of the greatest running jokes on Deadspin, and the expanded sports blogosphere in the eight years since. But, still, a lot of people didn't read Deadspin back then and have no idea what the joke means. 
Carlos Danger may not share Mexico's enduring legacy, but it's proven a great distraction on an otherwise quiet Tuesday afternoon. The highlight of the entire cycle, though, is these fake Carlos Danger movie posters made by @Darth: 
*electionposter* #CarlosDanger #NYPolitics http://t.co/wrwjULC6fZ

— shirtlesselfiedarth™ (@darth) July 23, 2013
There are plenty more. Be sure to click through, because they're worth the time. 
So, Ron Mexico is Michael Vick. Michael Vick is Ron Mexico. The two men share hilarious fake names when having dirty, illicit sexual relations with young girls. And the Internet is an infinitely better place for it. 
This article is from the archive of our partner The Wire.
We want to hear what you think about this article. Submit a letter to the editor or write to letters@theatlantic.com.
Connor Simpson
is a former staff writer for
The Wire
. His work has appeared in
Business Insider
and
City Lab
.