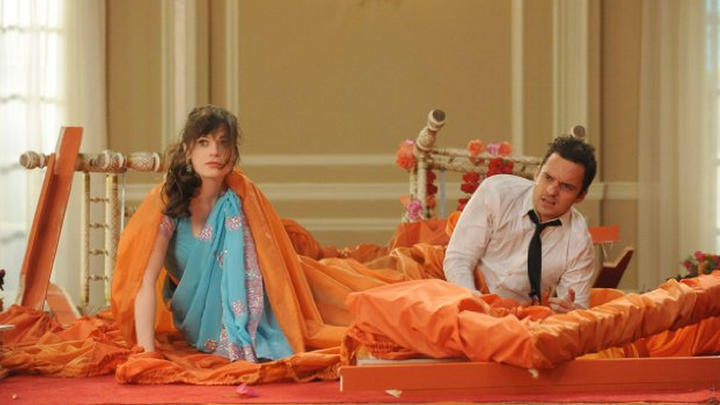 This article is from the archive of our partner
.
So the New Girl season finale last night more or less made a Taylor Swift song about wedding crashing come true, which was kind of trite. But not even a gimmicky (if still kind of adorable) cameo from Swift-y herself could ruin the conclusion of a season that has solidified New Girl as one of the best comedies on TV. Indeed, TV could use a lot more New Girl and a lot fewer gimmicks.
This is not an unpopular opinion. In January, with 30 Rock ending and the network-comedy mantle starting to looking empty, Vulture's Jesse David Fox asked "Are You Ready for New Girl to Be the Best Sitcom on Television?" New Girl's creator, Liz Meriweather, warranted a New Republic profile from Noreen Malone recently. With its combination of physical humor, distinct characters who still aren't "types," and relationships with actual emotional engagement, that Zooey Deschanel show is no longer just that at all — New Girl is a thriving example of mass-market comedy in a Girls age.
If you haven't been watching all season — the show averaged a 2.31 rating in its second year, but the numbers wore down as the weeks went on — here's where the state of the gang is at: Cece, the best friend of Deschanel's titular "new girl" Jess, is getting married in a big Indian wedding, Seinfeld-style. Previously, Cece had been dating the ever hilarious Schmidt, who now decides he needs to sabotage her wedding—you know, as a friend. Hijinks ensue. There is "Cotton Eye Joe." Jess gets stuck in an air duct with maybe-boyfriend/roommate Nick, other roommate Winston, and a loose badger. Jess and Nick go falling through the ceiling, as sitcom characters are wont to do, and Cece calls off the wedding—much to the surprise happiness of her betrothed as well, who happens to be in love with someone else. Who is that someone else? Why, it's Elaine! Played by Taylor Swift! (Her character's name, we assume, is a reference to The Graduate.) Elaine has been in love with Cece's financé since the first grade and paints pictures of him on her easel. So this Elaine gal is Taylor Swift with a paint brush instead of a guitar. 
The whole switcheroo is not unlike Swift's own song "Speak Now," which involves Swift "rudely barging in on a white veil occasion." Swift's acting delivery is also a little stilted, and her role in this whole turn of events was pretty obvious from the outset. But Swift's glittery cameo was not the main event, and that's a good sign for New Girl. (There are lots of good signs for New Girl.)
No, the main event was the Nick-and-Jess-are-a-thing moment. They finally kissed midway through the season and had sex two episodes ago, and, despite some worries, New Girl seems to have bypassed the "Moonlighting curse." At the end of the episode, in reverse Graduate style, Nick and Jess drive away, happy, and somehow we know the show is going to be okay. Because we know — whether or not these two are in it for the long haul — that the main virtues of New Girl do not hinge on this relationship, even though it is immensely satisfying. 
We've now seen the latest comedy offerings from three major networks at upfront week, and they haven't been too encouraging. NBC's shows look too old and white, Fox's are too bro-y, and ABC's seem self-consciously edgy. New Girl is certainly not the only great younger comedy to arrive on network TV in recent years, but it is, weirdly, one of the few survivors. Happy Endings and Don't Trust the B---- are already gone. The Mindy Project has made it to a second season, but it's still got some work to do, as evidenced by its own season finale last night. The new crop of shows would do well to follow the lead of New Girl, which has somehow managed to feel hip and truly for everyone (despite the world "girl" in the title), while still being, you know, a semi-traditional network sitcom — badger-filled air ducts and all.
This article is from the archive of our partner The Wire.
We want to hear what you think about this article. Submit a letter to the editor or write to letters@theatlantic.com.