This article is from the archive of our partner
.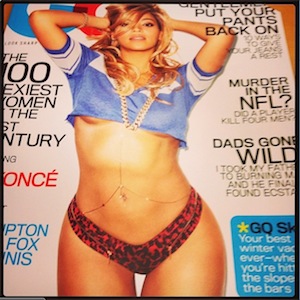 Beyoncé—the cover girl of GQ's upcoming "100 sexiest women of the century" issue—is reprising her role as Barack Obama's inauguration serenader. Oh, and Kelly Clarkson and James Taylor will be there, too. Not that a lot of Beyoncé fans know who James Taylor is, exactly.
After singing at an inaugural ball and concert in 2008, news that Blue Ivy's mom would help provide the official soundtrack on the Capitol steps for Obama's second swearing in was meant to get out today—USA Today's Maria Puente reports that the official inaugaration committee announcement was expected—but that GQ cover wasn't. B. Scott's blog writes that "a sneaky fan" leaked the February 2013 cover image via Instagram. 
The #Beyhive's reaction to the inauguration news has wavered between ecstatic and thrilled. Kelly Clarkson fans are also happy (and quick to forget that time she said she'd rather vote for Ron Paul than Obama). A lot of people on Twitter don't know about that third pick, though. Really. They don't know who James Taylor is: 
Going to see who this James Taylor chap is

— Langer (@langer_2k9) January 9, 2013
Who is James Taylor? #dontjudgeme

— krissyluvsBeyBlue (@BeyKrissy) January 9, 2013
Someone please tell me why James Taylor is trending right now?? #confused #whocares

— Whitney Evans (@whitney71_evans) January 9, 2013
This article is from the archive of our partner The Wire.