124 Things Worth Liking About 2012
They are news stories and they are the people behind them, they are photos and videos and GIFs. They are, quite simply and in chronological order, the good things.
This article is from the archive of our partner
.
It was a bad year: "Muslim rage" abroad and a too-long and too-divisive election back home, and Aurora and Sandy and, now and forever, Newtown. It was a good year: the Olympics in London and free elections the world over, and, hey, do you remember when that guy jumped out of space? As part of The Atlantic Wire's Year in Review, we've chosen here to remember the good things — those brief moments of joy that arrived somehow, either because of the not so joyous parts, or in spite of them, or as part of that combustable random experiment that is humanity. They are news stories and they are the people behind them, they are photos and videos and GIFs. They are, quite simply and in chronological order, the things we loved.
JANUARY
The height of Tebowmania
Because with one completion, to lift the Denver Broncos over the Pittsburgh Steelers in an improbable playoff win, Tim Tebow reminded us that even the most incomplete of humans could do anything. Because anything was possible.
Photos of the Costa Concordia
Because as terrible and strange a disaster as it might have been, these images reminded us that even the greatest feats of human engineering can fail — and, by the end of the year, get turned right-side-up again. (Photo via Associated Press)
Rihanna
Because everything.
Lana Del Rey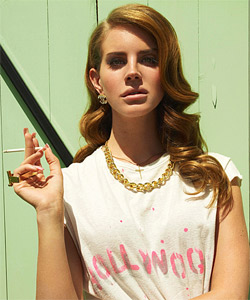 Because, despite everything, she made us keep watching her. I'm sorry. I'm not sorry. One evening at the beginning of the year, when her album finally came out everyone was changing their minds, I stayed up late, so late that time started to descend into meaninglessness — 1 a.m.? 2? Who cared? — as I watched Lana Del Rey videos on YouTube, all the ones I could find, over and over again. Blame it on the wine, but I couldn't stop. There was something numbing, entrancing, and wonderfully weird about the experience: I felt drugged, like I was slowly sinking into a surprisingly comfortable bed full of dull knives, or floating on an ocean surrounded by jellyfish that refused, for the meantime, to sting. I'm not going to say that Lana Del Rey is great, or a good singer, or a decent entertainer. The truth is, she might be a
great
entertainer, because even when she's being wooden and relatively tuneless and creepy, and maybe even especially then, it is hard to tear one's eyes away from whatever it is that she's doing. And whatever magical quality it is that prevents one from looking away from an entertainer (charisma, or even the inverse of it?), well, that's not nothing, not at all. 
—Jen Doll
THE GOP PRIMARY FIELD...

Because the debates were the reality show of the year, and there was so much worth liking.

That time Newt Gingrich smacked down John King:

 

Newt Gingrich, generally

That Rick Perry lasted as long as he did after this:

The sweater vest

The end of Michele Bachmann

And the neverending Onion headlines
FEBRUARY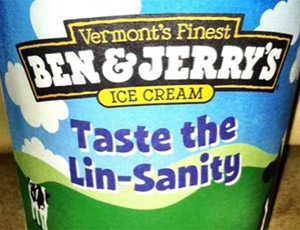 That Jeremy Lin captivated a nation
Because he really was a Harvard kid living on his brother's couch. And he really did play for the Knicks
That Whitney Houston died on a Saturday night
Because this whole country could listen to "I Wanna Dance with Somebody" together on Spotify. Because 2012 was the year this whole country got on Spotify.
The Lively Morgue
Because old New York Times photos never seemed so alive. Because if the Times can launch a Tumblr we can all agree upon, maybe gray ladies don't die after all.
"Call Me Maybe"
Because Justin Bieber, of all people, actually kind of did justice to the dumb simplicity of Carly Rae Jepsen's mega-hit — he danced around with his friends — and then it just got old pretty fast:
Angelina's leg
Because between the actual thing, and Descendants screenwriter Jim Rash making fun of the thing, and all the post-Oscar things making fun of the thing, it became enough of a thing that Angelina Jolie herself confirmed it was A Thing when she said, "The people I surround myself with don't really talk about that kind of stuff." Exactly. (Click here for GIF.)http://25.media.tumblr.com/tumblr_m04u89IvXk1rna2jwo1_500.gif
And Uggie
Because come on.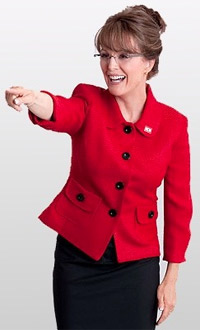 MARCH
Julianne Moore as Sarah Palin
"Because you're overwhelming me with too much information!"
Mitt Romney as Etch A Sketch
Because "you can kind of shake it up and we start all over again."
Charles Blow's column on Trayvon Martin
Because it made everyone know. Because in a year when number-crunchers beat bad pundits, this number-crunching pundit wore his heart on his sleeve, and it wasn't a bad thing.
Jennifer Lawrence, generally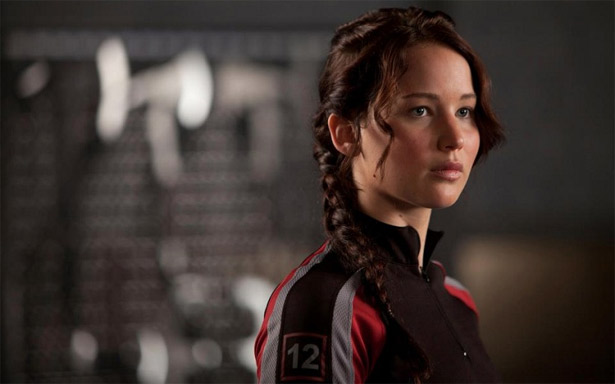 Because Katniss was one of us. Because Tiffany kind of was, too. Because The House at the End of the Street wasn't her fault and will never happen again.
That time George Clooney got arrested at the Sudanese embassy
Because "Stop raping them and stop starving them," he told the media scrum. "That's all that we ask."
"Stop Kony"
Because for all its problems, it made a difference:
And the end of Enyclyopedia Britannica
Because "Imagine a world in which every single person on the planet is given free access to the sum of all human knowledge." —Jimmy Wales
APRIL
That Kim Jong-un's rocket launch failed
Because this would become a recurring pattern. (GIF via Gizmodo)
That the Shuttle said goodbye the right way
Instagram
Because whatever you thought of those two suddenly very rich kids staring back at you, shirts untucked, from the front page of the Times — and whatever you think of your photos being used as ads — don't tell us it didn't keep you company on a bathroom line or ten.
Girls
Because feel free to consult any of our several other musings about HBO's vibrant, youthfully wise comedy, but the short gush is this: because creator/star/director/producer/key grip Lena Dunham made such a bold splash with a show that is, actually, rather small and humble. An inward-looking meander around 2010s New York with a group of post-college girlfriends, Girls spoke a zillion small truths and, in the doing, became a cultural phenomenon. Usually people have to aim a lot bigger to do that. Though Dunham's show does have a rather all-inclusive title, its specificity is where it succeeds. —Richard Lawson
Hologram 2Pac
Because "he" was at once as ridiculous and talented as Dr. Dre and Snoop Dogg Lion on stage at Coachella at the same time.
Texts from Hillary
Because she played along, too: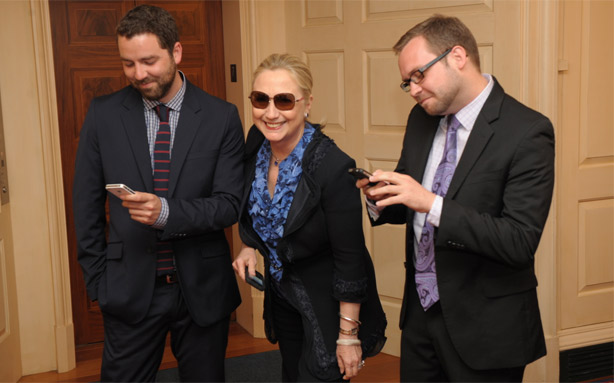 And that time the president slow-jammed the news
Because come on:
MAY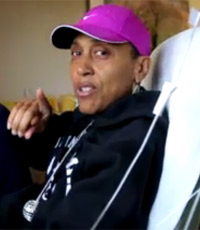 Robin Roberts
Because Obama chose to come out to her. Because we all rooted for her. Because it worked.
Mark Zuckerberg
Because he's a Big Important CEO now, and married.
Marissa Mayer
Because she was a bigger Big Important CEO, at least this year.
The fact of the "London Whale"
Because one man still had all that power. Because balls.
The joy of The Avengers
Because all those movie stars had all those superpowers! Because superheroes.
The end of Kristen Wiig on SNL
Because dancing:
Facebook stock
Because as long as you didn't own it, you were fine. Because as long as the Internet shall live, Facebook will be, too.
Tornado Mom
Because two months after losing her legs while saving her two children as a tornado hit their Indiana home, not only did she walk again — she danced:
Tan Mom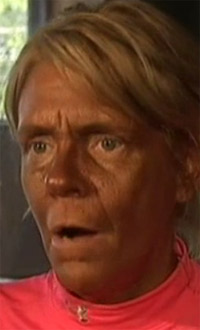 Because she reminded us of certain uncomfortable truths about ourselves. Oh, poor Tan Mom. She was one in a series of "bad moms," that we looked to this year for amusement and to feel better about ourselves, to — yes — feel smug, as if we, moms or not, were somehow better. And she delivered, appearing in print and online looking off-kilter and askew, and very, very tan, and then on television, too, seeming rather intoxicated at least once. It was all very embarrassing, but we don't love Tan Mom for the mockery she endured but rather because she deserves our love just like any other mom, or human. She was not so bad! (She was, in fact, so tabloid-good that she appeared on the cover of the New York Post multiple times, and there are some who remain adamant that her entire shtick was a hoax, a kind of elaborate performance art.) For those who believe her to be the real Tan Mom, the bona-fide truth, well, she learned her lesson (maybe?). She was also servicey, making the nation aware of so-called tanorexia, or the perilous addiction to tanning. Maybe in 2013 we can learn our lesson, too: Stay out of the sun, apply lotion containing high levels of SPF regularly, never take a kid to a tanning bed, and beware the wrath of the rest of the world against behavior that does not comport with a certain approved sort of "motherhood." But also, really, just don't take your kid to a tanning bed. —Jen Doll
And Ron Paul
Because don't you kind of miss him already?
JUNE
That it was John Roberts who upheld Obamacare
Because no one saw it coming — especially CNN: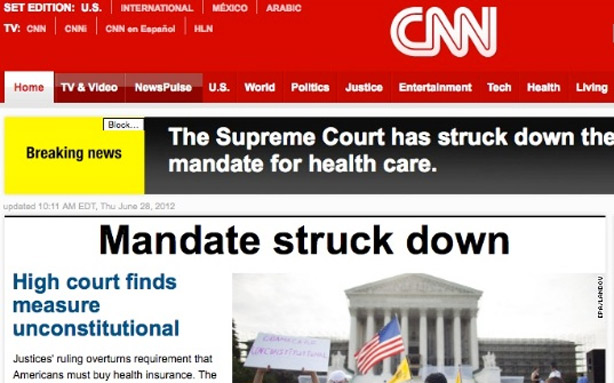 Nora Ephron's Twitter obituary
Because her best lines all seemed to fit perfectly in 140 characters: "I am continually fascinated at the difficulty intelligent people have in distinguishing what is controversial from what is merely offensive."
The fact of the Scott Walker recall
Because not everyone wins an uprising, and that's what's still kind of great about democracy.
LeBron James, champion
Because at least he deserved it.
Ann Curry, survivor
Because at least she doesn't have to be on the Today show anymore.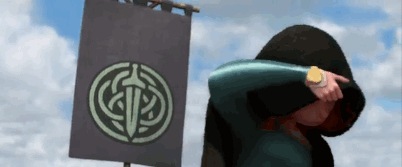 "Fanfic"
Because no, we don't write it. And no, we don't really read it, either. But in 2012 the world of fan fiction — as in extra-narrative online fiction about favorite characters from the world of TV, film, books, and beyond  — became known in the mainstream. Because these people spend a lot of time on this stuff! And it's a fascinating subculture. Sure part of our fascination is a little bit sneering — we are talking about obsessives who devout hours and days and weeks to thinking and reading and writing about an imagined affair between One Direction's Harry Styles and Louis Tomlinson, after all. But, really, there's something so giddy and passionate about fanfic and 'shipping that you can't help but appreciate all the people who lovingly practice it. This was the year that brought fanfic-ers and 'shippers into the light, aided by One Direction mania, encouraging us all to seek out our own OTP. And there's nothing wrong with that. —Richard Lawson
The hair in Brave
Because Pixar really did make some beautiful progress in hair animation innovation. —Elspeth Reeve (Click here for GIF.)
And that guy who crossed Niagra Falls on a tightrope
Because Nik Wallenda was this year's Superman:
JULY
The Higgs boson
Because God particle! (Image via AP)
That Frank Ocean was sort of gay
Because we found out like this: "4 summers ago, I met somebody. I was 19 years old. He was too. We spent that summer, and the summer after, together. Everyday almost."
That Sally Ride was gay
Because we found out like this: "In addition to Tam O'Shaughnessy, her partner of 27 years, Sally is survived by her mother..."
THE LONDON OLYMPICS...

Because with apologies to the sky-diving queen, we liked the actual sports, by way of GIF.   —Elspeth Reeve

McKayla Maroney's perfect vault... 




...even though she may have become more (Internet) famous for her "not impressed" face, she delivered when it mattered, and, besides, it...

...was better than the same vault by the male champion:

 




Gabby Douglas, high-flyer:

 

 

 

 

 

 

 

Usain Bolt, funnyman. 

 

Also:

Nathan Adrian, generally

Rafalca, Ann Romney's dancing horse

And the women's 4x100 relay team:

(Photo via AP)
The end of the Penn State scandal
Because it came in the form of a long, horrible, definitive report from Louis Freeh, of all people.
The beginning of the K-Stew scandal
Because it came in the form of quick, blurry, indefinite rumors, and these people:
Tig Notaro and the very long month
Because: "Hello, I have cancer."
And Anne Hathaway as Catwoman
Because for all the heavy, endless terror of The Dark Knight Rises, she was, somehow, the most refreshing part.
AUGUST
NASA's Curiosity landing
Because they landed on Mars!
NASA's control room after NASA's Curiosity landing
Because this is what it looks like when you land on Mars:
Every first paragraph of every Neil Armstrong obituary
Because the first man to walk on the moon died that day.
That old lady who changed the fresco
Because you've got to love an old lady for trying.
"Girl" sitcoms that weren't Girls
Because Mindy was not disappointing and Don't Trust the B in Apartment 23 was underrated and New Girl managed to get better, less cloying, and easier for men to watch, too.
Pussy Riot
Because we didn't hear the end of them that day when their sentencing came down, and we never will — even though they do make pretty bad music.
Anglophilia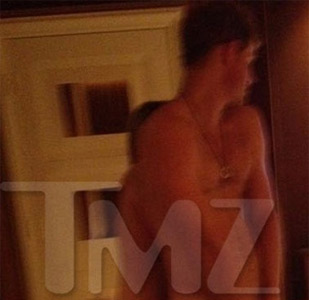 Because as we excitedly talked about
earlier this year
, 2012 was a wonderful time to be a sad American who wishes they had a British accent. Season two of
Downton Abbey
, the onslaught of
One Direction
, news of the Diamond Jubilee and Royal Baby... they all washed up on American shores this year. Not to mention the thrilling London Olympics, which, sure, were mostly exciting because of all the American victories, but there was all that Britishness surrounding them! The Brits loomed large over American culture in 2012, and many of us couldn't have been happier about it. Oh, and those pics of Prince Harry's wild Vegas weekend? Didn't mind those, either. Thanks, England! You did great this year. Now if only apartments in London weren't so expensive. —
Richard Lawson
Those photos of Prince Harry's wild weekend in Vegas
Because even royalty can't stop a wild man. (via TMZ)
This photo of Paul Ryan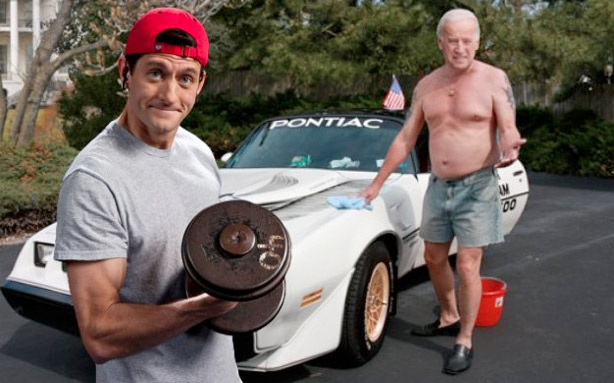 Because that's how you pump some iron.
This photo of this guy
Because he really is ridiculously photogenic.
And Clint Eastwood at the Republican convention
Because he really did talk to this chair:
SEPTEMBER
Bill Clinton at the Democratic convention
Because he improvised this much.
The iPhone 5
Because harder, better, faster, stronger, and bigger.
Nate Silver
Because in the homestretch you need charts. Because charts!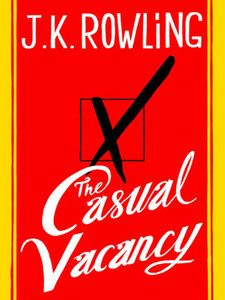 Arguing about replacement NFL referees.
Because come on, man!
JK Rowling, serious novelist
Because come on!
The Master
Because who cares if you didn't get it?
YouTube
From the "47 percent" video "The Innocence of Muslims" and the continuing ubiquity of "Gangnam Style," the viral video was more inescapable and effective than ever late this summer — if maybe a bit too effective:
And Honey Boo Boo
Because... we guess.
OCTOBER
Felix Baumgartner jumping down from space
Because he took his time, he practiced, and he survived. And because he was crazy enough to try.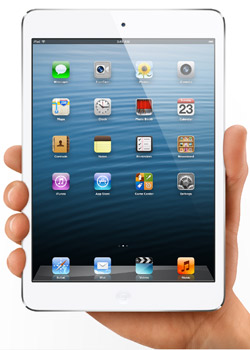 Lance Armstrong's owning up
Because he took his time, he practiced, and he survived. And because he was crazy enough to lie.
Two words: cheap tablets.
Because they really took their time.
Taylor Swift's Red
Because, also, Taylor Swift's "Red."
Will Ferrell's Old Milwaukee ads
Because how had this not surfaced before?
The baby elephant and the well
Because too cute to be true, and yet it was.
American Horror Story
Because the show was too absurd to be good, until it actually was, and right when we needed some good, distracting news.
AND THE UPSIDE OF SANDY...

Because there were, in a sad way, good things to come out of it all. —Jen Doll

It made us better people, at least for a little bit, and it got us to think about each other, at least a little bit more than jaded New Yorkers normally do. The heroes, like the nurses and doctors and first responders who carried babies and the seriously ill down numerous flights of stairs when the generators failed at NYU's Langone Medical Center, for instance, showed a strength and clarity of purpose and profession that we should all admire and try to emulate. But each of us did good things in our own ways, we hope, or at least tried to. There was an outpouring of volunteerism, of donations to areas hardest hit by the storm, and many made efforts to support and assist in places like Breezy Point, Queens, and parts of Staten Island, where so many sustained devastation. We pulled together as a family in crisis, with businesses allowing people from "SoPo" (South of Power) to charge their electronic devices, and gyms providing hot showers to those who didn't have the luxury after the storm. We agreed the marathon should not happen, and after much discussion, it did not. We bonded  and worked together in unprecedented ways, and I think we as a whole were nicer, for a little bit, at least.

(Photo via AP)
NOVEMBER
The Pete Wells review of Guy Fieri's restaurant
Because there's nothing that bad about a bad review.
Homeland when it was good.
Because Claire Danes is better at making us cry than roll our eyes:
THE ELECTION HOMESTRETCH...

Because from the debates until November 6, did anyone know what was going to happen?   —Elspeth Reeve

Mitt Romney and the handkerchief:




Clearly he won the first debate, so naturally some liberals accused him of cheating. Was he smuggling a cheat sheet? No. It was a handkerchief. But the reason I think this conspiracy was so popular is that usually, in public, Romney is a very awkward man. In interviews, in talking with voters, he seemed self-conscious, uneasy, he laughed weird, he said weird things. But in the hanky video, Romney is the smoothest we've ever seen him.

Exasperated Joe Biden's can-you-believe-this-kid? face:

 

If the vice president tried very hard to avoid looking too condescending to Sarah Palin, he tried very hard to look as condescending as humanly possible to Paul Ryan. So we saw Biden throw his hands up in exasperation and mug for the camera, like so.

The most sincere fist pump of 2012:




The video from which this GIF was born features the president tearing up as he thanks his staff for helping him get reelected. But campaign manager Jim Messina's fistful of introduction said it all in the year of the news GIF. 
That no one took Donald Trump too seriously
Because we all knew people had better things to do with their time and his money.
That no one took Todd Akin seriously at all
Because the "war on women" wasn't a war; it was a prelude to the "rape caucus" meeting its resounding defeat.
Karl Rove's election-night meltdown on Fox
Because the nerds won.
This photo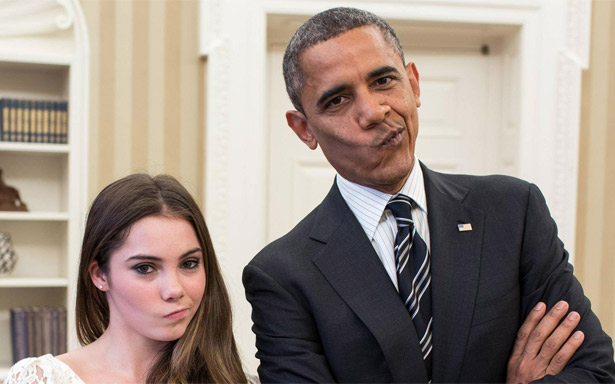 Because America was, in fact, impressed. (via Pete Suoza/White House)
And the cop who gave the homeless man his boot.
Because even if the man was bootless again the next day, we needed the day between.
DECEMBER
Darwin the Ikea Monkey
Because obviously.
"Snow Fall"
Because the Times's avalanche story was a great piece of reporting but an even more promising sign about the future of what great reporting might look like.
@SeinfeldToday
Because Jerry is having a moment. Because we could use a laugh.
THE YOUNG VICTIMS OF SANDY HOOK ELEMENTARY

Because from what little we know of these little ones, there was so much more to be liked.

Charlotte Bacon

Daniel Barden

Olivia Engel 

Josephine Gay 

Ana Marquez-Greene 

Dylan Hockley 

Madeleine Hsu

Catherine Hubbard 

Chase Kowalski 

Jesse Lewis 

James Mattioli 

Grace McDonnell 

Emilie Parker 

Jack Pinto

Noah Pozner

Caroline Previdi

Jessica Rekos

Avielle Richman

Benjamin Wheeler

Allison Wyatt
That we are finally talking about guns in this country.
Because it shouldn't take them dying — it should take us trying — but we might actually do something about it this time.
That the end of the world never came.
Because after all of that — after all the good news and the bad news and that "miscalculated" apocalypse — there will be plenty more things worth sticking around for next year.
This article is from the archive of our partner The Wire.