This article is from the archive of our partner
.
Caster Semenya, the South African athlete whose masculine look and testosterone levels caused a stir back in 2009, when she won an 800-meter world championship, has gotten more feminine looking over the last few years—because she has to. Due to recent rule changes by the International Association of Athletics Federations, women who want to compete must have certain testosterone levels, which do not exceed the male threshold, reports The Toronto Star's Stephanie Findlay. "If it does, she must have surgery or receive hormone therapy prescribed by an expert IAAF medical panel and submit to regular monitoring," explains Findlay. And, per Danie Cornelius, a track and field manager, Semenya is one of those athletes undergoing treatment. "I know she gets treatment. What the treatment entails, I can't give the details," he told Findlay. As the photo above shows, with Semenya in 2009 on the left and her winning a recent race on the right, whatever the treatment entails, it has had a notable effect on Semenya's appearance.
Even though Semenya was cleared for competition after undergoing testing, when Semenya won the championship in 2009, critics claimed her masculine build gave her an unfair advantage. "These kind of people should not run with us. For me, she's not a woman. She's a man," said Elisa Cusma, who placed sixth in the race said at the time, notes Findlay. Back in 2009, The New Yorker's Ariel Levy called Semenya "breathtakingly butch" in a profile of the runner. "Her torso is like the chest plate on a suit of armor. She has a strong jawline, and a build that slides straight from her ribs to her hips," Levy wrote, which the photo to the right confirms.
Since then, either due to criticism or because of the new regulations or some other factors, Semenya no longer qualifies as "breathtakingly butch." Findlay describes her as feminine. "She wears a tight turquoise polo over her fit, feminine body. Relaxed, poised and, it must be said, pretty, the young woman with an irresistible smile is almost unrecognizable from photographs taken during the height of the controversy," she writes. And, indeed, her face has gotten rounder, hair longer and figure curvier, as you can see below.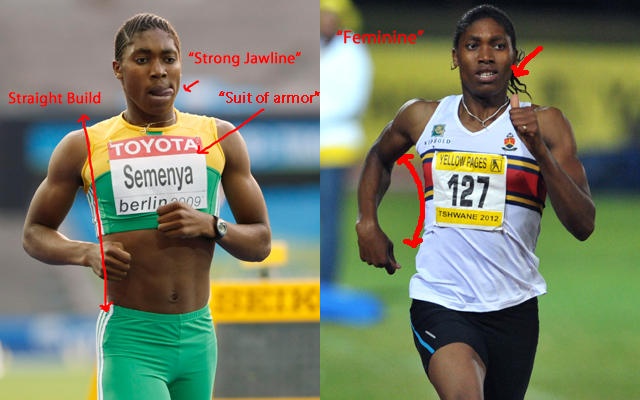 Some call these new regulations policing feminity, finding the new rules unfair. "It's still the old patriarchal fear, or doubt, that women can do outstanding athletic performances. If they do, they can't be real women. It's that clear, it's that prejudicial," Bruce Kidd, a Canadian sports policy advisor told Findley. "At some point we're faced with the intrusiveness and degradation of privacy — the public outing of someone at a high-profile athletic event — and that doesn't seem right," he added. And, as Levy notes in her article, deciding gender by scientific measures, like testosterone levels, gets pretty slippery. "Unfortunately for I.A.A.F. officials, they are faced with a question that no one has ever been able to answer: what is the ultimate difference between a man and a woman?" she writes. "This is not a solvable problem," Alice Dreger, author of Hermaphrodites and the Medical Invention of Sex told Levy. "People always press me: 'Isn't there one marker we can use?' No." But the I.A.A.F has settled on testosterone levels as its marker to level the playing field.
Some might say it has worked: beyond aesthetics, Semenya's performance times also look different. She won that 2009 race with a time of 1:55:45, by a two-second margin. Two weeks ago, she placed eighth in a race with a time of 2:00:07. In another race in mid-April Semenya placed first, but failed to meet the Olympic qualifying time in the 800 meter of 1 minute 59.90, clocking in at 2:02.68, according to The New York Times' Jere Longman. She ended up qualifying one week later, however. "Caster is not something out of the ordinary," Frik Vermaak, the new CEO of Athletics South Africa told Findley. "She's a normal athlete." A normal athlete who is still favored to win the gold at the 2012 Olympics, say both Longman and Findley.
This article is from the archive of our partner The Wire.
We want to hear what you think about this article. Submit a letter to the editor or write to letters@theatlantic.com.