Will a Tiny, Submerged Rock Spark a New Crisis in the East China Sea?
South Korea's expanded air defense identification zone now encompasses Socotra Rock, which also falls within the Chinese and Japanese zones.
There is a submerged rock in the Yellow Sea that seafaring Korean families once believed to be the home of the spirits of dead fishermen. The rock's name in English is Socotra Rock; in Korea, it's referred to as Ieodo, and in China the Suyan Rock. Whatever the language, it's at the center of a new global hot zone that is threatening to destabilize relations in East Asia.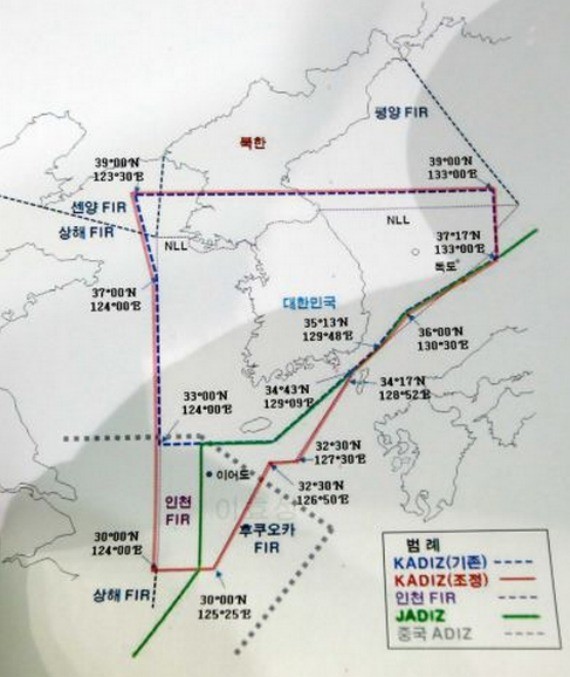 Both China and Korea say the rock, submerged about 15 feet below the sea's surface, is part of their "exclusive economic zones" (EEZ). UN maritime law says that a country's EEZ extends up to 370 km (about 229 miles) from its territory, but also that submerged rocks can't be claimed by any country as territory. (Nations can, however, control and use the sea and natural resources around the rock.)
The conflict over this little-known rock has mostly been overshadowed by higher profile territorial disputes like the Senkaku/Diayu Islands in the East China Sea, and the Spratly Island chains in the South China Sea. But in some ways, Socotra is just as pivotal. South Korea has built a maritime research station and helipad atop the submerged rock, which sits in the middle of most of Korea's incoming and outgoing sea traffic. Some scientists think the reef is home to natural gas and mineral deposits. Korea is also building a new naval base on the nearby Jeju Island, a move that some security observers say is a response to China's rising military power.
For now, though, the risk of conflict still appears low. China hasn't responded to Korea's new ADIZ, and the two countries are in a phase of relatively good diplomatic relations, characterized by 
increasing trade
. But if people start glimpsing the top of the rock, it might be time to start worrying—according to Korean legend it's 
an omen
 of imminent seaborne danger.
---
This post first appeared at our sister site Quartz.