White House Sends Joe Biden to China to Cover The Atlantic's Steve Clemons
Traveling with the vice president in Asia, a writer becomes part of the story.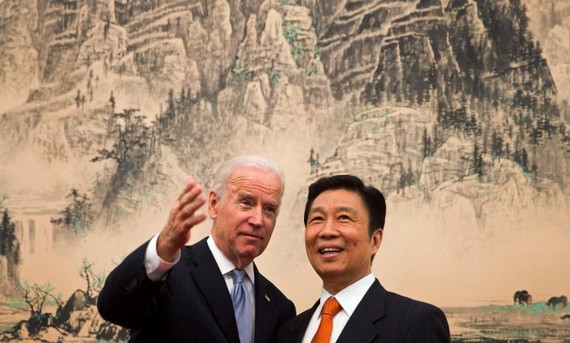 The Atlantic's Steve Clemons has been traveling with Vice President Joseph Biden through Asia this week, and wrote yesterday how the vice president attempted to defuse a crisis between China and Japan in the East China Sea. But along the way, Clemons became part of the story himself. Assigned to be the "pool reporter" covering Biden today, Clemons unwittingly found himself inserted in the vice president's conversation with Chinese Vice President Li Yuanchao. Here is Steve's report:
Pool is now waiting in Villa No. 5 of the Diaoyutai State Guesthouse, which has no particular connection to the hotly disputed Diaoyu Islands which Japan calls the Senkaku. 

 

"Diaoyutai" means fishing platform, so maybe there is a metaphorical connection after all. 

 

This State Guest House where Richard Nixon stayed in 1972 during his relationship opening visit has housed nearly 1,200 heads of state. Nixon stayed in Villa 18. And if one has the right connections as McKinsey & Co. and Goldman Sachs apparently do, private firms can lease meeting rooms and hotel space here amidst the beautiful gardens, ponds, and villas. It's not an inexpensive venture. 

 

During the Cultural Revolution, Madame Mao maintained her permanent residence here until she was taken away. 

 

While visiting here, Nixon displayed his chopstick handling technique which he practiced for six months. 

 

Your pool is waiting for the arrival of Vice President Joe Biden who will shake hands for the cameras with China's Vice President Li Yuancho, with whom VP Biden also met yesterday. 

 

Your pool estimates 16 foot-high ceilings of gray and white streaked, floor to ceiling marble. There are four videocams and six photographers other than yours truly waiting for the Biden-Li handshake. 

 

Confusion at hand. A well-spoken gentleman just said that a higher level of courtesy is being extended to VP Biden and the handshake would happen at the car as opposed to deep in the villa and down a long crimson red carpet. 

 

Change in plans again. The same well-spoken gentleman who apologized to pool and the cameras for taking away the handshake photo op retuned again to apologize saying that the handshake was being restored and hoped that would please us. 

 

Vice President Li Yuanchao and Vice President Biden walked into Villa 5 at 

12:06 pm

 and chatted as if they were old chums amongst their staff and friends near the door of the villa and not quite to the point where the official handshake was to occur. 

 

Vice President Biden stepped out for four minutes and thirty seconds into a side room, accompanied by security only. Not sure what he was doing. Perhaps an important call. 

 

Vice President Biden then returned from the side room and to the red carpet and jaunted, at nearly a jog, down the carpet to stand at the side of China's Vice President Li Yuanchao. 

 

Then the much anticipated handshake happened. It was a robust handshake, accompanied by mutual buttressing arms of each of the vice presidents reaching out to the other's shoulder. 

 

The well-spoken gentleman who had previously taken away and then restored the handshake then pleasantly and surprisingly asked all the photographers and your pool to come into the center of the red carpet and to come closer to VP Biden and VP Li. 

 

Then an awkward thing happened in which your pool inadvertently became part of the story. 

 

While taking pictures of the two Vice Presidents with a new iPhone 5, Vice President Biden pointed at your pool, whose name is Steve Clemons, and gestured to VP Li Yuancho saying "he is a very important man. Seriously he is important."  Your pool demurred as best he could. This will surprise some but it is true. 

 

Then Vice President Biden told Vice President Li, "You should speak to him.  He is the one you really want to speak to. Seriously."

 

Pool froze up not knowing what to do but smile and wave a bit to Vice President Li. 

 

As Vice President Biden and Vice President Li began to walk away towards the banquet hall door, Vice President Li Yuanchao stopped and looked at your pool and said in deep, halting, but distinctive English, "Vice President Biden is a good friend to you and to me."

 

VP Biden winked the direction of your pool and the two vice presidents walked into the banquet hall. 

 

As this is only your pool's second report, your pool had not yet been advised on pool ProTips by traveling companions Mark Landler of The New York Times and David Nakamura of The Washington Post on how to evade becoming a prop in these stories. 

 

Your pool was politely escorted out of Villa 5 astonished by how dramatic and interesting a handshake could be. 

 

Steve Clemons

The Atlantic
Steve also reported that our vice president offered to buy him an ice cream bar.
Quite suddenly and 2:34 pm, the vice president's motorcade stopped with Vice President Biden, his son Hunter Biden, and granddaughter Finnegan Biden jumping out of their vehicles.  They began to walk along the south side of the shopping street, zeroing in first on a small shop that had nothing classic in it—but sold water, sodas, various household convenience items and Magnum ice cream bars.  The vice president seemed thrilled to find the Magnum bars and decided to use your pool as a prop again, calling out to your pool, and saying "you want an ice cream bar?"  

Your pool replied, "Don't tempt your pool ... but no."