The Limits of David Cameron's China Charm Offensive
The British prime minister is now engaging with Chinese people through social media. But not everyone is prepared to forget his visit with the Dalai Lama.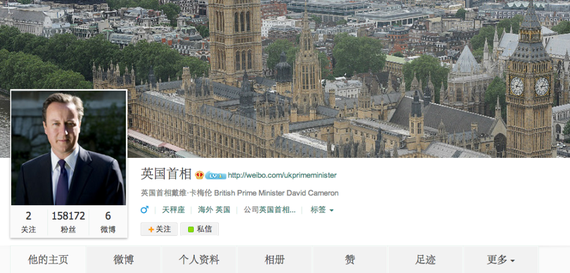 Today U.K. prime minister David Cameron and a retinue of more than 100 business representatives—the largest-ever British trade delegation to go to China—descended on Beijing. Cameron met with Chinese premier Li Keqiang, discussing a multi-billion-dollar free trade deal between China and the EU, as well as a separate one with just the U.K. that the British government says could generate up to £1.8 billion ($3 billion) a year for the economy.
Cameron is also in China to do some damage control. Relations between the two countries have been cool since Cameron met the Dalai Lama last May, prompting the Chinese foreign ministry to claim that he had "hurt the feelings of the Chinese people." It didn't hurt U.K.-China trade—British exports to China were 20 percent higher in the first three quarters of 2013 than in 2010 as a whole—but British officials think it could be boosted even more.
Cameron's Weibo account already has over 150,000 followers and thousands of comments on the six messages he's so far posted—not bad for four days. But not all of the comments welcome his charm offensive. Responding to Cameron's latest post on a ceremony for a £4.5 billion deal for British carmaker Jaguar Land Rover to provide 100,000 cars to China's National Sales Company, one Weibo user said, "Now you've got the money. Go back and don't see the Dalai Lama again." Another blogger said, "If the 19th century belonged to the British empire and the 20th century was the U.S.'s empire, than the 21st century must be the century of the Chinese empire!"