How Should the U.S. Respond to China's Bullying of American Journalists?
Pursuing reciprocal measures against the Chinese media is logical, fair, and justified. Here's why it's a terrible idea.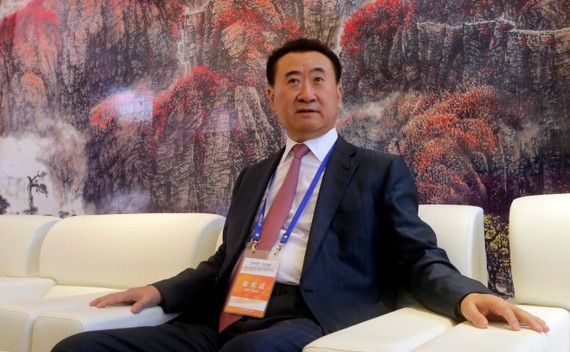 With two weeks left in the year, it's safe to say this: For the foreign media in China, 2013 has been the worst year in decades. And things could soon get worse: As of this writing, only some of the 24 China-based reporters with Bloomberg News and The New York Times have received press cards from the Chinese government, and have yet to receive visas stamped in their passports. Should the visa renewal deadline pass, these journalists will be expelled—and two of the world's largest news organizations will not have a single full-time reporter based in the country next year.
Even if the journalists eventually get their visas renewed, the climate surrounding foreign reporting in China has changed. In November, The New York Times reported that Bloomberg News spiked an investigation into the assets of China's wealthiest man, real estate developer Wang Jianlin, in order to maintain its access to the country. This type of self-censorship exists also for individual journalists, who have an incentive to avoid sensitive subjects that may jeopardize their livelihood.
Within the United States, China's crackdown has forced Americans to come to terms with an unsettling reality: As China grows wealthier and more powerful, it is becoming less tolerant of foreign media. And more broadly, the idea that a developing China would inevitably become more liberal—dubbed the "China fantasy" by author James Mann in his excellent book of the same name—isn't happening.
So what should the U.S. do about it? Washington has rebuked Beijing for its restrictions on media, most notably earlier this month when Vice President Joseph Biden lectured China on the virtues of an open society. But the U.S. has yet to pursue practical measures to compel the Communist Party to ease its crackdown, for two reasons. First, no one can agree how, exactly, to retaliate. And second, it's unclear that retaliation would even work.
Washington's principal retaliatory tool would be to restrict Chinese journalists operating in the United States, a process known as "reciprocity." In recent years, the Chinese government has expanded its media presence in the U.S., employing several hundred journalists in organizations like CCTV and Xinhua. This expansion—and others elsewhere—have formed part of Beijing's attempt to increase its "soft power," defined as a country's influence minus military and economic coercion. The logic behind reciprocity is that by expelling Chinese journalists in the United States, Washington would impose a real cost on Beijing, which would then be more likely to compromise.
In September 2011, Congressman Dana Rohrabacher (R-CA) introduced the China Media Reciprocity Act, a new law that would require the U.S. to issue visas to journalists from state-run Chinese media in equal number to journalists working for U.S. government-funded media companies (like Voice of America and Radio Free Asia) in China. But because the VoA and RFA presence in China is tiny (far more American reporters in China work for private companies like The Times), the act would effectively shut down Chinese journalism in the United States. The bill didn't pass—but earlier this year, Rohrabacher again urged reciprocity in an article for Foreign Policy, with the logic that many Chinese journalists are propagandists and possibly spies.
***
However, it's far more likely that ejecting practically all Chinese journalists from the United States—the very people most likely to sympathize with the institution of a free press—would backfire. However, Washington has other ways to retaliate. Rather than issue a reciprocal number of visas to Chinese journalists, the government could target particular news bureaus or else match the percentage of total journalists expelled. Alternatively, the U.S. could revoke visas for Chinese academics, business leaders, or diplomats. (It's worth noting that journalists are far from the only Americans who get in trouble with China.)
For Paul Mooney, an American journalist who had been based in China for 18 years, the issue is personal. Earlier this year, Reuters hired Mooney as a features reporter based in Beijing, but the Chinese government—aware of his reporting on sensitive human rights issues—refused to grant him a visa. In a recent conversation at ChinaFile, Mooney defended reciprocity as the only way to pressure China over its treatment of journalists.
I'm not in favor of limiting the freedom of expression of Chinese journalists in the United States, but if the U.S. State Department also delayed the approvals of visas for Chinese journalists and media executives trying to work in the United States, there's no doubt in my mind that Beijing would soon get the message, and that Beijing's unacceptable behavior would stop.
But would this "unacceptable behavior" actually stop? Probably not. The underlying idea—that China bullies journalists because it can get away with it—makes a certain amount of sense, but in practice it ignores how the changing media landscape in the country, rather than old-fashioned chest-puffing, explains Beijing's actions.
First, the rise of Sina Weibo and other micro-blogging platforms has reduced China's ability to control the flow of information, even with the country's increasingly sophisticated censorship apparatus. In July 2011, two high-speed trains collided near the city of Wenzhou, killing 40 passengers and injuring almost 200. Almost immediately, survivors and passers-by uploaded photos of the incident, preventing the government from burying the story. That same year, Beijing watched as regimes across the Middle East fell to spontaneous protests not unlike the Tiananmen Square demonstrations that came within a hair's breadth of bringing down the Communist Party in 1989.
Foreign journalists have covered events in China for many years, enjoying a freedom unimaginable to their Chinese counterparts. But the finances of Communist Party leaders—the issue that landed The Times and Bloomberg is so much trouble—is seen as especially sensitive in Beijing. Official corruption has inflamed public opinion in the country, where the gap between the rich and poor has widened and Party cadres leverage their power to obtain wealth and privilege. President Xi Jinping has cracked down on ostentatious displays of government privilege, but the relationship between money and politics continues to pose an existential crisis to Communist rule. As a result, investigations into the wealth of top Party leaders—even in the English-language press—are considered off-limits.
China's crackdown on The Times and Bloomberg has come at the expense of the country's international reputation, but it seems, as The New Yorker's Evan Osnos has written, that China is less committed to soft power than it once was. As a result, it's unlikely that a reciprocal push against U.S-based Chinese media, while damaging to Sino-American relations, would force any movement on the Chinese side. "We will likely never win a tit for tat against the Chinese government, simply because they are willing to go much further than us," Robert Daly, a China expert at the Wilson Center, told me. "We would be playing the game on their terms." Given their investments in expanding their media presence in the U.S, China would have a lot to lose from reciprocity. But the alternative, Beijing figures, would be far worse.
So the United States faces an unappetizing choice: either pursue a policy of reciprocity that won't work and will probably backfire, or simply do nothing. But however this incident turns out, it's time to acknowledge that media repression in China is probably going to get worse before it gets better. Speaking out against Chinese treatment of foreign journalists, as Vice President Biden did this month, won't coerce the Communist Party to loosen its crackdown. But punishing Chinese journalists for a situation beyond their control not only won't work, but would signal to the world that the American commitment to free speech is skin deep.