Hong Kong's Troubling Shortage of Men
Due to a growing gender imbalance, the territory's women have undergone drastic measures—from love coaches to liposuction—to meet a suitable partner.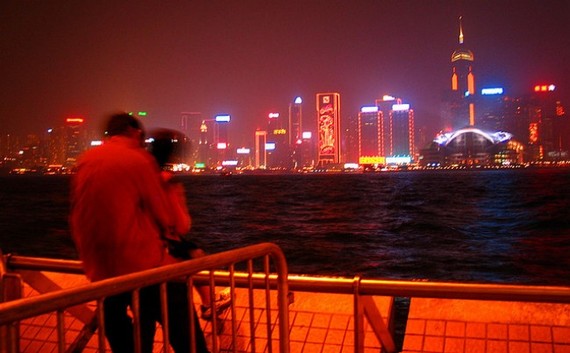 China's just-loosened one-child policy has warped the country's gender ratio over the past 34 years to the extent that by 2020 there may be almost 24 million men unable to find a partner. But in the special administrative region of Hong Kong, a jurisdiction not subject to the mainland's laws, the landscape is startlingly different. The territory's 2011 census revealed that there were 209,000 women living alone, a figure that is rapidly rising. It's believed that one in five Hong Kong women born today will remain single for the rest of their lives.
Phoebe, 24 and a newly qualified lawyer, is already feeling pressure to find a life partner in the next couple of years.
"Most of my single girl friends are all panicking about finding their other half now because men have a tendency to favor younger girls," she explains. "Asian men seem to be attracted to girls around 25 rather than girls over 30, so if we don't find the right man soon, our chances of meeting a future partner will get slimmer."
It's easy to draw parallels between women like Phoebe and the surplus of educated, single women in their late 20s and 30s in mainland China, controversially branded shengnü or "leftover women" by state-run media. But in Hong Kong, the problem is less a question of age but a shortage of men: The sex ratio currently stands at 876 men for every 1,000 women, a gap predicted to widen to 763:1000 by 2036.
The imbalance has already had repercussions for Hong Kong's society. "With so many more women than men in Hong Kong, older men can easily find younger women as their other halves," says 26-year-old Janice, a public relations adviser. "It means that men can focus on their career while they're young, and then find their other half at around 30 while women have to worry about focusing on their career and finding love simultaneously."
50 years ago, Hong Kong's gender ratio was relatively level, but in the past decade, a steady flow of female migrants from the Philippines and Indonesia, seeking work as domestic helpers, have arrived in the territory, and there are now 300,000 of these women registered in Hong Kong. But even if you remove migrant women from the data, population demographics remain significantly lopsided in favor of women.
So what accounts for the phenomenon? One explanation is the increasing number of cross-border marriages between Hong Kong men and mainland women, which, in 2012, accounted for more than 30 percent of all registered marriages in the city. But with all the single women available in Hong Kong, why are men looking overseas in search of romance?
"There are several reasons," says Dr. Suzanne Choi, a researcher in gender studies at the Chinese University of Hong Kong. "Hong Kong women are highly qualified and independent, but the marriage norm of men marrying down and women marrying up has remained largely intact. So some men may be unable to find a local wife due to their comparative socioeconomic disadvantages. But some may also want to find a wife with lower qualifications and earning power anyway, so they can conform to social expectations. The increase in regional economic integration has resulted in a large number of Hong Kong men working in South China so they actually have far more opportunities to meet mainland women than ever before."
Despite the shortage of eligible partners, women in Hong Kong are renowned for being selective, but their reasons for seeking men with higher earning power are also linked to the growing financial pressure on couples.
"I think most women just want to find men who can support them and their future families so they're all looking for men who are capable of buying houses and have a reasonable income," Janice says. "This is because Hong Kong has housing issues. Prices are continuously rising due to inflation, but salaries are not increasing at the same rate, so everyone's working extra hard to earn money and women will look for men with higher earning capabilities. But [these men] may be difficult to find."
Dr. Choi also feels that women expect far more from marriages than in the past when the need for financial security was often a defining factor.
"Previously women mainly looked for qualities such as work ethic and ability to support the family in a future husband, while the personality of a future wife was key for men," she says. "But in contemporary Hong Kong society, there's an expectation for marriages to be based on love and romance. So if the man's merely hard working, that may not be enough. He also needs to be romantic and the couple needs to have chemistry."
But while Hong Kong women are not necessarily prepared to "lower their standards," they are willing to go to greater lengths than ever before to meet their dream partner. The popular reality TV series Bride Wannabes followed five women in their thirties as they sought the advice of professional "love coaches" to boost their image and mannerisms, as well as visiting various cosmetic surgery clinics.
Many of the coaches' suggestions, which included gazing at men while leaning forward at a 45 degree angle and avoiding showing excitement during any conversation, provoked considerable outrage both in the national press and on social media. Journalists and academics complained that the show promoted narcissism, reinforced gender stereotypes, and stigmatized older, single women, but for many Hong Kong citizens it proved to be compelling viewing.
Bride Wannabes certainly has a built-in market: The numbers of women seeking professional dating advice have risen rapidly over the past decade, and there are now almost 50 practicing plastic surgeons in the city. One of the most coveted procedures is upper blepharoplasty or double eyelid surgery, where patients obtain a set of upper eyelid creases. This is a recognized sign of beauty throughout Asia, where double eyelids occur naturally in around 50 percent of the population.
27-year-old accountant Laura recently underwent her first liposuction procedure at the Life Clinic, one of the biggest centers in the city, and is planning a second early next year. She believes that she can only find her life partner once she achieves her own ideal of physical perfection.
"Right now I'm not completely satisfied with the way I look," she says. "It's quite hard to meet the right kind of guys, and there's a lot of competition so you do feel a certain pressure to try extra things to make yourself stand out."
With the gender imbalance predicted to worsen over the next decade, such measures are only going to become more popular. Some enterprising individuals have set up dating companies to try and match lonely Hong Kong women with eligible men in South China, but the number of these relationships remains small.
Dr. Choi believes that unless social traditions change over the next two decades and Hong Kong women become more prepared to accept men with the same or less earning power, the city will face profound social problems.
"As things stand, if the marriage norm does not change, the gender skew will deteriorate further," she says. "The implications would be decreased fertility rates due to the number of women who either never marry or delay for a long time, and increased hostility towards mainland wives of Hong Kong men."