Hershey's Big Push in Chocolate-Mad China
The American confectionery company's purchase of Shanghai's Golden Monkey shows the power of the Chinese sweet tooth.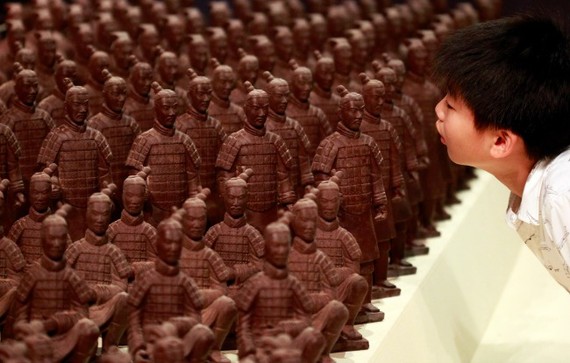 China's taste for candy hasn't been lost on American chocolate giant Hershey.
The maker of chocolate kisses and Hershey bars is 
ready to take control of
 Shanghai Golden Monkey Food Joint Stock Co, one of the largest candy and chocolate companies in China, reports
The Wall Street Journal
. The deal is expected to cost Hershey nearly $500 million in return for an 80 percent stake in the Chinese candy company. Hershey expects to close the deal sometime mid next year.
The move is a pretty clever one for Hershey. It gives the company a much-needed boost in one of the world's most coveted candy markets. China, while relatively new to sweets, has been gobbling up more chocolates, candies and gum each year. Candy sales in the country jumped nearly 50 percent from 2007 to 2012, and now comprise a roughly $13 billion market, according to Euromonitor. 
Chocolate in particular
 has piqued China's taste buds—chocolate confectionery sales have risen substantially since 2006, and are slated to be the country's 
fastest growing candy sector
.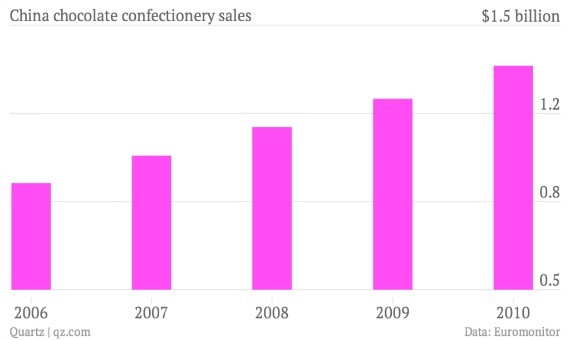 Hershey is still a small player in China. Chocolate-makers Mars, Nestlé and Ferrero control some 70 percent of the chocolate confectionery market there. The most important thing about Golden Monkey acquisition may not be the added manufacturing capacity it gives Hershey, but the Chinese firm's expertise on flavors that appeal to the local market. Golden Monkey "has a strong history of innovation," Hershey said in a statement; some of its more successful creations, according to the WSJ, include strawberry-flavored cheese chews and seaweed-flavored wafers. Hershey seems determined to find tastes that Chinese consumers will like; earlier this year, the company launched a new caramel candy in China called Yo-man, inspired by the success of White Rabbit, a condensed-milk candy made by another Chinese firm.
Hershey's pivot into China is part of the company's greater plans for global expansion. 90 percent of Hershey's business still comes from the U.S., but the company's goal is to 
grow its international sales to 25 percent
 of its overall business, and China will be key. "We expect the China business, within the next few years, to actually grow to our second largest business," Hershey CFO David Tacka said in an earnings call this fall.