China's Struggle With Hepatitis B Discrimination
Job applicants and students are regularly turned down on the basis of the disease. Now, some are fighting back.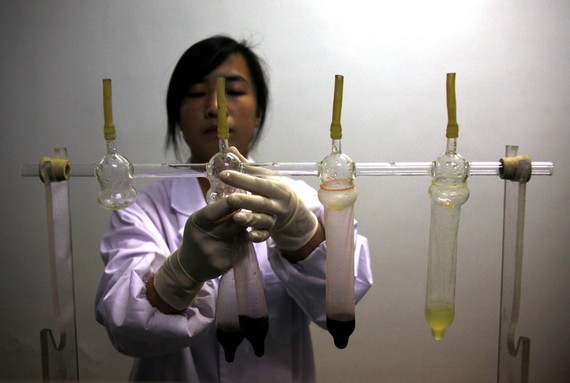 When Jack Wei graduated from college in 2006, he, unlike many of his classmates, decided not to apply for the big companies that he wanted to work for in Shanghai. His reasoning had little to do with a lack of courage, talent, or will, but rather something simpler: Wei was afraid of being rejected because he is a Hepatitis B carrier, and in China, this is a major obstacle to getting a job.
Wei then settled for work at a small company and stayed there for three years. In 2009, having found the courage to again apply for a major company, he received a job offer. But before he could begin, the company turned him away: He had tested positive for Hepatitis B. Discouraged and despaired, the then-26-year-old gave up job hunting.
"I felt like I fell into a hole and couldn't get up," Wei recalled. "It gradually pushed a normal person like me into depression."
A combination of poor needle hygiene, a heavy reliance on injections and infusions in medical care, and a low vaccination rate have exposed a large number of Chinese people to Hepatitis B, and the virus' victims are then often subject to employment discrimination. Despite a 2010 law banning Hep B tests in job and school admission applications, 61 percent of state-run companies continue to use the test as a part of their pre-employment screening process, according to the latest human rights report of the U.S. State Department. Companies collaborate with hospitals to test applicants in secret during the hiring process, and employees are fired if they test positive during annual physical checkups. As a result, victims struggle to obtain evidence and gain protection from laws.
Lei Chuang, a 26-year-old graduate student at Shanghai's Jiaotong University, is one of the few well-known Hepatitis B activists in China. This summer, Lei walked from Shanghai to Beijing, a 1,000-mile journey requiring three months, to advocate for the lowering of medical costs for patients afflicted with the virus. Following his arrival in the capital, Lei and his father handed in the petition to the National Health and Family Planning Commission, and took a picture with an official. He described the walk as a success.
"I was crazy," Lei said, "But I wanted to reduce the health expense for Hepatitis B patients and their financial burden."
Lei begun his advocacy work back in 2007, and used creative methods to gain attention for his Hep B cause: He sent pears, rubber balls and flowers to different government departments, protested and did performance art at discriminatory companies or schools, and wrote thousands of letters to authorities. In one of his performance art pieces, Lei took off his pants and sat on a toilet seat to protest in front of a company.
As a carrier himself, Lei believes that physical checkups in school admissions and job applications are designed to screen out candidates for all sorts of health ailments, not just Hepatitis B. This process survives, he says, because of ignorance about how the virus is transmitted combined with public fear of the illness and the people who carry it.
Hepatitis B is an infectious inflammatory disease of the liver caused by the Hepatitis B virus, which is transmitted by exposure to fluids such as blood and semen. According to the World Health Organization, the virus is mostly spread from mother to child at birth, or from person to person in early childhood. Daily activities like hand-shaking, dining, and kissing don't transmit Hepatitis B. China has about 120 million chronic carriers, a third of the world's total, and most do not show any symptoms.
Institutional discrimination in China against Hepatitis B carriers started in the 1990s, said Pang Kun, a lawyer in Shenzhen who provides pro-bono service to carriers. First, the government forbade carriers from working as civil servants, and soon the practice was adopted by both state-owned and private companies. Even foreign-owned companies who do not test candidates for Hepatitis B in their own countries adopted the practice in China.
Efforts to evade discrimination constitute a big business. According to Wang Zhian, a CCTV commentator, a Hepatitis B blood test costs 40 yuan (about $6.50), and hospitals profit greatly from providing it to would-be job applicants. One hospital in Guangdong Province, for example, serves more than 100 companies that each test over 1,000 applicants, bringing the hospital a total revenue of $650,000. Meanwhile, the fine for violating this law is a mere 1,000 yuan ($164)—not even enough for the victim to afford legal fees.
Because it is difficult finding effective treatment for Hepatitis B, carriers are forced to seek medication on the black market. Cai Haodong, a doctor of Beijing Ditan Hospital, said on her blog that the medical market for Hepatitis B is chaotic, filled with fake medicine and misleading commercials. With recent graduates facing high unemployment, companies will have an incentive to discriminate even more against Hepatitis B carriers.
When confronted with evidence of discrimination, about 66 percent of victims choose to stay silent, according to an online survey, and many carriers hire people to take the blood test under their names. Xiao Meili, a 24-year-old college graduate who is currently walking from Beijing to Guangzhou to advocate for women's rights in China, spent a few days with Lei during his walk. She said Chinese people often don't know how to protect their rights.
"It's related to the social environment in China. People are afraid to seek justice," Xiao said, "Because we have a very scary government."
After living in silent fear for years, Jack Wei, the man rejected by his dream company, decided to sue the company for employment discrimination. Due to a lack of proof, Wei settled for a written apology from the company and compensation of 8,000 yuan (about $1300). He regrets filing suit.
"In China, it's very difficult for the disadvantaged to seek justice," Wei said, "Rights protection costs a lot of money and efforts. I didn't know how to write legal papers, and the court didn't accept my case in the beginning."
Every time Lei Chuang, the activist, protested, gathered signatures, or did performance art in the streets, he was stopped by the municipal police, or chengguan. Lei said he never worries about the repercussions, because his protests and advocacy are non-violent and he has faith in the government. He avoids using the term "human rights," claiming he only speaks for himself.
Now, Lei is thinking about starting a non-profit organization to continue his advocacy. He believes the voice of the Hepatitis B community has grown smaller since the enactment of the 2010 law, but he will embark on another walk next year if the government doesn't adopt his petition.
"I want to bring out the voice of the community," Lei said, "We will be neglected if a big community like this doesn't speak up."