China's Booming New Industry: Death
In a country where cremation was once mandatory, wealthy Chinese now turn to "death care services" companies that offer opulent memorial packages.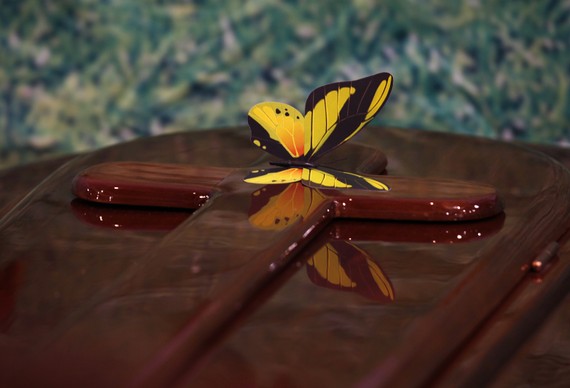 Custom sculpted tombstones, celebrity-studded cemeteries, and funeral packages that cost up to 500,000 yuan ($82,356) are the new must-have luxury items in China—at least if the country's largest "death care services" provider has anything to say about it.
Fu Shou Yuan is pricing its IPO on December 12 and listing in Hong Kong on December 19, where it hopes to raise up to $250 million. The company and prospective investors including the Carlyle Group, hedge fund firm Farallon Investors, and asset manager China Cinda are betting that death is a growth industry in China, especially if Fu Shou can dominate what it calls in its prospectus the "premium" death care market.
Home to a large, aging population, China already has more deaths than any country in the world, which are forecast to rise to 10.4 million annually by 2017 from 9.7 million last year. The industry will grow by about 17 percent a year to reach 100 billion yuan by 2017, according to a study that market research firm Euromonitor conducted for Fu Shou.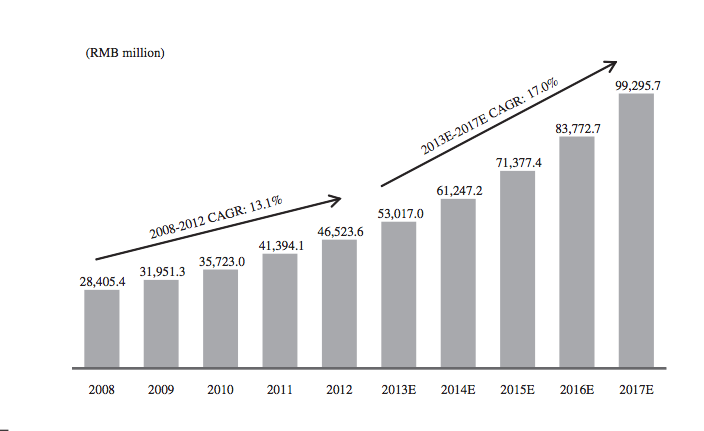 Growth is fueled in large part by the fact that families are spending more to bid a final farewell to their loved ones. Funerals, as well as weddings and other occasions for traditional Chinese customs, were banned by the Communist Party during the 1960s and 1970s. As the country has opened up, families with money have gradually started splashing out again—like this businessman in 2011 who spent 5 million yuan honoring his deceased mother with gold-plated cannons and a motorcade of Lincoln limousines. Average spending per cremation was 10,078 yuan in 2012, up from a little over 6,000 in 2008, according to Euromonitor.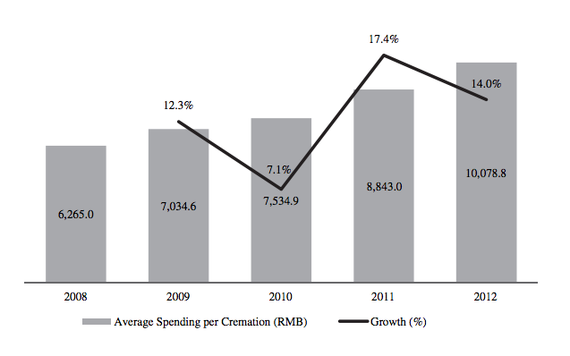 One reason that Fu Shou is targeting higher-priced funerals is that it can't easily open up new graveyards to accommodate the rising number of deaths. 
As Quartz has reported
, cemetery plots are increasingly scarce due to China's real estate boom. Because of the rising costs of grave plots and ceremonies, the term 
sibuqi
 or "can't afford to die" is now a common phrase.
Riding this wave is especially important for Fu Shou, one of the first private companies to break into the industry when it opened a cemetery in Shanghai in 1994. It faces increasing competition from other private and government-run cemeteries and funeral facilities. And because China's death care industry is still dominated by smaller, regional players, Fu Shou's overall market share was only 1 percent in 2012 despite being the largest in terms of revenue and geographical reach.
So how is Fushou targeting the higher end of the market? According to a website on prices of tombstones in Beijing, a generic non-brand name stone costs 20,000 to 50,000 yuan but Fu Shou's were above 100,000 yuan. Fu Shou also brags that its cemetery in Shanghai is the resting place for famous public figures like Ruan Lingyu, a Chinese starlet from the 1930s, Wang Daohan, a Chinese politician who managed China-Taiwan relations—as well as a tomb enshrining the clothes of the singer Teresa Teng, whose family was from China but lived and was buried in Taiwan.