Chairman Mao's Everyman Makeover
The Comrade Mao Zedong Memorial Museum, which once portrayed the leader as a revolutionary icon, now presents him as an incorruptible leader. What this shift in emphasis says about contemporary China.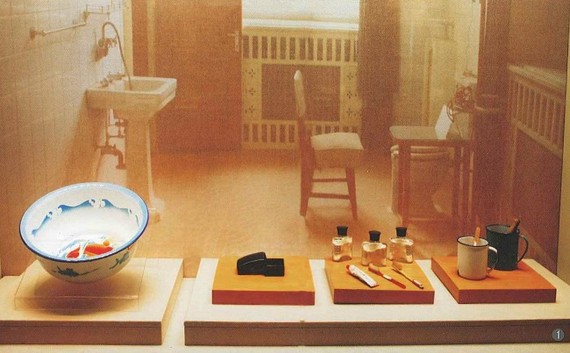 As the 120th anniversary of his birth approaches this month, Mao Zedong has been reinvented. Shaoshan, the village in Hunan Province where the Chinese leader grew up, has spent over 1.9 billion yuan (about $312 million) to restore his former residence and a nearby memorial plaza, and is planning festivities such as a mass singing of the Cultural Revolution anthem, "The East is Red." However, at Shaoshan's Comrade Mao Zedong Memorial Museum, a subtle reinvention of Mao's legacy—from revolutionary to incorruptible government official—has gone unnoticed.
The cult of the individual in Communist China is nothing new. As historian Daniel Leese points out in his work on Maoism, a revolution shaped by the masses and against personal worship sanctioned and encouraged the proliferation of Mao memorabilia and monuments, even before the chairman's death. During the Cultural Revolution, for example, local governments built "Long Live the Victory of Mao Zedong Thought" halls, which Leese argues were precursors to the Mao Mausoleum on Tiananmen Square.
After Mao's death in 1976 and well into the subsequent economic reform era, his image continued to dominate Chinese popular culture—even after the Communist Party's official resolution in 1981 admitted that he had made mistakes. Visitors to Shaoshan approach a statue of Mao, bow three times, and then circumambulate its base, making a wish in his name. Taxi drivers even hang Mao talismans from their rearview mirrors.
The museum has also hewn the revolutionary line. As Kirk Denton explains in his forthcoming book, the museum's 2003 exhibit, entitled "In China There Appeared a Mao Zedong," presented a "conventional, eulogistic view of Mao's life, with no questioning of the mythic narrative or of Mao's political career and the implementation of his radical policies." Reflecting standard Mao commemoration, the museum portrayed him as the revolutionary hero and founder of the People's Republic of China.
But on the eve of this 120th anniversary, Shaoshan's museum has undergone a significant shift in emphasis. The exhibits of a previous era were gone: the room depicting the whole world weeping at Mao's death, statues of martyrs from the Mao family with pistols in hand, and the garden with miniature replicas where important early Party meetings took place. Now, the museum features artifacts of Mao's everyday life. There are his dishes and personal effects, bathrobes and suits, books and stationery. The displays are professional and high tech; before a glassed-in library, a visitor can page through electronic texts with Mao's marginalia by waving his hands over a book-shaped screen.
The display of personal effects is not new to Chinese museums. But in Shaoshan, the relics narrate a story not of Mao the revolutionary, but Mao the exemplary official. Tooth powder, for example, demonstrates that Mao was both frugal and conscious that most Chinese people could not afford toothpaste (never mind that toothpaste appeared later in other glass cases). His receipts were presented to show that Mao was abstemious and did not allow waste. Mao's account books showed his finances were in order, and his letters suggested that he never obtained special favors or jobs for his relatives.
The reinvention of Mao as the good official comes at a time when the public views corruption as one of China's biggest problems, and it is impossible to open a newspaper without seeing an article on the latest official ensnared in a probe. Indeed, Chinese president Xi Jinping has, in the year since he assumed power, launched a campaign to rid government of "flies and tigers," referring to low-level officials and those in the highest positions of power, respectively. But while the Comrade Mao Museum tells us that Mao was a good official, it does not explain how to be one today. You can sing red songs, the museum seems to suggest, but for the truly great men of a previous age alone.
Despite the museum's emphasis on Mao's frugality and honesty, its entrance hall presents an entirely different image. The hall consists of a room decorated as an imperial palace, including vermillion doors with golden ringed handles, red columns, and colorful brackets.  Roped off in the center of the room is an enormous replica of one of Mao's seals, projecting an imperial stamp of authority.
But perhaps this contrast—between Mao the good official and Mao the emperor—are not as incongruous as they might seem. If Mao was a good official—whatever that may have meant in his times—it was in the context of his position as paramount leader. He did not earn his power through virtuous conduct. Instead, righteousness is the privilege of one whose power is already given, whether it was granted by heaven or seized in revolution.