Why People in Hong Kong Protest Over Bad Television
A recent decision to scuttle HKTV, a popular new network, has aroused anger in a territory fearful of Chinese encroachment.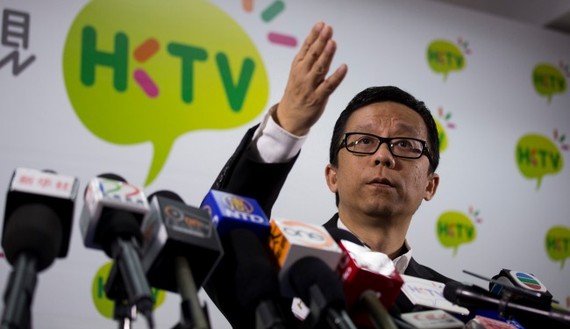 HONG KONG—Last week, 100,000 Hong Kongers, as they have on many occasions in the past, took to the streets to defend their rights. But this time was different. For one, the protest featured housewives marching beside movie stars, including Andy Lau, something of a Hong Kong version of Brad Pitt. The message of the protest—"Give me back my dream!" might have seemed to have a political tinge, but the item which the protesters wanted back was far more quotidian: television.
Currently, there are only two free local television channels in Hong Kong. There are also two additional pay-per-view channels, giving Hong Kong natives a grand total of four to choose from. For a city of 7 million, one that prides itself on both its free market and vibrant film industry (Hong Kong ranks first in Asia in per capita production in film entertainment) this figure is almost absurdly low. And, correspondingly, the paucity of channels has had a detrimental effect on the quality of shows. Hongkongers often complain that the plot on most television dramas on air is predictable—to an eight year old.
This isn't the first time people have demanded change. But three years ago, a potential solution arrived in the person of Ricky Wong, a 51-year-old self-made entrepreneur who made a fortune revolutionizing Hong Kong 's telecom industry in the 1990s. One day, Wong decided that he wanted better shows to watch. So over the next three years, he invested HKD $900 million (US $116 million) into creating his new network, HKTV, for which he hired a 500 person team comprised of the city's most talented actors, scriptwriters, production and technical staff. Under Wong's direction, the team studied American television, poring over every scene of shows like House of Cards, Glee, and Nikita, and trying to understand exactly what makes a show popular or groundbreaking.
It worked. Within three years, HKTV had produced hundreds of hours of original programming, focusing on dramas and documentaries. And this June, HKTV uploaded the pilot episode of its new police drama, Borderline, to Youtube, attracting over a million views to date.
Two weeks ago, however, Wong's efforts to revolutionize Hong Kong television came to a screeching halt. The local government announced that it rejected HKTV's application for a free-to-air television license, instead granting them to the other two applicants: the two existing pay-TV operators, PCCW and i-Cable. The decision from the Executive Council came with no specific explanation, sparking a public outcry and a crisis in confidence in the current Chief Executive, C.Y. Leung, whose popularity has since plummeted to an all-time low.
Wong was unimpressed when he heard the decision, saying "Who rules Hong Kong: the law, the policies, or the chief executive? Let's put all the political theories behind us, and stop debates on whether citizens should have the right to elect the chief executive. But are you meddling with my choice of entertainment or TV station? Must we all buy the type of toilet paper designated by the government?"
To voice their anger, tens of thousands of people marched from Causeway Bay to government headquarters in Tamar, Admiralty in a protest organized on Facebook. For many of the participants, this was not just about television. Instead, they saw this decision as just the latest in a long line of policies put forth by the Leung administration to further the interests of China, of which Hong Kong is a Special Administrative Region.
Last year, the Leung administration proposed mandatory "Moral and National Education" classes for schoolchildren, which some locals came to believe was a government ploy to brainwash young children into loving Beijing. Thousands of people took to the streets, with some even going on multiple-day hunger strikes, to oppose the plan. After the ten-day protest, the government reluctantly agreed to postpone the commencement of these classes. Then, earlier this year, tens of thousands more protested on July 1, the 16th anniversary of the Hong Kong handover, to demand that the government institute democracy in the form of universal suffrage and address the widening gap between the rich and poor.
These protests express a commonly held fear in Hong Kong: that the territory's core values are being eroded by the pro-Beijing administration.
Under the doctrine of "one country, two systems," Hong Kong has maintained its own independent economic, legal and political systems since the 1997 handover, allowing its citizens to enjoy civil liberties such as free speech and the freedom of religion while still remaining technically inside China. In the years since the handover, however, faith in the durability of Hong Kong's special arrangement has eroded. A recent University of Hong Kong poll found that public confidence in the "one country, two systems" principle is at a net level of zero (meaning that as many people have confidence in it than don't), the lowest point since 1996.
But was the decision to kill HKTV motivated entirely by politics? Wong isn't sure.
"If the 'politics' you were talking about involves the central government, I can tell you with utter certainty that to my knowledge, that is not the case," Wong said. "I don't believe the decision was driven by the rumored intervention from central government."
A better explanation for HKTV's rejection may be economics. Of the three companies seeking licenses, HKTV was the only non-existing television channel—and the only one which got rejected, indicating that the motivation behind the decision was to preserve the status quo and expand the existing monopoly of the four television license holders.
Nonetheless, the decision still raises questions whether Hong Kong's free market—an essential part of the territory's identity—still applies. These days, newspaper reports now speculate that the relationship between government and big business has become too cozy.
The two successful channels—PCCW and i-Cable—awarded free-to-air licenses are both owned by Hong Kong tycoons. Richard Li is the founder and chairman of utilities company PCCW and the son of billionaire Li Ka Shing, Asia's richest man with a net worth of $31 billion and the head of Hutchison Whampoa and Cheung Kong, two of the most powerful conglomerates in Hong Kong. The other successful company, i-Cable, is owned by Peter Woo, the head of one of Hong Kong's largest property companies, Wharf Holdings, and a man with a net worth of an estimated $8 billion.
Not long ago, tycoons like Li and Woo were treated with reverence in Hong Kong. However, this perception has waned; incidents like a large dockworkers strike in April have tarnished their image. Hong Kong's population instead became fond of Wong who, in contrast to the tycoons, was an underdog who started his first business with just HKD $1,000. When Wong's dreams got quashed, it was more than just his misfortune—in a way, the aspiration of his fans was quashed, too.
For now, this simple problem remains: Hong Kong residents are deprived of a television network that had the promise of delivering popular, thought-provoking content. For a city that has precious few popular forums for cultural expression, this is a shame—not simply for the lost entertainment potential, but also for the loss of an opportunity to define a cultural identity that is unique to Hong Kong. Television, after all, does not merely entertain; it has the power to transform the societies that the shows reflect.
But in Hong Kong, a thriving city with limited (and bad) television options, this possibility is remote. Unsurprisingly, many in the territory have turned to Japanese, Korean, and American shows in order to find entertainment. Hong Kong children grow up hooked on Glee and thus identify more with Americans than with each other. Without local television, Hong Kong people risk having no common bond, no overarching cultural identity, and no greater, cultural influence in Asia.
Whatever the real reasons behind Leung's decision, the rejection of HKTV may have serious cultural and economic ramifications for Hong Kong. But more immediately, instead of assuaging popular concerns in Hong Kong—that Beijing wields too much influence in the government and that the free market is being eroded—this decision exacerbated them. If the current pattern of regular, massive protests in response to government non-responsiveness continues, a crisis in government may become imminent.
"Hong Kong is our home, but it's our home for very specific reasons. We don't want it to turn into another Chinese city," says former chief secretary Anson Chan.