U.S. To China: Play By Our Economic Rules
In an interview, U.S. Trade Representative Michael Froman sent a warning: We want to trade with countries in Asia, but they have to adhere to our standards.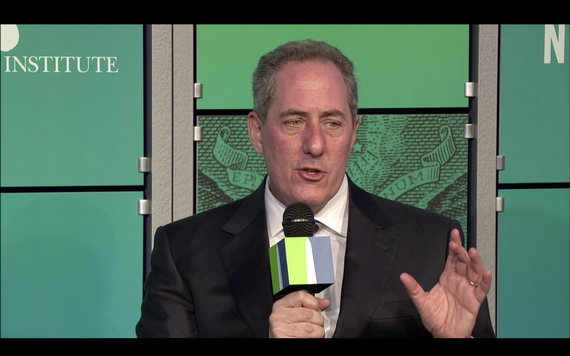 The Atlantic
Michael Froman sounds bullish about the American economy. Of course, that's part of his public job description—as the U.S. Trade Representative, he's responsible for negotiating trade standards with other countries and making sure that American companies can compete in the global economy. But at the Washington Ideas Forum on Wednesday, he argued that the United States is in a strong position to set trading standards for a variety of still-closed economies, even including China.
"The U.S is among the most open economies for trade and investment in the world," he said. "Our tariff rates are very low, at 3.5 percent, when a lot of the emerging economies have much higher rates than that."
Froman emphasized the importance of the Trans-Pacific Partnership, an effort to formalize trade relationships among countries including the U.S., Australia, Peru, Canada, Mexico, and Japan (and notably not including China—an omission that has led the Chinese to see the Partnership a ploy for creating a U.S.-centric counterweight to China's regional heft). Negotiations on the TPP have been in progress for three years and are near a conclusion at the diplomatic level. The domestic politics of its approval by Congress are increasingly complicated, with an alliance of right- and left- wing opposition groups making themselves heard.
"Our goal is to have high standards. It's not worth it to have another country join just to lower the standards," Froman said when asked about China's absence from the TPP. He argued that China's track record on intellectual property, labor standards, and environmental regulation has been lackluster, and until it's willing to adhere to higher trade standards, the United States will look elsewhere in the Asia-Pacific region—in fact, to all the other major economies—to build partnerships.
Froman argued that a longterm effort to raise trading standards is the only way the U.S. can remain competitive in the global economy. "Are we going to be competing in a world where there's a race to the top, where we have these high standards, or will we be competing in a world where other countries set the standards and they don't have the interests we do in setting high labor standards and high environmental standards? A race to the bottom is not a race we can win."
Froman recognized that China is trying to build its own partnerships in Asia, which means that the United States has to continue pressuring Chinese leaders to adopt better trade practices, he said. Although President Obama recently cancelled a visit to Malaysia for a major Asian-Pacific economic forum, citing the government shutdown, Froman was among the group of representatives who went in the president's place. Not much changed as a result of the trip, but he claims there's some momentum in negotiations. "We will be engaged in this market—it's in our interest to do so. We want to make sure that the rules that are governing trade in that region are these high-standard, due discipline rules."