The Rent in Shanghai Is Too Damn High: An Infographic
What price comparisons between two different cities tell us about the Chinese economy.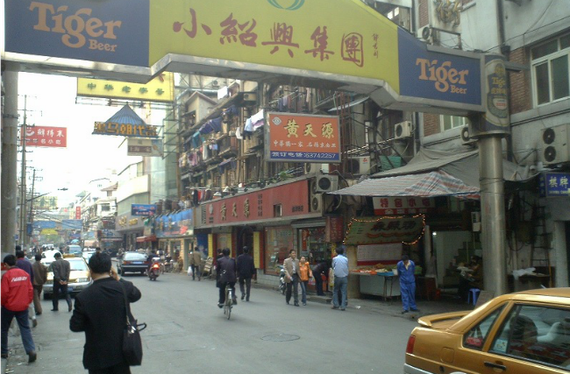 The great Xinjiang blog Far West China (via Shanghaiist) has put together an infographic comparing prices between Urumqi, the region's only major city, and Shanghai, China's largest. Here are cost of living differences measured in five different ways:
Though hardly a major data sample, the infographic provides insight into an issue plaguing China's economy: high housing prices in first-tier cities. For example, the minimum wage in Shanghai is only about 50 percent higher than that of Urumqi, and the consumer price index between the two is roughly equivalent.
But the cost of a three-bedroom apartment in Shanghai is a whopping six times higher than that of a similar-sized place in Urumqi, at 15,000 yuan (around $2,450 at today's exchange rate). This, unsurprisingly, has had an unfortunate knock-on effect: China's wealthy, who cannot easily move money overseas or safely invest in the stock market, instead park their cash in real estate, buying second and third apartments in desirable cities like Shanghai and causing prices to rise. Meanwhile, less-affluent men often cannot afford an apartment in the city, giving them trouble finding a wife, thus causing the country's problem of gender imbalance to grow worse. This article from Atlantic contributor Christine Tan provides a more narrative description of the struggles even relatively well-to-do young adults have.
And Shanghai isn't even a great deal for foreign English teachers anymore: The average salary in the city—15,000 yuan a month—is the same as a month's rent in a three-bedroom apartment. Teachers in Urumqi, by contrast, make a lot less (6,000 yuan) but their money goes a lot further in the housing market. If only they could spend some of their savings at Starbucks.