Is Britain Kowtowing to China?
In its rush to lure Chinese investment and tourism, the U.K. has drawn criticism for overlooking human rights and regulatory concerns.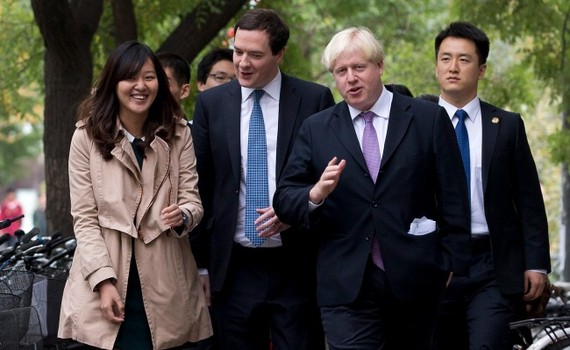 Last year, London Mayor Boris Johnson heralded the just-completed London 2012 Summer Olympic Games as a triumph for the city and a magnet for tourism and foreign investment. But this open invitation, apparently, didn't extend to China. Two months prior to the Games, the British Ambassador in Beijing, Sebastian Wood, labeled the U.K. "a fortress" to potential Chinese visitors.
This year, the UN World Tourism organization marked Chinese tourists as the single biggest source of income in global tourism: As a group, they spent $102 billion overseas in 2012, more than 30 percent more than visitors from other countries. But while a single Schengen visa enables tourists to gain entry into most countries in the EU, the U.K. requires a separate visa that costs almost twice as much. This, Wood argued, deterred wealthy Chinese tourists from visiting the country, and caused the U.K. to lose significant revenue to European neighbors such as France and Germany.
Last month, in an effort to undo the image of this "British fortress" and smooth ruffled feelings over Prime Minister David Cameron's 2012 meeting with the Dalai Lama, London sent a small delegation on a five-day mission to China. Among the delegates were London Mayor Boris Johnson and the U.K. Chancellor of the Exchequer George Osborne, whose visit began in Beijing on October 14. In clear contrast to previous high-level trade visits to China, both men steered clear of political controversy, as Mayor Johnson sidestepped human rights questions while Osborne confirmed that "the prime minister is not planning to meet the Dalai Lama." Instead, the visit focused exclusively on trade, with both sides expressing hope that the prime minister may visit China later this year.
A key component of the British visit was easing visa regulations for Chinese visitors. At Peking University, Osborne announced the launch of a 24-hour "super priority" service that would fast-track visas for Chinese business leaders traveling to the U.K. as well as a separate process that would allow certain Chinese travel agents to apply for U.K. visas using the same application as for the Schengen.
Johnson also mentioned the huge income derived from Britain's 130,000-strong Chinese student population, noting that "London has more Chinese students than any other city on earth, outside China." Reminding the audience that Harry Potter's girlfriend was also a Chinese student, he added: "Let me make this clear to you and to the whole of China: There is no limit to the number of Chinese who can study in Britain." The statement, given recent events, was striking: Last year the U.K.  announced a policy to reduce annual net immigration from outside the EU, shortening the length of stay for overseas students. And while previous visas offered students the right to seek employment in the U.K. for two years, now only those who graduate with job offers can stay. Why, then, is the U.K. suddenly reversing course with China?
China has made significant investments in British industry and infrastructure. These include shares in London's water supply as well as a project to expand Heathrow Airport, the latter worth £800 million ($1.28 billion) and expected to create 16,000 jobs. To further promote trade, the two countries struck a deal allowing direct trading between their respective currencies, based on an 80 billion yuan ($12.7 billion) quota for London-based firms to invest in China. The U.K. is now the only foreign country to manage China's tightly controlled currency.
The U.K. has even eased regulations for Chinese banks to set up branches in London, relaxing rules brought in as a result of the financial crisis that required most foreign banks to set up "subsidiaries" that operate under tighter controls of the Prudential Regulatory Authority (PRA). Such "counterproductive" measures, as one journalist called them in the South China Morning Post, reportedly pushed several Chinese banks to switch operations to Luxembourg. While many in the banking industry saw the news as undermining the PRA's independence, others, such as TheCityUK, an independent membership body promoting financial services, "strongly welcomed" the announcements, which it saw as "potentially increasing funding for U.K. infrastructure and investment in other sectors."
Even more contentious is China's foray into Britain's nuclear power industry. During his visit George Osborne announced that Chinese state-owned companies would take a minority share in the controversial Hinkley Point C nuclear power station in southwest England, the first to be constructed in the U.K in 20 years. As is the current government's policy on new nuclear projects, the station will be completely privately funded, led by the French government-owned company EDF Energy.
Osborne also revealed a longer-term plan for the Chinese to become "majority owners" in future power stations built in the U.K., which he said will be paid for with "Chinese money," to ensure "lower energy bills for families in Britain." While some, like Ed Davey, the U.K. Secretary of State for Energy and Climate Change called China's support "vital" to the country's energy prospects, others, like Isabel Hilton, Editor of China Dialogue, have questioned whether Britain is just a pawn in China becoming "the world's next big nuclear exporter."
Questions over safety risks for Britain also point to China's record on corruption and weak regulatory frameworks. John Large, the U.K. government's advisor on nuclear energy, raised concerns that China is "rooted in a government system without independent [safety] regulators." But such anxieties were dismissed by the Chancellor, who emphasized during his visit that the Chinese role in nuclear projects will be "subject to British safety rules leased by the British," and that China is "a very straightforward and transparent partner."
But is this realistic? Last month, the anti-corruption watchdog Transparency International placed China at the bottom of the BRICS club of emerging markets for being the least open and most prone to corruption. Of the 11 companies given "0" ratings for transparency, nine were from China, including Huawei Technologies, a private firm that has been entangled in allegations of spying for the Chinese government. Huawei plans to invest $200 million in building a research and development center in the U.K., as announced by George Osborne during his visit to its headquarters in Shenzhen.
Does China's increasing stake in U.K. businesses and industry presents tangible risks for the U.K.? While countries like the U.S. have barred Huawei from its telecoms industry over security concerns, the U.K. has continued to allow Huawei to integrate its technology into British telecommunications systems, even though the U.K. Parliament's security watchdog warned in June this year that the company's alleged links to the Communist Party were "concerning" and questioned whether "Huawei's intentions are strictly commercial or are more political."
This latest trip in China, labeled by some as "China mania," has led some observers of the Sino-British relationship to warn that London was kowtowing to the Chinese by making an unprecedented number of compromises. Will Hutton, writing in the Guardian, called Osborne and Johnson "wide-eyed and innocent" for making "one-sided economic concessions."
In spite of these concerns, Johnson and Osborne's delegation insists that Britain's economic development takes priority. But while David Cameron's last visit to China in 2011 emphasized that "a dialogue covering human rights" was a key part of how "[the China-UK] relationship should work," the absence of such conversations in the latest trip indicates that the U.K. may be giving up its moral high ground for closer economic ties with China, as France and Germany have done.
In contrast to the U.K. media frenzy, the Johnson-Osborne trip elicited less sentiment on the Chinese side, where reporting has been more positive. According to writer Jonathan Fenby, China's coverage highlights the U.K. as "just one of many" business opportunities for China and "far from a leading destination for Chinese investment," lagging behind the likes of Germany, with its $200 billion dollars worth of investment.
While the success of the Sino-British trade relationship hinges on a balance of political tact and strict regulatory checks with strong accountability, for some, the U.K. government's latest move signals the end to British integrity. Jonathan Mirsky, a former East Asia editor of the Times writing in the New York Review of Books, sees the new relationship as a sell-out, on what he calls "precisely the things that have made Britain great: freedom, democracy and above all, speaking truth to power."