The Map That Puts China's Incredible Internet Demographics in Context
More people in the country go online than in all of Africa—but the percentage of the population who uses the Internet is still small.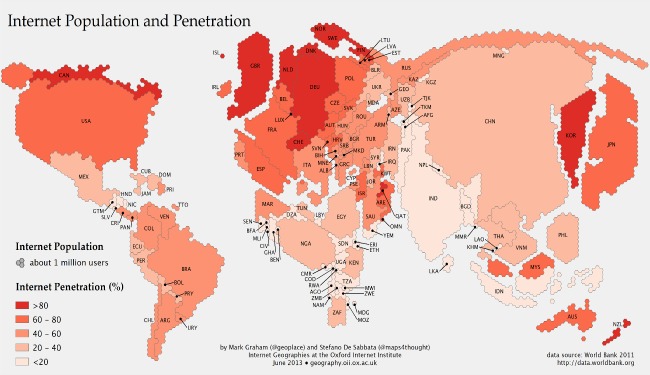 World Bank
A lot of commentary on China's Internet, including in this space, focuses on the Beijing's attempt at controlling political content. But it's worth remembering just how many people in China now go online—as well as how many that still do not.
This map, pulled together in 2011 from the World Bank, measures countries both by the size of their online population as well as by Internet penetration, or the percentage of the actual population that goes online. What do we find? China's online population is still much, much larger than India's, for one, and is larger than all of Africa's. And, according to this map, as recently as two years ago only 20 to 40 percent of China's population used the Internet.
Over the next decade, China's size on this map will only grow larger—and redder—which will have a number of consequences for businesses looking to capitalize, as well as on domestic security for the Chinese government.