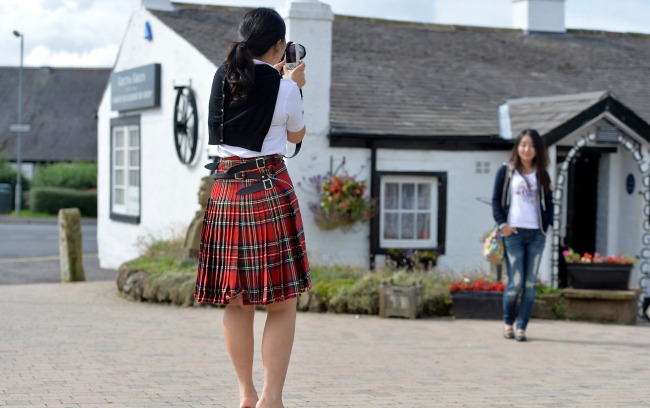 Chinese tourists take photos as they visit the Blacksmith's Shop wedding venue in Gretna in southern Scotland August 22, 2013. Independent travel has become increasingly popular with young, affluent Chinese people. (Toby Melville/Reuters)
For years, the prevailing image of Chinese travelers was this: masses of red-hat wearing people organized in tour groups, pouring out of big, noisy buses. But this stereotype is now out of date. According to a recent report from Hotels.com's Chinese International Travel Monitor, 70 percent of Chinese tourists traveling abroad are now choosing to go independently.
So what's behind this trend? For one, Chinese tourists these days are young: Travelers under 45 now account for 90 percent of China's market share, according to the China Tourism Academy. And while those matching hats seemed like an attractive souvenir to older generations, to a growing number of sophisticated travelers, they, and the tour groups giving them out, just seem passe.
"There's been a big cultural shift. This generation is embracing individuality in every aspect: 'I choose my own job, I choose my own boyfriend, so why not my own travel?'" says Mei Zhang, the founder of Beshan, one of the few Chinese operators offering high-end, personalized, private tours. "Media is playing a part too: On one hand, bus tours are depicted as dumb—you wouldn't see a celebrity caught dead on one of these. On the other hand, bloggers such as Gu Yue (who backpacked from Beijing to Berlin to see his girlfriend) are creating a huge amount of romantic adulation for the idea of life out on the open road."