Imagine that you're a painter in North Korea. Your work—all of it—consists of producing propaganda images, many venerating one of your country's three leaders. What would you do if you had to paint pictures of another country, one that you have never visited before?
Nick Bonner and Dominic Johnson-Hill, two Beijing-based British expats, wanted to find out. So for a project entitled The Beautiful Future, profiled here in The Guardian, the two drew sketches of Beijing life and gave them to a North Korea propaganda artist, who then produced paintings based on them. The results, presented below, are fascinating.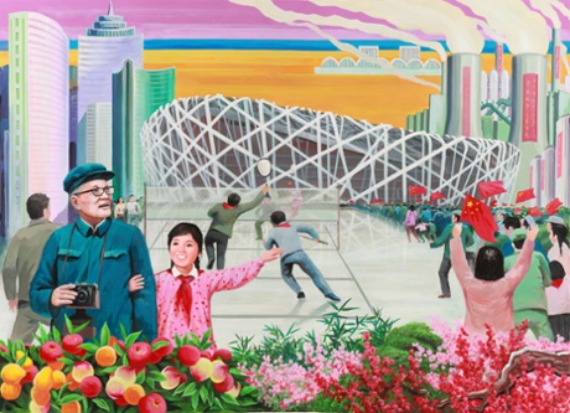 This is an image of the "Bird's Nest," the stadium Beijing built in advance of the 2008 Summer Olympics. In the painting, the camera-wielding tourist is wearing a "Mao suit" and cap, clothing that was typical in Chinese cities until the 1980s. In the background, some scarf-wearing people play badminton, while others walk toward the stadium waving Chinese flags.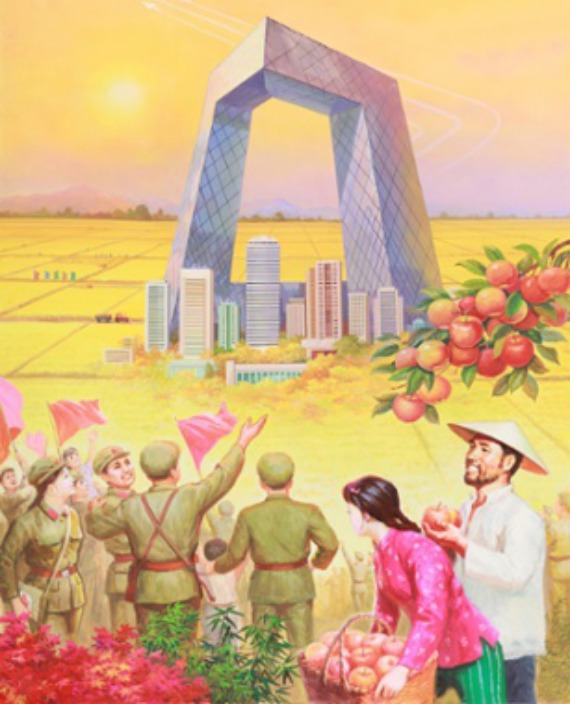 In this painting, two farmers—and a group of soldiers—gaze at the CCTV headquarters, which Beijing also built in 2008 (and I profiled a few days ago). The headquarters is just off Beijing's east third ring road, surrounded by miles of concrete in all directions. But the North Korean-made painting shows the building, and a few others, surrounded by neatly-sectioned farmland.