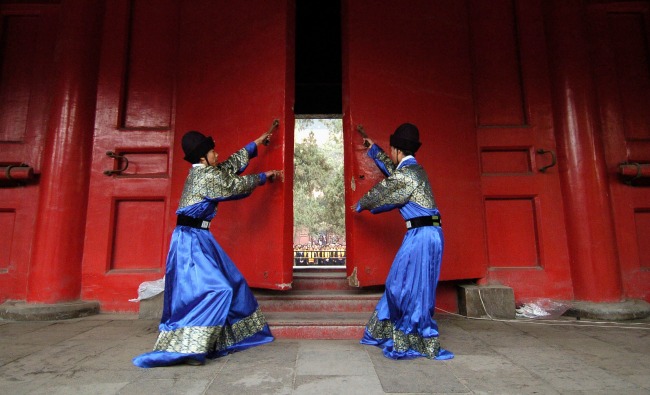 QUFU, CHINA—Confucius is quoted as saying, "How delightful it is to have friends come from afar." But what would the sage have made of the hordes of tourists now descending on his hometown?
Visitors to Qufu—the Shandong town where Confucius grew up over 2,500 years ago—reached 4.4 million in 2012, and have been accompanied in recent years by other tourist trappings: a 3,000-seater theatre, a Confucius-themed educational park, and a flurry of hotel openings, including the five-star Shangri-La.
As in elsewhere in China, Qufu's investment is government-driven. In 2010, officials spent $3.8 million on a six-month renovation of the Confucius Temple, Mansion and Cemetery, and a museum showcasing cultural relics related to the sage, due to open in 2015, will cost an additional $79.4 million. Officials have also spent significant money marketing Qufu as the must-visit "Holy City of the Orient," with ads and promotions shown in places like New York's Times Square.
More importantly, China's central authorities chose Qufu as a stop on the Beijing-Shanghai high-speed railway line—even though Qufu's metropolitan population of 60,000 is far less than that of every other stop. To facilitate the stop, officials constructed a new train station in Qufu. Now, the once-10 hour visit from Shanghai or Beijing has been cut to 2-3 hours.