China's Chilling Crackdown on Due-Diligence Companies
The arrest of Peter Humphrey this summer reveals a Chinese government that fears public exposures of corruption.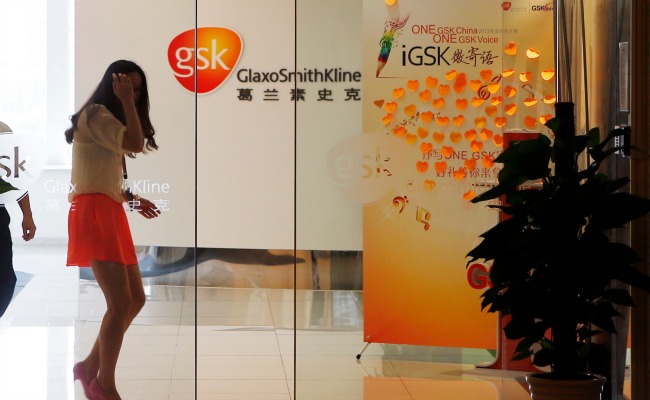 The pharmaceutical company GlaxoSmithKline hired ChinaWhys to conduct due diligence. Now both companies are in serious trouble with the Chinese government. (Reuters)
Peter Humphrey--a private investigator, former Reuters correspondent and longtime China resident--was a fixture in Shanghai's expatriate scene, commonly seen networking at business events or chatting with colleagues over a Guinness at the local Irish bar. But on July 10, Shanghai police took Humphrey and his wife, Yu Yingzeng, an American citizen, into custody, where they were held incommunicado for weeks. In September, Shanghai's foreign business community watched, shocked, as Peter Humphrey and his wife appeared in an orange jumpsuit and handcuffs on China's nightly news.
The reasons given for the couple's detention were initially murky, but soon an explanation emerged: Humphrey's company, a due diligence firm called ChinaWhys, had done work for GlaxoSmithKline (GSK), a multi-national pharmaceutical company whom Chinese police accused of using travel agencies to funnel up to $490 million in bribes to doctors and officials. Chinese police detained more than 20 GSK employees in connection with the case, and sales of the company's medicines plummeted. News reports painted Humphrey as guilty by association.
To long-time observers, Humphrey's detention on charges of corruption was especially ironic: His business made its money helping multinational companies to root out fraud in their China operations, mainly by gathering background information on employees and partners and verifying audits. When the charges were finally announced on August 19, Humphrey and his wife were accused not of corruption, but of violating a new law aimed at curbing corporate investigations. Police charged the couple with illegally purchasing personal information, including I.D. numbers, automobile and home ownership records, family member names and details of cross-border travel. Though the details are not public, GSK appeared to be employing ChinaWhys to ferret out the very corruption scandals for which the company is now being prosecuted.
The arrests came as a surprise because Humphrey's activities were not particularly unusual in China: In the country's opaque commercial environment, most multinationals employ due diligence firms to keep tabs on their operations and partners.  In theory, companies like ChinaWhys are useful to Beijing, which has launched a public campaign against corruption.
However, China's anti-corruption drive has run up against a broader crackdown in China on personal and corporate information, as the government tries to limit public exposés that could harm social stability and cause trouble for officials and social elite. China's new government, which took power last October, has taken steps to restrict the country's information environment, passing laws that curb everything from social media posts to access to corporate filings. The new regime's conservative streak is most visible in the recent headline-grabbing restrictions on social media and the detention of public commenters and civil society activists. State media have taken to referring to the campaign as a "public opinion struggle," a rhetorical escalation from the "guidance" and "channeling" of public opinion advocated by past Chinese administrations.
The information crackdown has had even more far-reaching consequences for businesses, and from the government's perspective, some of the most destabilizing releases of information in the past few years were financial. Starting in 2010, short-sellers revealed one major Chinese company after another as a fraud, embarrassing Beijing and sinking share prices of Chinese companies of all kinds. Exposés by The New York Times and Bloomberg on the family wealth and business ties of top Chinese officials, meanwhile, added to the pressure.
Last year, Chinese authorities moved to tighten access to company records at local industry and commerce bureaus, often the only way for short-sellers, journalists and due diligence firms like Humphrey's to trace corporate ownership and expose the suspicious relationships that are a marker of fraud. In an article about the rule changes Humphrey wrote in May for the Association of Certified Fraud Examiners, he said: "As an anti-fraud worker in China serving purely corporate clients on corporate matters or in litigation support, I find this a very dark day for due diligence and forensics work,"
Now, Humphrey and Yu are being prosecuted under a different law, but one enacted with a similar motivation. In 2009, Beijing amended Article 253 of the criminal code to ban "government, financial, telecom, education and health institutions" from "selling or unlawfully transferring personal information," with a penalty of up to three years in prison. Humphrey and Yu are the first foreign nationals to be arrested for trading in "illegal personal information," but they are not the only ones. According to Xinhua, at least 126 people have been arrested in Shanghai for similar violations.
The arrests are a warning to those in the business of gathering and publicizing sensitive information, including due diligence firms, investors and journalists. "I and others have always perceived this law as intending to preclude private investigations ... The purpose of this is to maintain secrecy for important people and companies in China," said Dan Harris, an attorney at Harris & Moure and the co-founder of China Law Blog.
The implications for other due diligence firms and the important role they have played in how multinationals do business in China are not yet clear, but Harris expects the arrests to act as a deterrent to other investigators. "I see this as an example of killing the chicken to scare the monkey," he said, referring to a Chinese idiom about punishing one party to make the others fall in line. "Whether intended or not, this arrest will almost certainly cut down on the sale of personal information."
But some of Humphrey's supporters are not as sure. Given China's lack of rule of law and murky corporate environment, Article 253 may not be enough to deter investigators from acquiring personal information. Doing due diligence in the absence of this information can be difficult--because many Chinese share the same name,  identification numbers are often necessary to verify company ownership. And the stakes remain high for multinationals in detecting fraud in their China operations: Companies that overlook it run the risk of having their business hollowed out from the inside and being prosecuted under foreign corrupt practices laws.
And as with other Chinese laws, Article 253's vague wording and sporadic enforcement leaves much to the interpretation of individual judges. The definition of "personal information," for example, has only become clear with recent court cases, and other judges may choose to expand on or ignore that precedent. Meanwhile, sales of other kinds of government data still occur with regularity over desks in government offices, giving them an appearance of legality or at least acceptance. Data sold by government-owned "trading offices" remain an important source of information for the real estate industry.
Ironically, the deeply uncertain legal and corporate environment surrounding the couple's arrest implies even greater business opportunities for private investigators. The party's lockdown on information is at odds with both a Western-style free market and its own professed goal of eliminating corruption. While some blame pervasive corruption on China's culture of gift-giving and guanxi (relationships, or personal connections), the more likely cause is country's insistence on the rule of the Communist Party triumphing over the rule of law, a system that breeds opacity and selective enforcement. Rather than driving the information trade out of business, China's crackdown may merely drive it further underground.