Can the Chinese Government Turn Shanghai Into the New Hong Kong?
The launch of the Shanghai Free Trade Zone marks China's attempt to transform its largest city into Asia's top global business hub. Will it work?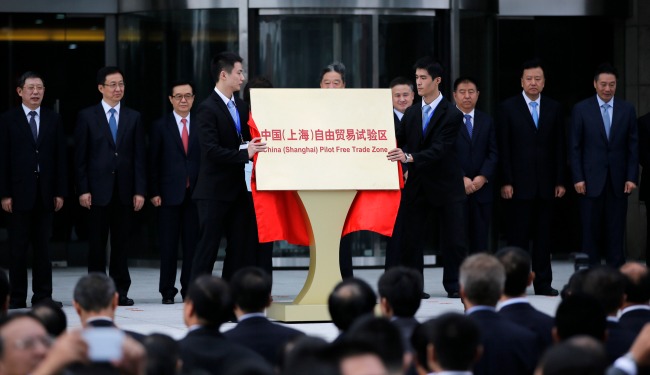 HONG KONG—Last month, as the super-typhoon Usagi lurched toward Hong Kong, local meteorologists warned that it could be the most destructive storm to hit the territory in 30 years. Residents braced themselves for the worst, and at the last minute, Usagi veered northward, sparing the tense city.
There were echoes of Usagi one week later in Hong Kong when Gao Hucheng, China's Commerce Minister, presided over the launch of the much-hyped Shanghai Free-Trade Zone (FTZ). Following news in August that Beijing had approved the zone with the full backing of Premier Li Keqiang, there had been growing speculation in Hong Kong that the former British colony's unique role as China's offshore financial center was in jeopardy.
But just as with Usagi, the threat to Hong Kong posed by Li's Shanghai showcase for "an upgraded Chinese economy" disappeared at the last minute. Instead of the rumored market-influenced interest rates, corporate income tax concessions, freer convertibility of the renminbi and the opening of China's capital account—which would have unleashed a tidal wave of Chinese investment into overseas markets—the zone opened under cautious new regulations that were short on details and long on restrictions. The fact that Li himself was not in attendance at the opening ceremony did not go unnoticed.
Now that the 11-square-mile FTZ—which includes the tariff-free areas of Yangshan Port, Waigaoqiao Bonded Zone and Pudong Airport—is open for business, there are more questions than answers. The two big questions are: Will the zone fulfill its potential as a testing ground for bold financial reforms for the rest of the country? And, will Shanghai ever be a global financial center on par with Hong Kong?
As it stands now, the FTZ's short-term status is unclear. An unnamed government source cited in a South China Morning Post article published prior to the zone's launch suggested that unnamed regulators seeking to maintain their grip on the financial sector of the world's second-largest economy were impeding progress on the zone. Additionally, Li had already run into opposition from the country's banking and securities regulators in his efforts to secure approval for the FTZ in the first place. Those same regulators and other powerful players may now be creating difficulties for Li's Shanghai plans.
Willy Lam, a professor at Chinese University of Hong Kong and an expert on the inner machinations of the Chinese government, said Li had already dealt with a lack of enthusiasm from the People's Bank of China (China's central bank), the State Administration of Foreign Exchange, and the "big four" state-owned banks (Bank of China, China Construction Bank, Agricultural Bank of China and Industrial and Commercial Bank of China) in getting the Shanghai FTZ approved.
Lam said that with the Third Plenary Session of the current Communist Party of China Central Committee leadership scheduled for November, the pressure is on Li (who as premier is responsible for the economy) and President Xi Jinping to bring a cohesive vision to the meeting, where economic reforms are traditionally introduced.
"The plenary session will be the first major statement regarding economic reforms from the Xi Jinping-Li Keqiang leadership," Lam said. "They need to have something to show the world that they are pushing forward with reforms." What that will be, however, remains to be seen.
The return of Hong Kong to China in 1997, after 155 years of British colonial rule, was a turning point in China's recent rise as a global economic power, and the territory has been useful to Beijing as an offshore finance center. While its metamorphosis into Asia's top financial hub was facilitated by the low-tax, pro-business regulatory environment and rule by law established by the British, the Communist Party's victory in the Chinese civil war in 1949 also played a key, albeit indirect, role. Following the establishment of the People's Republic, foreign firms and businesspeople—including the Chao, Koo, Pao, Tsao and Tung shipping families—fled Shanghai en masse for Hong Kong, many on their own boats.
Shanghai's revival is, in many ways, a metaphor for the rise of China itself, but major obstacles to the central government's vision of the city joining the ranks of New York, London and Hong Kong by 2020 remain. The Shanghai bourse hovers around the middle of the world's top 10 stock exchanges in terms of market capitalization, but it and many other aspects of China's finance sector are hindered by strict capital controls. A lack of confidence in Shanghai's stock market (and its counterpart in Shenzhen) is a major issue and a primary symptom of the financial market shortcomings that are driving a problematic housing bubble.
Since 2008, real estate has accounted for 60 percent of China's household assets, compared with 26 percent in the U.S., according to a July report by Standard Chartered. The bank valued China's urban property market as of last December at 115 trillion RMB, or $18.8 trillion, while estimating the country's stock market value at only 23 trillion RMB. Without real financial market reform, the property bubble will only continue to inflate. Li, of course, knows this, which is why he appears willing to invest major political capital in the Shanghai FTZ.
Should Hong Kong, currently the largest offshore center of renminbi-denominated business, be concerned with its relevance to the Chinese economy, and by extension the global economy? In the short term? No. But in the longer term? Maybe.
"Within 10 years the renminbi will most likely be freely convertible and I think most of the restrictions upon the capital account will have been removed, so by that time Hong Kong's advantage will become less obvious," Lam said. "The only unique things might be the rule of law and IPR protection regime and some professional services which Hong Kong might be providing best, but gradually, there's no doubt that after 10 or 15 years Hong Kong's advantages might be eroded."
So how does Shanghai compare to Hong Kong right now? There are various ways for assessing a city's financial clout. One of those, Z/Yen Group's Global Financial Centres Index 2013, combined data aggregated from sources including the World Bank, OECD and Economist Intelligence Unit with results of original surveys to rank Hong Kong the world's number three financial center, behind London and New York. Shanghai? Far behind at number 24.
In addition to the hard data, the index includes opinions obtained from workers in the global finance industry regarding the quality of a city's people, business environment, market access, infrastructure and general competitiveness. It may have only taken two decades for skyscrapers to fill the Lujiazui skyline in Pudong, but finance is as much or more about software as it is hardware. This is where Shanghai's challenge lies.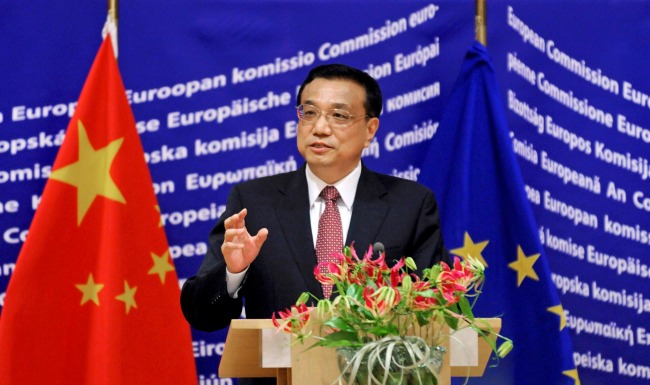 Chinese Prime Minister Li Keqiang (Thierry Charlier/Reuters)
Joe Studwell, author of the recent book How Asia Works, which analyzes how eight East Asian governments—including China's—have developed their agricultural, manufacturing and financial sectors, says Shanghai has a long way to go.
"I don't think there is any chance that Shanghai will become a global financial center by 2020, because the country's service sector will take far longer to develop than its manufacturing sector," Studwell told me. "Services are much more people-dependent and people take a long time to change. You can't force the pace of service sector development in the way you can in manufacturing."
Z/Yen Group's index shows that there are major gaps between Hong Kong and Shanghai in all five survey categories.
In terms of people, Shanghai will need to import thousands of bankers, accountants, lawyers and other professionals with qualifications and international experience. As for business environment, the recent detention of Shanghai-based investigators Peter Humphrey and Yu Yingzeng and their televised perp walks alarmed the global finance industry, which relies on services similar to those provided by the couple's company ChinaWhys to mitigate risk in China's often-murky business environment.
Hong Kong also enjoys advantages over Shanghai in terms of market access and infrastructure, but these are the areas where Premier Li stands to effect the most change during his (presumed) 10 years in office, which will end in 2023. If improvements are made in these areas, there is little doubt the city's rating in the last category, general competitiveness, will rise. But these upgrades will only go so far in achieving Beijing's goals for Shanghai if rule of law, intellectual property rights and flow of information do not also improve.
There have been conflicting reports that the Shanghai FTZ might have its own unrestricted Internet access. But such a gesture does nothing to address the recent crackdown on "spreading rumors" online, which can land internet users a three-year prison term if microblog posts deemed taboo by the government are shared 500 times or clicked on 5,000 times. This draconian new attempt to repress online speech is presumably in effect within the FTZ.
As Lam notes, the current leadership "thinks they can have it both ways: economic and financial liberalization together with even stricter controls on the Internet. In this regard I think Hong Kong will enjoy an advantage as a center of free information. For the mainland, there is not potential for political reform or even the relaxation of the internet—that seems very unlikely."
In the end, Shanghai may very well overtake Hong Kong as China's premier financial hub, but perhaps not until 2047, the year Hong Kong loses its status as a Special Administrative Region and, possibly, the tax regime, legal system and free flow of information that have underpinned its appeal to the rest of the world.