Can Online Education Thrive in China?
Investors are salivating over the market's massive potential. But first, MOOCs will have to overcome technical issues and a teacher-centric approach to learning.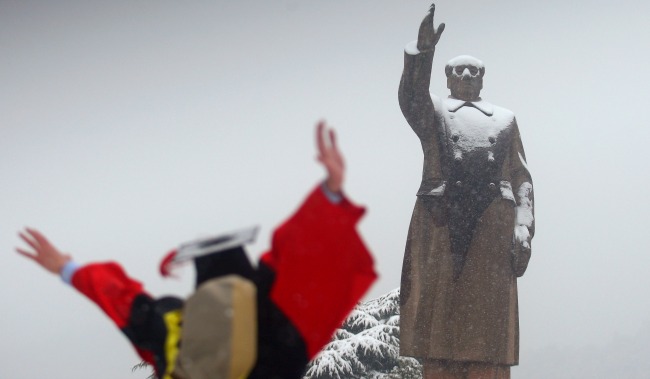 University students in China have taken a strong interest in Massive Open Online Courses (MOOCs) (Chance Chan/Reuters)
This April, when Hong Kong University of Science and Technology (HKUST) launched Asia's first MOOC, they expected modest interest from students mostly from greater China. Instead, they were astonished to find that over 17,000 students signed up worldwide, with 60 percent coming from U.S, U.K. and Canada. Meanwhile, at a large MOOC forum in China, more than 30,000 members are actively translating material from American MOOC courses., exchanging notes on and reviewing them for peer learners.
Once obscure, MOOCs, or Massive Open Online Courses, have become increasingly important in a world where the demand for tertiary education, combined with rising tuition costs, have created a market opportunity for alternatives to traditional universities. One of the largest of these new organizations, Coursera, has teamed up with 84 universities in the U.S.—including Ivy League schools like Yale, Brown, and Columbia—to offer over 400 online courses to learners worldwide. And after securing $43 million in funding this summer, the company has accelerated its international expansion, with a geographic focus on China, India and Russia, markets that Coursera hopes to penetrate through distribution partnerships with local institutions.
Coursera has already launched a Chinese-language platform linked to National Taiwan University's history and probability classes and similar services for a course on the role of the renminbi run by the Chinese University of Hong Kong. In early May, Coursera partnered with Peking University to offer three classes taught in Mandarin, and is still negotiating contracts with two top universities in Shanghai—Shanghai Jiaotong University and Fudan University. And in August, Yeeyan, the largest public translation community site in China, joined Coursera's Global Translation Partners Program to translate select English courses into Chinese (and vice versa, since Coursera has launched more courses in Chinese), in order to make them more accessible. Guokr, a science website popular among young people, immediately followed suit. At the end of September, NetEase, a leading China Internet technology company, announced its cooperation with Peking University to support the technical services of its online courses on Coursera and edx, a competitor.
In China, this steep investment in online education is justified by tremendous interest, and as the number of students studying abroad goes up by 20 percent each year, the government has worked to improve the education system while private companies, entrepreneurs and angel investors have flocked to the new online market. Around 10 Chinese online-learning platforms have secured angel investments, and China's three Internet titans—NetEase, Sina and Sohu—have all entered the fray and started their own online education divisions. The courses they pulled up feature TED Talks, popular lectures from top universities, and open course initiators such as the Khan Academy. Yu Minhong, president of New Oriental Education—China's biggest private-education mogul—recently predicted that online education would account for 40 percent of the company's market share within three to five years.
But despite this surge in interest in MOOCs in China, the Chinese market presents challenges to would-be investors.
One problem is in presentation: After Peking University put its first batch of courses on edX, China-based learners came across a string of problems: failure to register for courses, problems loading the webpage, the inaccessibility of YouTube videos (the video sharing service is blocked in China), and low course quality. MOOCs fan and Guokr.com editor Zhang Mujun remarked that the low-tech lectures reminded him of distance learning TV programs from the 1980s, which typically showed a person reading aloud on camera; in other words, a style of learning that is totally unappealing for today's learners.
The bigger challenge, however, is less technological than philosophical. Traditionally, Chinese education is teacher-centric and focused on examinations, and Chinese learners are unusued to a system that requires great inner motivation and self-discipline. Tony Bates, an expert in online and distance education who has given lectures in China and Hong Kong, pointed out that "the challenge for MOOCs to expand in China is pertinent to teaching and learning for what kind of audience or market." Foreign businesses such as Coursera have to manage the demands of the government, the partners and the market. At the core of this dynamic is China's brutal job market: 30 percent of college graduates in the country were unable to find a job this year. In order to give students official credentials for their work, Coursera rolled out a "Signature Track" program early this year to charge students for a verified certificate. But the extent to which Chinese employers will recognize this certificate is unclear.
As the current partnerships indicate, most Chinese universities are happy to experiment and explore the boundaries of the new technology, and MOOCs are still poised to shift the traditional paradigm of how higher education institutions offer their courses, improve teaching methods, and develop their own missions. However, Sir Jon Daniel predicted in a paper that "what MOOCs will not do is address the challenge of expanding higher education in the developing world, " because the technology infrastructure gap and the lack of independent learning skills.
So while MOOCs are here to stay for the foreseeable future, they're far from a panacea in tackling China's educational problems.