Beijing's Amusingly Phallic New Skyscraper
The new headquarters of the People's Daily is only the latest example of the capital's unusual architecture.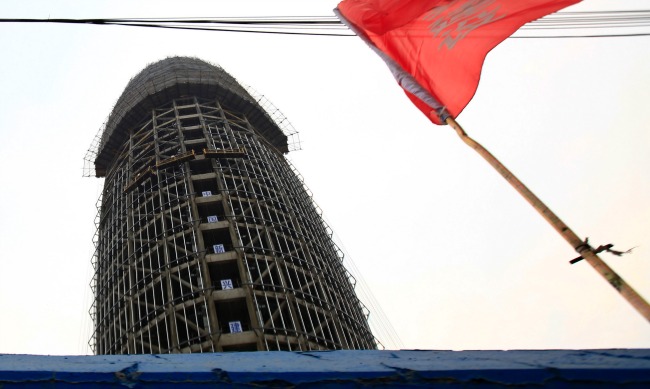 Beijing's People Daily headquarters, seen under construction earlier this year, has attracted derision due to its phallic shape. (Reuters)
Until recently, most Chinese cities featured a landscape consisting of hideous, "socialist realism" buildings interspersed with the occasional classical Ming Dynasty gate. But in the past few years, Beijing and Shanghai and other cities have debuted an array of bold, interesting structures, often designed by some of the world's leading architects.
In some cases, such as Beijing's "Bird's Nest" Olympic stadium, this commitment to architecture has successfully beautified the city. But sometimes, it doesn't quite work out. The recently-completed People's Daily building falls into the latter category: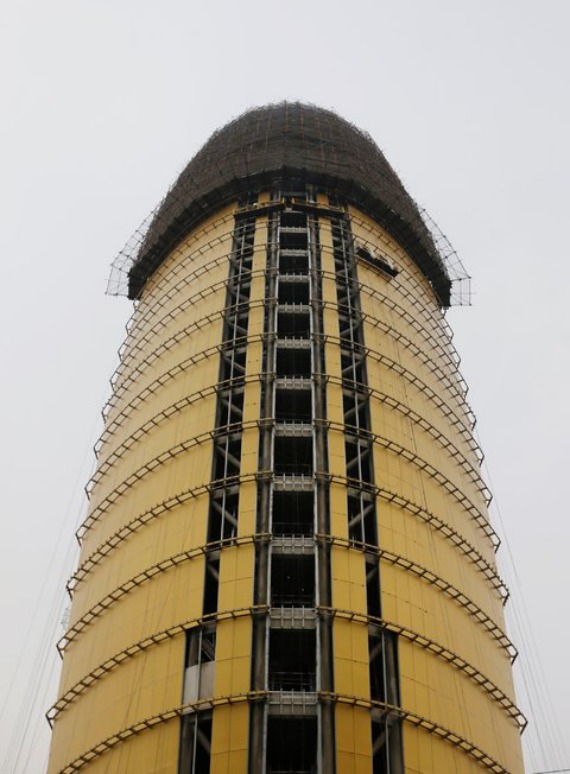 The recently-opened
People's Daily
headquarters, in Beijing (Jason Lee/Reuters)
Although neither the architect nor the city government has admitted it, the new People's Daily building looks exactly like a penis. And, as could be expected, the building's unveiling has elicited no small amount of sniggering among the Chinese public. On Sina Weibo, one sarcastic commentator even congratulated the newspaper for "needing just 5 billion RMB (about $900 million) to entertain the world."
This isn't the first time a Chinese media organization's building has amused the general public with a gaudy design. In 2008, China Central Television (CCTV), the country's state-run television network, constructed a massive new headquarters along Beijing's third ring road that featured two leaning towers connected at the top by a sky bridge. Here is a photo of the CCTV headquarters, taken on a typically smoggy Beijing day this January: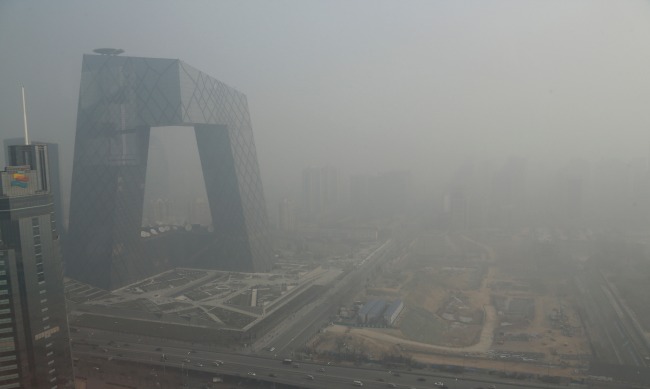 The Beijing headquarters of China Central Television (CCTV), referred to by some as "Big Underpants" (Jason Lee/Reuters)
The Rem Koolhaas-designed structure immediately polarized Beijing residents, with many praising the building's striking style. Others, though, referred to it as "Big Underpants," since, well ... you can probably use your imagination.
These hiccups aside, China's willingness to invest in eye-popping architecture represents a welcome break from the bland, bathroom-tile style that prevailed in the past. And even though problems persist—building code violations are legion in China—it's a good sign that high-profile architects are willing to help transform the country's urban landscapes.